Before I begin my brutally honest review of Stitch Fix UK, I want to state that I really wanted to like this brand.
Crawling out of my first year of motherhood, I was desperate to find a service that would drag me out of my leggings and baggy jumpers (kicking and screaming), and dress me in something stylish and new.
Having spent the past year wearing whatever was closest to hand, I wanted expert help in  styling my newly acquired postpartum body. Unfortunately, I didn't really have the time to spend a morning in a face-to-face styling session, nor did I have time (or inclination) to browse clothes with an impatient one year old.
I'd contemplated trialling Stitch Fix UK for a while and after a little research, I decided now was the time to give it a go. If there was anyone who could utilise this service the most, it was surely a time poor, new Mum, who had no idea how to dress her new lumps and bumps.
I therefore took the plunge and decided to trial Stitch Fix UK for four months, receiving four boxes of clothes over the course of my subscription.
Below is my honest review of Stitch Fix UK and whether I would recommend the online styling service to anyone else (new mums, especially).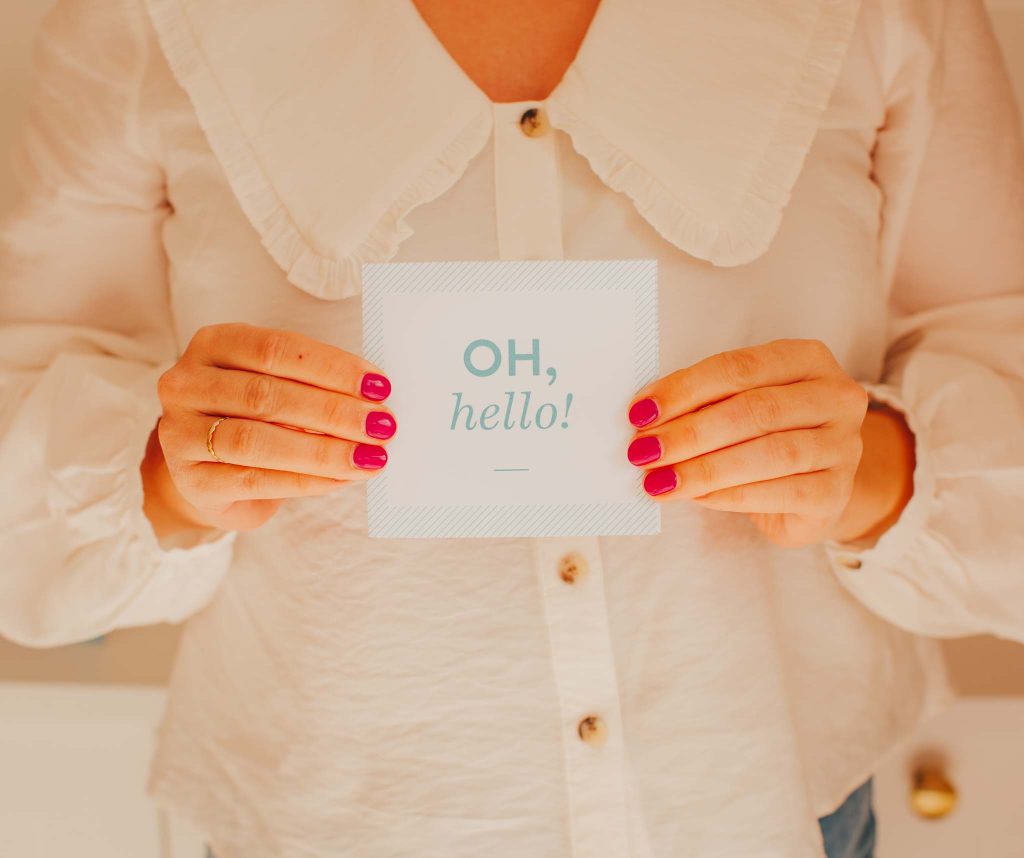 How Does Stitch Fix Work?
Stitch Fix UK is marketed as an online styling service, which gives you access to a personal stylist, who will (with the help of AI), put together a selection of hand-picked clothing and/or accessories to suit your style or needs.
Touted as a 'fun and enjoyable' shopping experience, Stitch Fix has been designed to take the stress out of shopping. It's currently available to both men and women in the UK, with the US brand offering further services including kids and maternity wear.
In order to get started with the service, you firstly need to complete a series of surprisingly in-depth questionnaires and 'style shuffles', so that Stitch Fix's algorithm can begin to get to know your body and your preferred tastes and styles.
Below is an overview of my profile, including the questions asked. Although I found it a little tiresome to fill out, I think the more effort you put into this section, the more you'll get out of it when it comes to the clothing that's selected for you.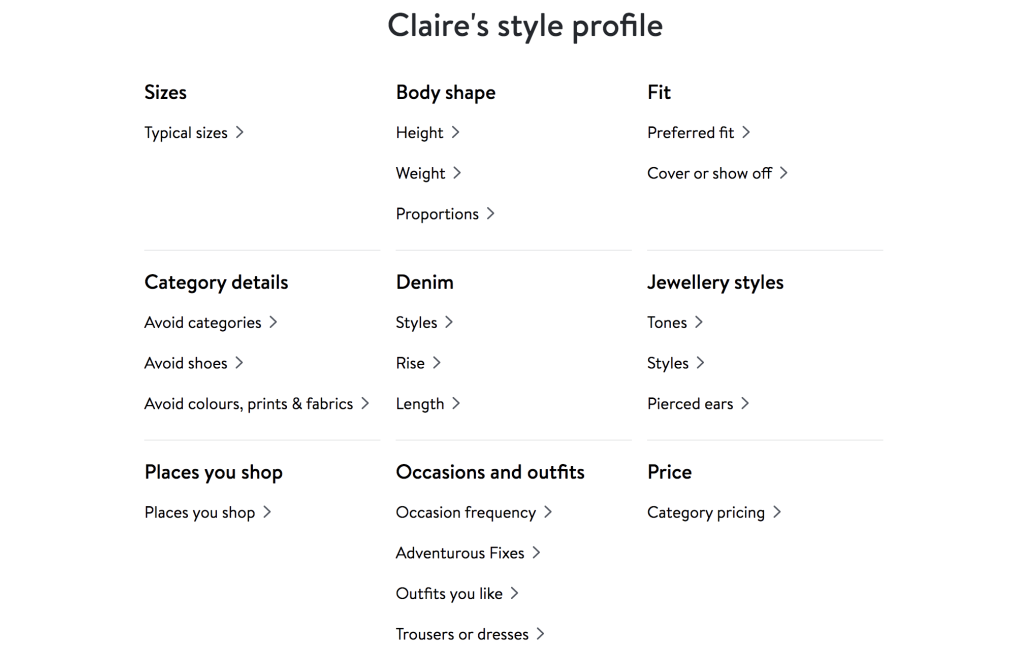 By far my favourite part of the onboarding process (and continued daily feature), is the 'style shuffle'. This Tinder style shuffle prompts you to give a thumbs up (or thumbs down) to different pieces of clothing or accessories, in order to help the algorithm further improve its understanding of your likes and dislikes.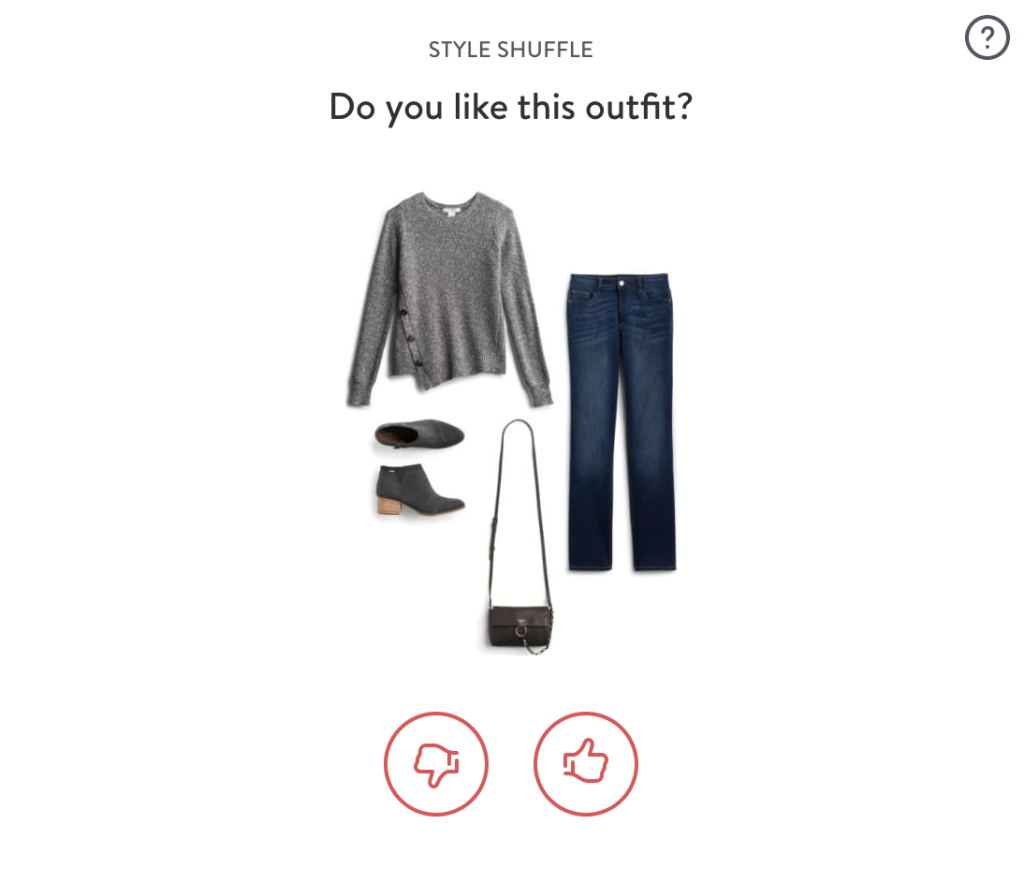 Once you've completed your profile and initial shuffles, you can then set the date for your first 'fix' to arrive.
Before sending you a fix, you will firstly receive a preview of the first round of their selected pieces. You can reject any of your stylist's picks and write feedback , in order to help them put together your final curated box. You only receive one preview and after this, your stylist will send out your fix, with any revised items included.
I understand why you only receive one preview per box, as you could end up going backwards and forwards for the rest of time. I think when looking at your preview, it's therefore important to give as much feedback as possible, to ensure your stylist has enough to work with when amending your fix.
How Often do you Receive a Stitch Fix Box?
When signing up to Stitch Fix, you have four options in terms of the frequency you receive a Stitch Fix styling box:
Every 2-3 weeks
Every month
Every other month
Every 3 months
How Many Outfits do you Receive with Stitch Fix?
None.
I know, it was a surprise to me too – and is something that's heavily influenced my review of Stitch Fix UK.
Scrolling through Stitch Fix's social media pages, it's easy to presume (like me) that Stitch Fix provides you with a full outfit per box. With their website showcasing some beautiful looking outfits, I feel this aspect is incredibly misleading, especially compared with what Stitch Fix actually provide.
Instead, rather than providing an entire outfit, Stitch Fix will send you five (often unrelated) items of clothing, alongside a styling card. The card will then suggest other items you might want to buy, to create an overall outfit for each.
This left me incredibly confused: how is this saving anyone any time?
I was looking for a stylist who would style some complete outfits for me, which I wouldn't have time (or talent) to put together myself. Instead, I was left with five items that I could have easily picked up individually, if I went shopping myself.
(You don't receive all this)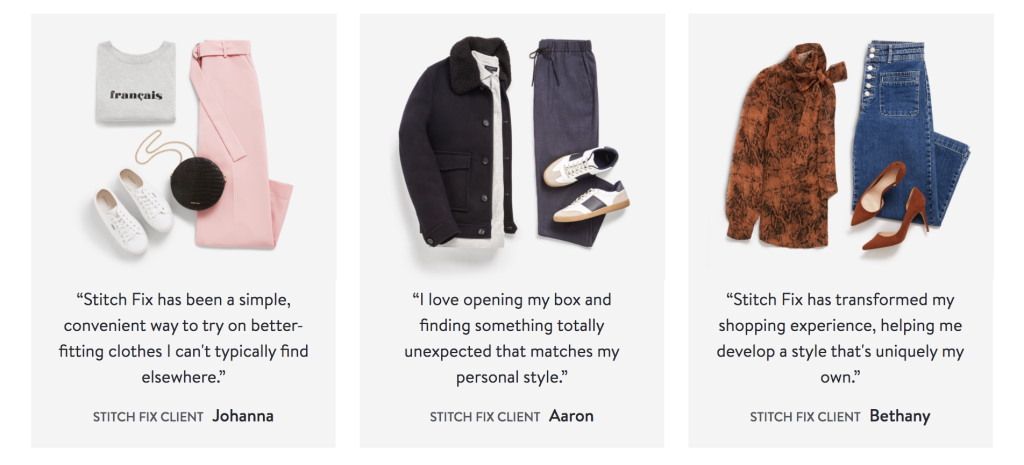 In all honesty, I'm still confused by Stitch Fix's general marketing and do think it's misleading. Having a quick look on their website, they even state under the reasons as to why you might try them: "[if]… you love having a Stylist send personalised outfits'. This is certainly not what I received.
Stitch Fix's Style Cards 
As I mentioned above, in your fix box (and electronically on the app), you do receive a styling card, which pairs each piece of clothing in your box with other (excluded) items, to create a complete outfit. The problem is, these items aren't linked anywhere and you can't actually buy them from Stitch Fix's website.
Below is an example of one of my style cards, created around the striped jumper (which I actually did buy as it was easy enough to style with a pair of jeans).
I'd have loved the suggested skirt and boots, but it remains a mystery what brand these were or where I can buy them from.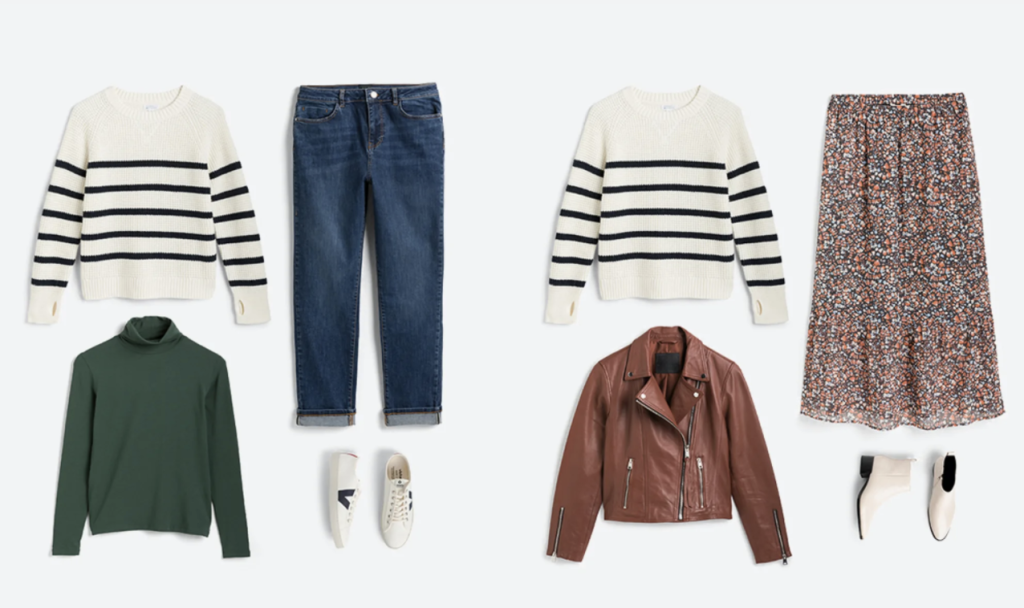 How Much does Stitch Fix UK Cost?
Stitch Fix is a free subscription service and you only pay when you schedule in your 'fix'.
When you complete the initial questionnaires, you will be able to set your budget for different pieces of clothing/accessories, ranging from £25 – £500. Stitch Fix state the average item cost is £55 and I would say this is about accurate.
Your first styling charge of £10.00 comes when your personal stylist completes their first curated list for you. If you buy anything from the stylist's suggestions once your fix has arrived, the £10.00 is deducted from the garment(s) cost.
If you do happen to fall in love with all of the items that you receive in your Fix (which seems unlikely given my own experience), then you do receive an additional 20% off the total price of the clothes or accessories.
You do receive a free returns label, but returns must be made within seven days.
Which Brands do you Receive from Stitch Fix?
One perk of my Stitch Fix experience was being introduced to a few new brands that I hadn't come across before.
Stitch Fix UK works with 60+ brands to curate your personalised wardrobe and includes labels such Whistles, Sweaty Betty, Joules and Free people. Interestingly, I didn't receive items from a huge range of brands and most of the items sent were from the same 4-5 labels.
The brands Stitch Fix offer cater to women size 6-18 and men size S – XXL.
Are Stitch Fix Stylists Real?
Stitch Fix guarantees that alongside the clever AI developed to help 'learn' your styles and taste, you will also receive the help of a real human stylist. You'll be given the name of your stylist, who will work with your preferences and feedback to help put together your new wardrobe.
Although I don't doubt that there is a human element to Stitch Fix, I get the distinct feeling that the stylist's involvement is fairly limited. In no way comparable to going in store to see a stylist (like you can at John Lewis), I also had different stylists for each box, which meant there wasn't that sense of personal service – yet another disappointment to note in this review of Stitch Fix UK.
I 'tested' my stylist a few times by giving incredibly specific feedback on what I'd like to receive in my next order. The results were hit and miss, to say the least. For example, I stated on my initial questionnaire that I dislike wool (I actually have an intense hatred for it) yet in my first Stitch Fix order, I received three wool jumpers.
I did, however, receive a more 'personalised' service by the third box, with a summery dress included that I'd requested.
Does Stitch Fix Save Time?
As I mentioned above, it remains a mystery to me how Stitch Fix saves any time at all.
On their website, Stitch Fix claim that their styling cards can help save time when it comes to planning outfits: 'love an outfit from your Style Cards, but don't have all the pieces? In your next Fix, tell us that you loved the inspiration from your Style Cards and your Stylist will try to find similar items'.
Call me cynical, but I don't see how having to put a request in for similar items is saving anyone time – particularly if you only have a delivery every three months.
It all seems like a lot of faff to me, which is what Stitch Fix promises to help you eliminate.
Is Stitch Fix Worth Trying?
Out of the 15 items that I received from Stitch Fix, I kept just four. These were three jumpers, one white t-shirt and a pair of soft flared trousers: hardly the revolutionary makeover I'd planned for post baby.
Rather than giving me a fresh style that flattered my new body, I found myself mindlessly buying the same sort of stuff that I could have easily bought myself. Did I need three more jumpers in my life? No. Did I buy them because they were a safe option and already sat on my bed? Yes.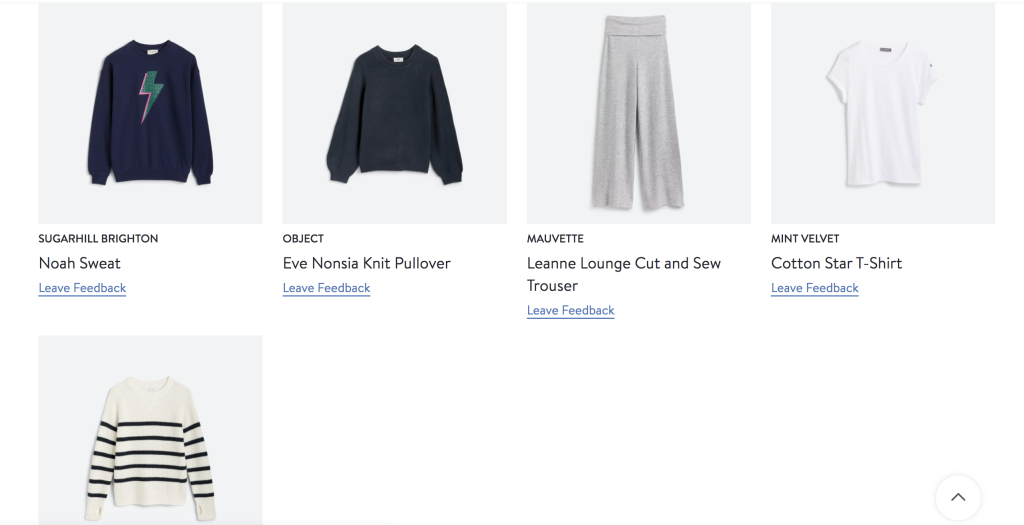 Whilst equipping me with some more staple pieces to wear day-to-day, Stitch Fix didn't do what I hoped it might and, on reflection, I ended up wasting money on clothing I didn't need.
I did try to persevere over the months and absolutely made sure that my feedback to the stylist pointed to more dresses or jumpsuits. However, all of the dresses I received were too formal for me to get any use from.
Ultimately, what I really wanted from Stitch Fix was an entire outfit, so that I didn't have to use my dwindling brain cells to put one together myself. Unfortunately, and despite their marketing, this isn't a service offered by Stitch Fix.
Stuck in a style rut? Use your Style Cards as an endless inspiration gallery. Don't have exactly what your Stylist suggested? Get creative and look for pieces that are similar is style and silhouette, but might have a slightly different color or print. In the world of personal style—there are no rules—only endless ways to wear your Stitch Fix favorites!
Taking into consideration the quote above from Stitch Fix, perhaps I'm not their ideal customer. I don't have the time to go through my wardrobe and get 'creative' – and even if I did have the time, I'd really like to use it sitting on the sofa watching Netflix.
Considering that perhaps it was just my very time-poor life causing the issues, I persuaded my Mum to try the service too. As a more mature woman in her 60s, I wanted to see if Stitch Fix suited her needs any better.
As it turned out, it didn't – and she returned all of her items. This included some laughably large baggy jeans and some very uninspiring jumpers.
Final Thoughts: My Honest Review of Stitch Fix UK
Despite its marketing efforts, I think Stitch Fix would actually suit a young 20 something who has the time to play around with clothing and styles. If you're happy to receive one product and then have fun putting together a complete outfit from your existing wardrobe, Stitch Fix could work really well for you.
Furthermore, if you were after a specific item – for example, a new blazer or handbag, and had limited time to shop around – then perhaps this service would again have its benefits. However, with very limited free time of my own and no desire to spend it styling outfits, Stitch Fix isn't the service for me.
For my needs, I think I'll be better catered for by going in store, where someone can help me create full outfits that I wouldn't necessarily have chosen for myself.
So, for now – it looks like the leggings and baggy jumpers trend will have to continue. Something that, admittedly, I'm not entirely unhappy about.