This guide to what to do on Anna Maria Island, Florida, contains affiliate links.
It was a bitingly cold February morning in London, when I first met Kelly.
We were eating pancakes in a restaurant close to Southwark Bridge, when she began to tell me about the Bradenton area of Florida, nestled within Manatee County. Director of Communications for the area, Kelly explained that the county was perched on Florida's West Coast and was, perhaps unsurprisingly, famed for its local inhabitants – the gentle and lethargic manatee.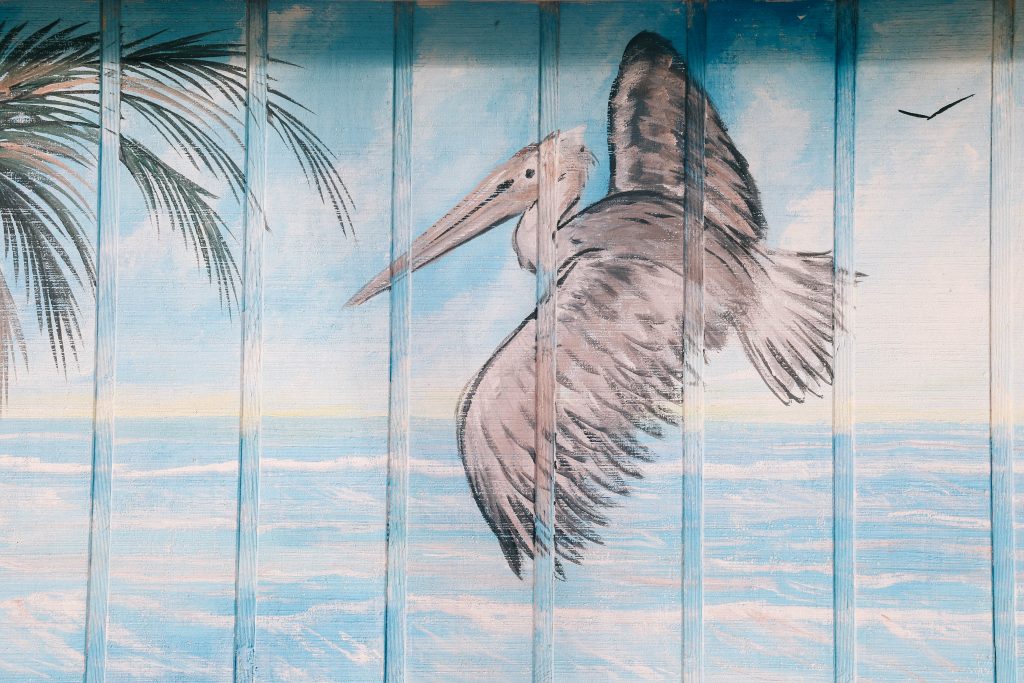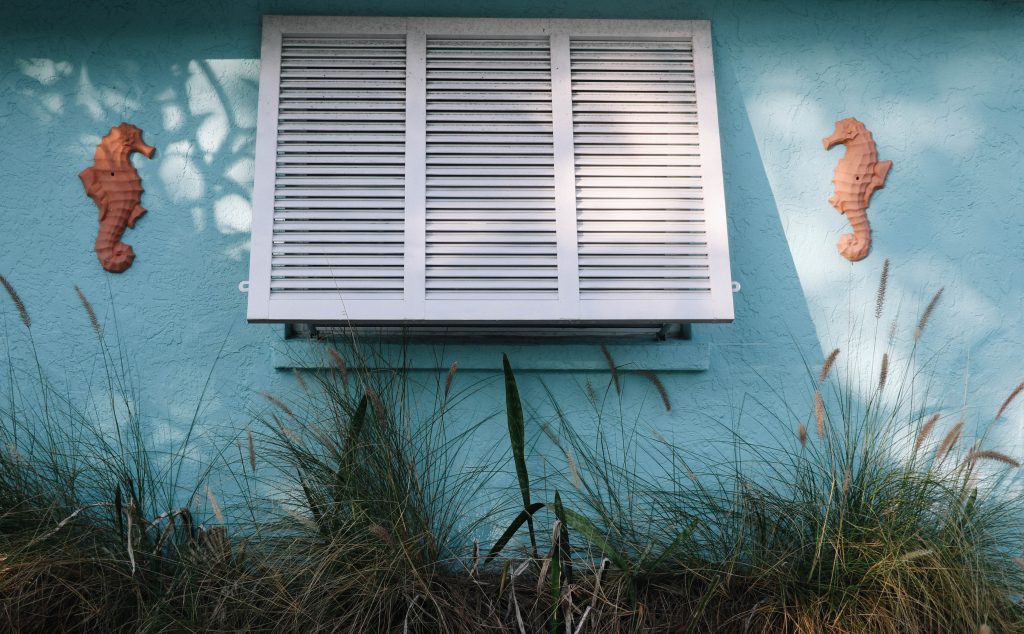 "Oh, and there's an island that sits within Manatee County, too' Kelly said casually, pouring syrup over her pancakes: "I've been visiting it all my life: the sunrises and sunsets there make me cry". Opening her phone, she showed me a photo – blushing pink skies framing a white sand beach.
It was unbelievably beautiful.
"It's called Anna Maria Island, Florida", she said, smiling, "and I think you'd like it there".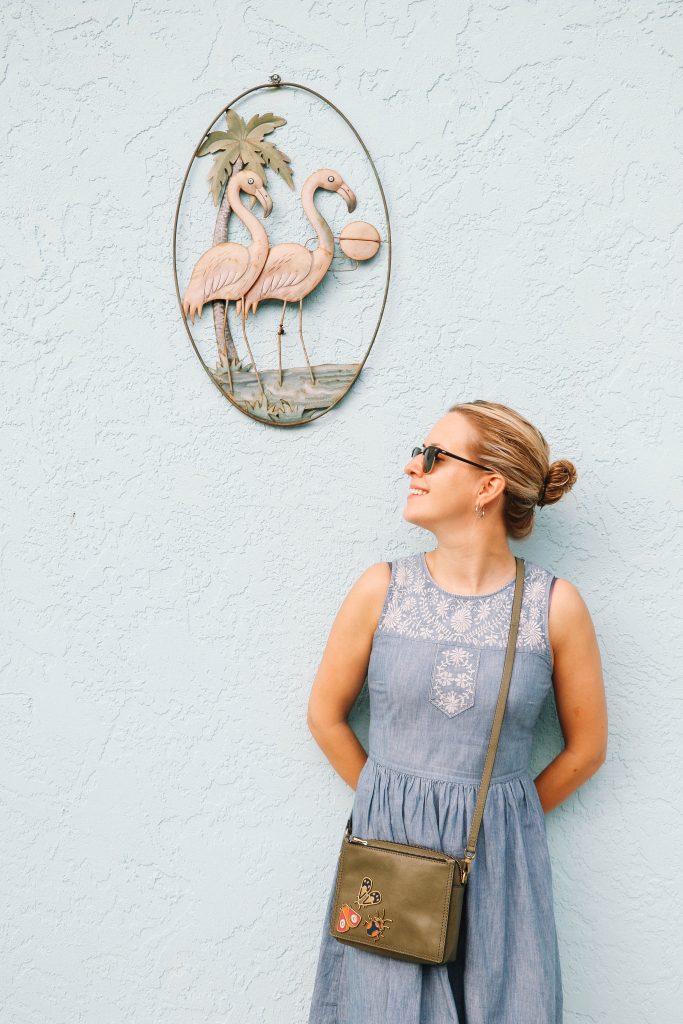 Where Is Anna Maria Island, Florida?
Anna Maria Island is a barrier island just seven miles long and two miles wide.
Lapped by the clear waters of the Gulf of Mexico, the Island is home to manatees and dolphins, beautifully maintained cottages and historic, wooden piers. A Florida native like no other, Anna Maria rejects the crowds and instead prides itself on its 'old Florida' feel, largely unchanged since the 1970s.
Indeed, here, buildings can rise no higher than two stories, the high street- Pine Avenue – demands strict adherence to eco-friendly rules and the local café is called 'Ginny and Jane E's'.
At sunset, holidaying families and locals gather at Bean Point, a dazzlingly, white expanse of beach at the northerly tip of the Island, to watch the sunset. They bring deck chairs and drinks, hold hands or simply watch the changing colours of the horizon alone – arms folded and silent.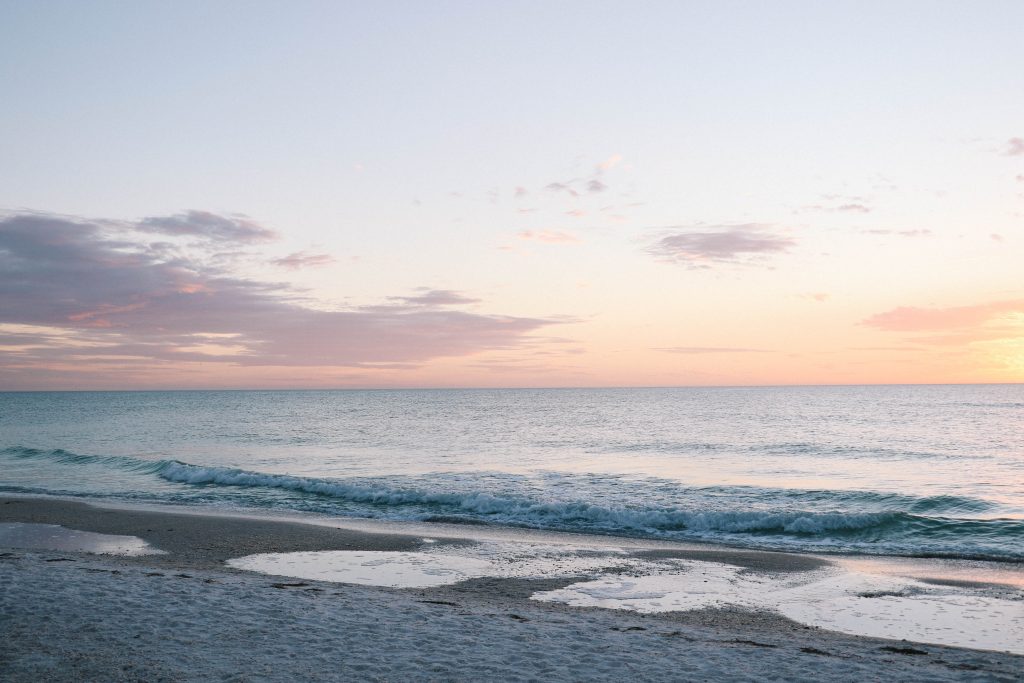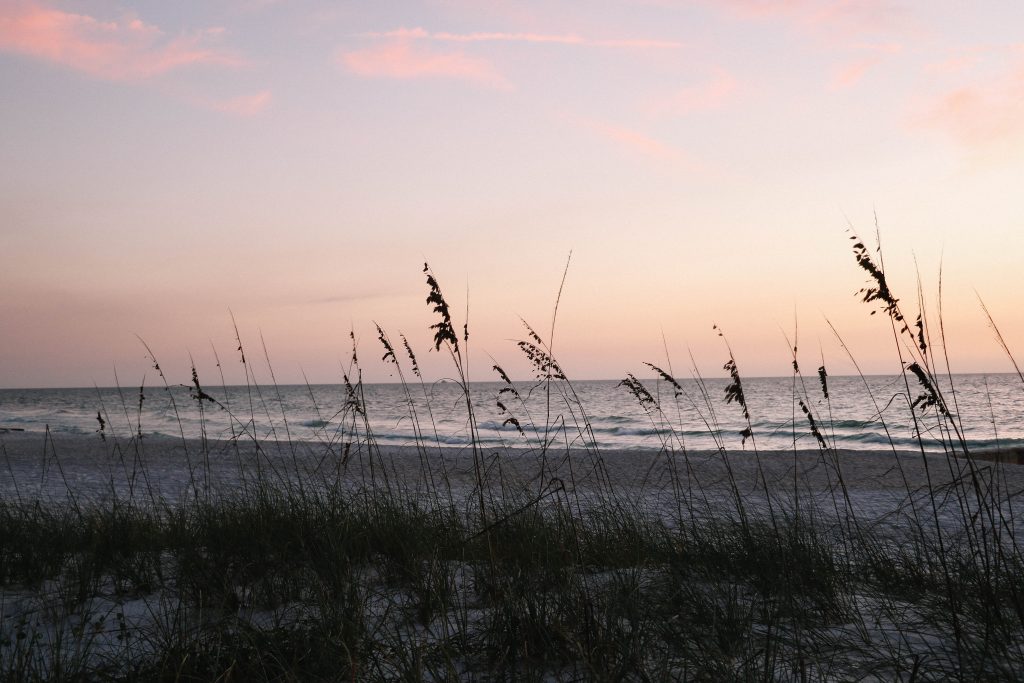 How To Get to Anna Maria Island, Florida
In order to get to Anna Maria Island, Florida, we flew directly from Gatwick airport to  Tampa with Virgin Atlantic, collecting our Hertz hire car once there. The flight took just over nine hours.
Visitors can also fly to Orlando – the drive onwards a little over two hours.
Arriving as the sun began to slip from the sky, we had a chance to catch our breath; the sticky Florida evening creeping through the car windows as we drove south on the I-75.
The route from Tampa airport is incredibly straightforward: simply head southward until you reach the iconic Sunshine Skyway Bridge. Having scaled its dizzying heights, you'll find yourself in Bradenton, where you'll need to cross just one final bridge before arriving on the Island.
In total, the drive took us just under one hour.
Where To Stay On Anna Maria Island, Florida
Now dark, we crept slowly up the Island's roads, passing signs for streets named 'Mangrove Avenue' and 'Poinsettia Road'. It was incredibly quiet, with the only sound coming from the nearby ocean. Passing smart, clapboard cottages decorated in dusky pink colours, we eventually turned onto our road for the week.
Our home – Island Sunrise – appeared through towering palm trees.
This enormous, sage green villa came courtesy of Anna Maria Vacations and was -until very recently – a family home. Proudly dubbed a piece of 'Old Florida', the stunning villa even featured its own pier (complete with a gaggle of pelicans), a wide veranda, swinging chairs and creaking floorboards.
Things to Do on Anna Maria Island, Florida
After our first night on the Island, we woke up ready to explore.
Looking out the window and we discovered a scene outside that was almost otherworldly; a watercolour painting that blushed and shimmered. The morning sky was illuminated a soft pink, as though someone had dusted it with a rosy blusher, and below the water lay perfectly still.
As we stood there – a little gormlessly in our pyjamas – the hues of the sky gradually changed: a pink to a violent, a deep purple to a bright blue.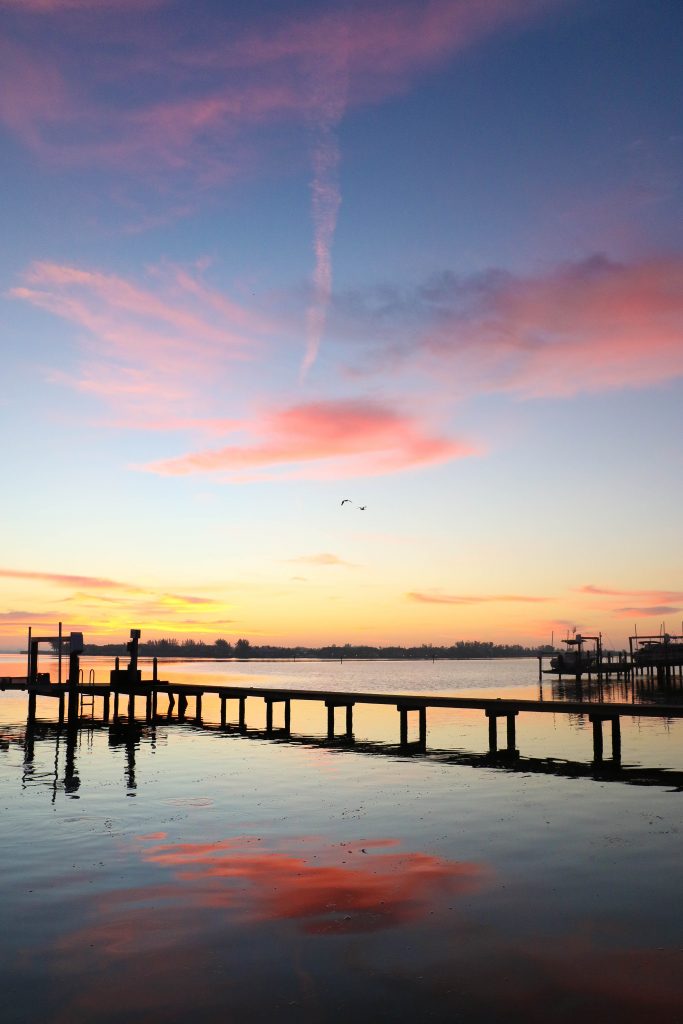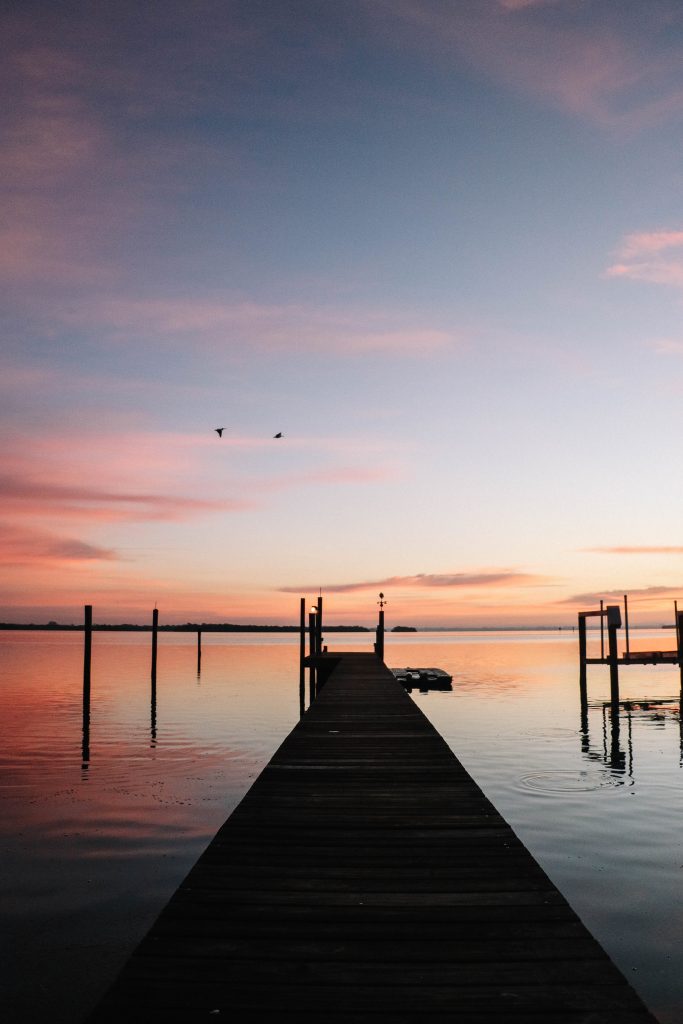 Eventually tearing ourselves away, we checked our guide to Anna Maria Island, Florida. Today, we'd not be exploring Anna Maria Island itself, but neighbouring Bradenton – one of Manatee County's cities.
We were intrigued. Why head there when you had this beautiful Island to explore? What could be there worth seeing?
Things to do in Bradenton, Florida
1. South Florida Museum and Planetarium
There are many things to do on Anna Maria Island, Florida, and one of them – surprisingly – is the opportunity to explore space.
Almost nine months since she'd first tempted us with her tales of Anna Maria Island, we were reunited with Kelly, our official tour guide for the week. She explained our first stop would be Bradenton's South Florida Museum: the largest natural and cultural history museum on Florida's Gulf Coast.
This unique museum offers 3 for the price of 1 in terms of its attractions: boasting not only exhibitions concerning local history and culture, but the dazzling Bishop Planetarium Theatre and the Parker Manatee Aquarium, home to rehabilitating manatees and local sealife.
"For a small city, this museum is a little over the top", Provost and COO, Jeff Rogers told us laughing, as we were led into the museum's Planetarium.
Seeped in darkness, we entered the vast dome and sat back in our reclining chairs: an immersive trip into space about to begin. For an hour, we travelled the universe and mused existential questions; Jeff trying to explain Dark Matter as we navigated Black Holes.
It wasn't the introduction to Floridian life I'd expected, yet it was brilliant. After stargazing, we ended our tour with an introduction to a group of animals that we couldn't miss: the famous manatees.
Inside a tank holding 60,000 gallons of water lived Baca, Lagoon and Gale. All victims of either cold stress or propeller injuries, the manatees were temporarily living here until they were nursed back to full health.
I was star struck: mesmerised by these real-life versions of the county's mascot. Looking like something between a hippo, a seal and a small elephant, these gentle and calm creatures clearly had their own personalities.
On our way out, we headed to the ground floor, now stood underneath the giant aquarium. Here we had a full view of the animals as they swam lazily past; their bellies floating just above our heads.
It was a fantastic introduction not only to a surprisingly diverse museum, but to Manatee County itself.
2. Bradenton Village of the Arts
"I'm not sure how to describe this next place", Kelly said, as we drove to our next stop.
The hot Florida sun beating down, we turned onto a maze of residential streets. On my left, a deep purple cottage appeared, in its garden a dazzling collection of mirror-covered sculptures. Next to it, a hot pink house stood proudly; a crowd of painted flamingos gathered in its front garden.
Gradually, each vibrant house gave way to the next, until whole streets stood an eclectic paint box of colours. We had arrived in Bradenton's Village of the Arts; a must-see when considering things to do when visiting Anna Maria Island, Florida.
A live-work community, the Village of the Arts is home to a host of historical cottages, posing as both homes and dazzling galleries.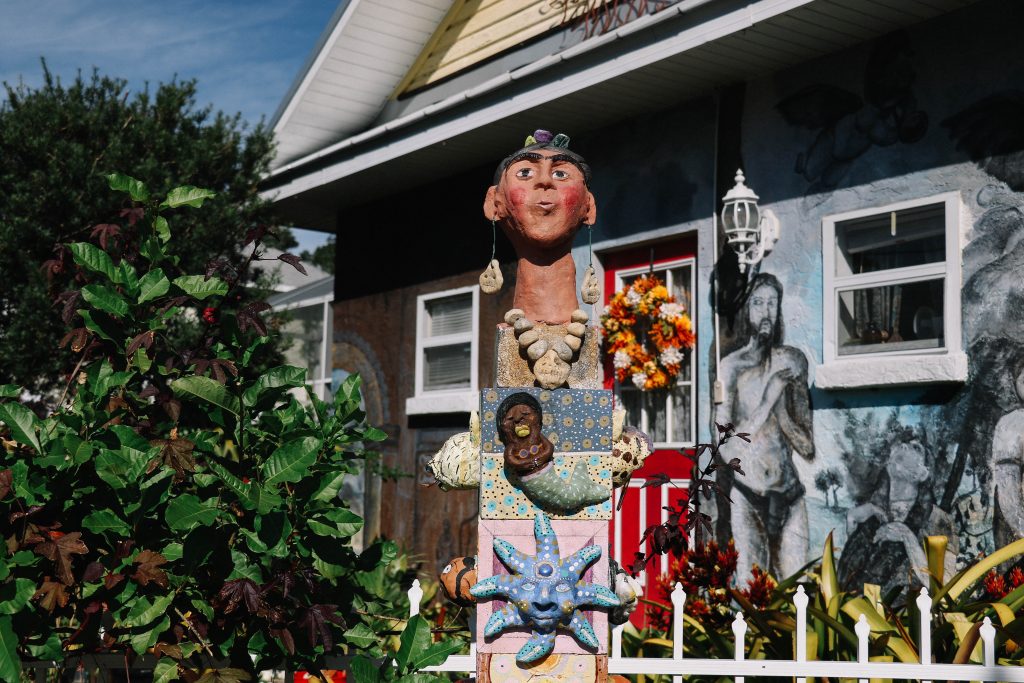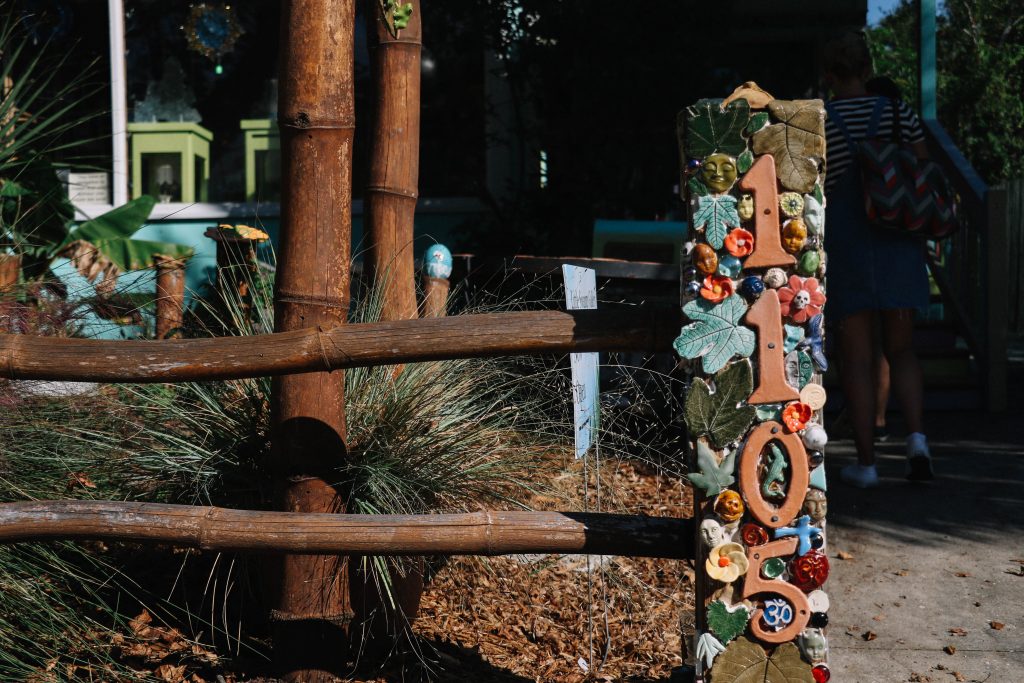 Painted vivid colours and with gardens filled with dedications to the Virgin Mary and Mexico's Day of the Dead, the neighbourhood is a fantastically eclectic place to explore. As we walked through, I spotted a blue cottage offering fish tacos and a green home housing a bakery, with guests seated inside its living room. Every inch of this neighbourhood had its own hidden surprise, whether it be a skeleton mural or a yoga studio.
It was truly a village like no other.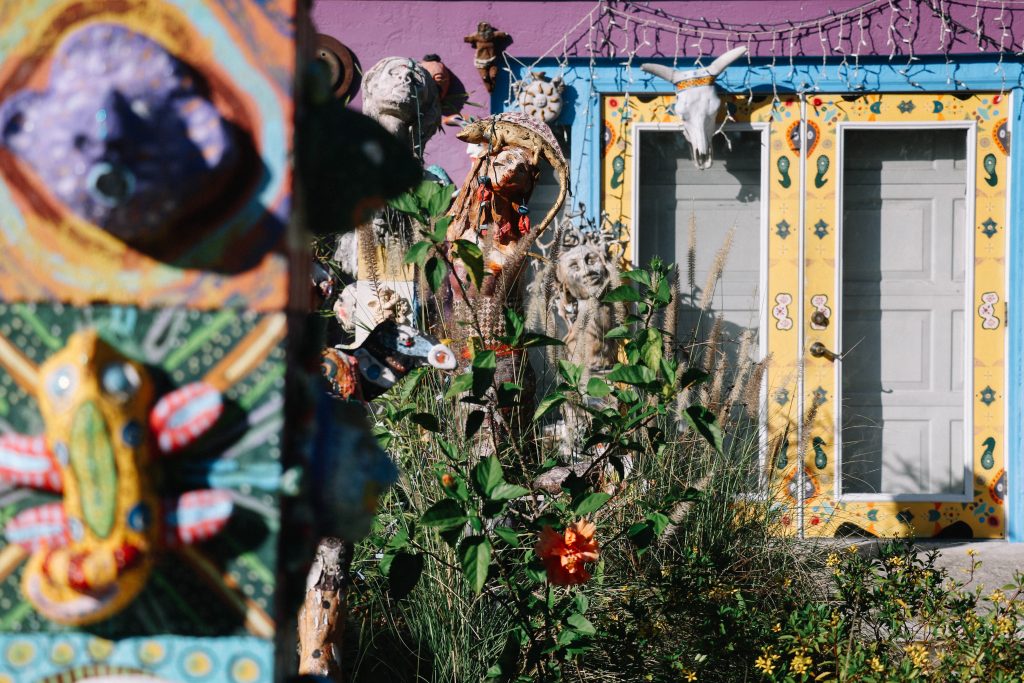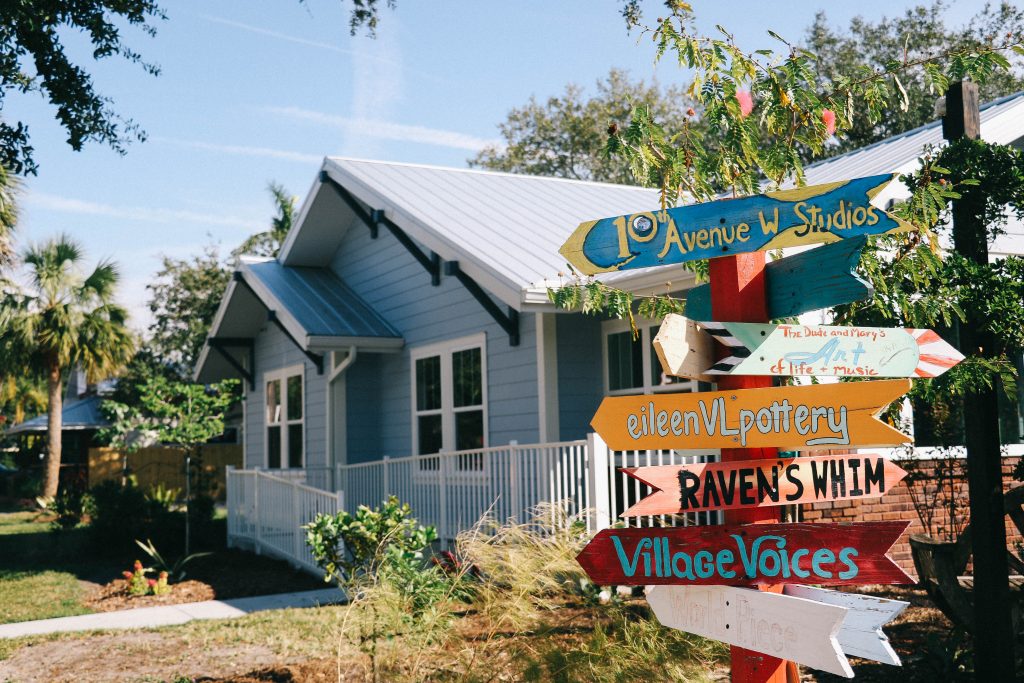 Things To Do on Anna Maria Island, Florida
For an Island just seven miles long, there is a lot to do on Anna Maria Island, Florida.
1. Shopping On Anna Maria Island
It's rare that island life lends itself to incredible retail experiences. Yet Anna Maria Island begs to differ.
On our first morning – the sea mist still rolling in – we headed to Pine Avenue: 'the greenest little high street' in America.
Here, all stores are independent, including shops such as the Olive Oil Outpost, specialising only in the finest balsamic vinegars, and gift shops overflowing with luxury clothing or toiletries, such as the Pink & Navy Boutique.
Each store is housed inside a traditional wooden cottage, with some of these buildings transported to the Island by train from Chicago (purchased from the department store Sears and Roebuck). Even the estate agents was painted a mint green, with Barbie pink lettering decorating its walls.
After a breakfast of doughnuts at the incredible Doughnut Experiment, we visited what would become our favourite store on the Island: The Shiny Fish Emporium.
Walking inside and we were met by a small Shih Tzu: Kiwi. Behind her, her owner (and owner of the store) Rebecca appeared: "Welcome to the Shiny Fish Emporium, ladies" she said, smiling.
Rebecca personified everything about her store: a beautiful, peaceful, oasis of calm. Looking around – homemade jewellery hanging from pink stands and illustrations dangling by coloured ribbons – I had the immediate sensation that I could never leave this place.
Rebecca and her husband, Chris, were originally from New York, moving to Anna Maria Island to escape the rat race and the cold. Here, they decided to set up a store that let their creativity run wild, offering families a 'sand dollar' painting experience.
And so it was that Claire and I found ourselves in painting shirts, focused intently on decorating delicate shells. In the background, Christmas music tinkled and Rebecca offered mugs of steaming tea. Chris, an illustrator, was also on hand to help us; skilfully drawing little characters onto the flat shells.
It was a lovely morning, in a truly lovely store – and one that represented all that Pine Avenue stood for: creative, independent and welcoming.
2. Yoga & Paddle Boarding on Anna Maria Island
"Listen to the sounds surrounding you and feel the water beneath you", our yoga instructor, Rachael whispered.
Overhead, an osprey called out and the water lapped gently at my SUP board. With the Florida sun on my back and views out across the water, this was surely one of the most scenic yoga classes I'd attended.
Whilst the gentle rocking of the board meant you did have to engage your core as you'd never engaged before, the entire class was an incredibly peaceful experience.
Paddling back to shore, Rachael explained that she also held classes at Anna Maria Island's popular Island Yoga Space, but these SUP classes were her favourite.
"People always think they're going to fall in, but it's much more gentle than that. The water helps you be present and in the moment. It's very zen".  I couldn't have agreed more.
Whilst there are lots of things to do on Anna Maria Island, Florida, this is definitely an activity you must try.
3. Boat and Canoe Tours on Anna Maria Island
Of course, I couldn't write a guide to Anna Maria Island, Florida, and not mention its stunning marine life.
Indeed, visit Anna Maria Island and it's difficult to not only ignore the water surrounding you, but the wealth of life in it. Dolphins and manatees are lifelong inhabitants of this area, with non-migratory dolphins living in the shallow waters for their entire lives.
Paradise Boat Tours
With thick sea grass and mangroves to hunt in and live amongst, it turns out that Anna Maria Island is not only a paradise for its human visitors, but for its underwater inhabitants, too.
Our first foray into this underwater world came courtesy of Paradise Boat Tours, as we headed out towards Tampa Bay to spot dolphins. As our boat bounced over the surf, I imagined that we were far out at sea; a bottomless ocean below me.
We then passed a man stood in the water, the waves barely reaching his knees.
"The perfect environment for the dolphins," our guide said laughing. After passing the glittering, waterside home of a Cocoa-Cola Executive, our boat came to a standstill and we held our breath.
Already, a few dolphins were beginning to appear – their fins rising and falling in the shallows. Turning to look at them, I heard a rush of water to my left as a male dolphin appeared, seemingly suspended mid-air.
For five minutes, this dramatic little dolphin jumped alongside the boat, keen to impress either us, or a local female.
Eco Kayak Tour
A few days later and we exchanged our paradise boat for a small kayak, courtesy of Beach Bums' and their Eco Tours.
Gliding out onto the water, our guide, Rick, led the way. This tour was gentler than the boat ride, and whilst seeing dolphins was a bonus, it also focused on the smaller inhabitants of Anna Maria Island, Florida.
As Rick told us about his childhood on the Island (idyllic, of course), we paddled past a bird rookery, where Roseate Spoonbills, Blue Herons and White Egrets lived. The Herons reminded me of wizards; long feathers hanging from their beaks like beards. We also explored a forest of mangroves, before wading for oysters and giant clams.
This beautifully peaceful tour was one of the best things we did on Anna Maria Island.
Horse Riding (and surfing and skiing)
Every now and again, a person will experience an out of body experience – a moment when the surreal reality of that particular moment is magnified.
I had one such moment as I clung onto a horse's tail, speeding through the choppy waters of a local lagoon.  "Congratulations, you're horse skiing!" my guide shouted from ahead, as I sped across the water.
Located just off Anna Maria Island, Beach Horses offers visitors the chance to not only horse ride, but to ride the horses as they swim.
For thrill seekers – or those simply bored of traditional horse-riding, they also offer the 'horse skiing' experience and 'horse surfing' activity that I had also tried earlier. This involved standing on the back of the horse as it swam; an activity that required clenched bum cheeks and almost superhuman balance.
It was bizarre, surreal but brilliant fun. As we turned back (and now firmly seated atop my horse), he began to swim powerfully through the water; views of Tampa Bay stretching out ahead of us. It was almost certainly an experience I'll never forget and absolutely something to include on your list of things to do on Anna Maria Island, Florida.
4.  Sunsets on Anna Maria Island, Florida
On that cold February morning earlier that year, Kelly had tried to describe the sunsets that graced Anna Maria Island.
"I promise you that they are the most beautiful you'll see anywhere in the world", she'd said enthusiastically.
Stood on the powder white sand of Bean Point just a few months later and I realised that Kelly had not been exaggerating.
The horizon ahead of me was endless; no start or finish line to be found. As the sun set, a wash of pink and purple cascaded across the sky as the white sands bounced the light upwards. Close to the surf, flocks of egrets took flight – fluttering silhouettes against the setting sun.
It was a sunset that took a breath away and one that I would watch again on my final night on the Island (albeit this time with a lump in my throat).
If you're visiting Anna Maria Island – or indeed need a reason to visit – let the sunsets be it. Indeed, they should perhaps be front and centre of any guide to Anna Maria Island, Florida.
The soft, endless beaches of Bean Point, Longboat Key and those that run along Gulf Drive North, are places not only to spend your days, but your evenings, too; offering the best seats in the house for the sundown spectacular.
It's a moment that the whole Island seems to wait for, a destination defined by its dedication to the sun's daily cycle.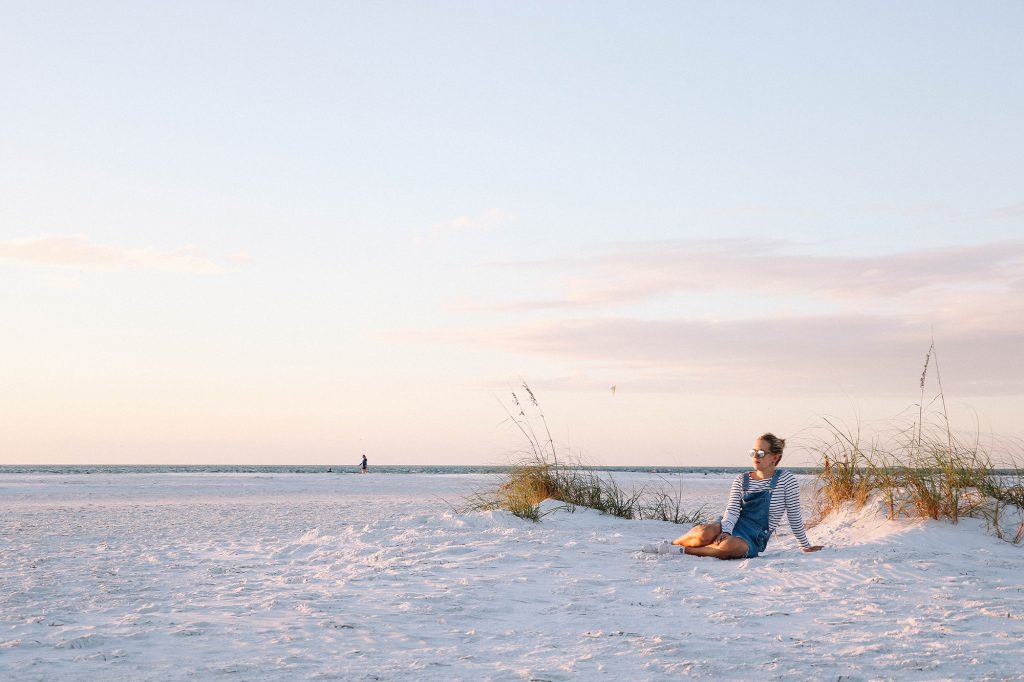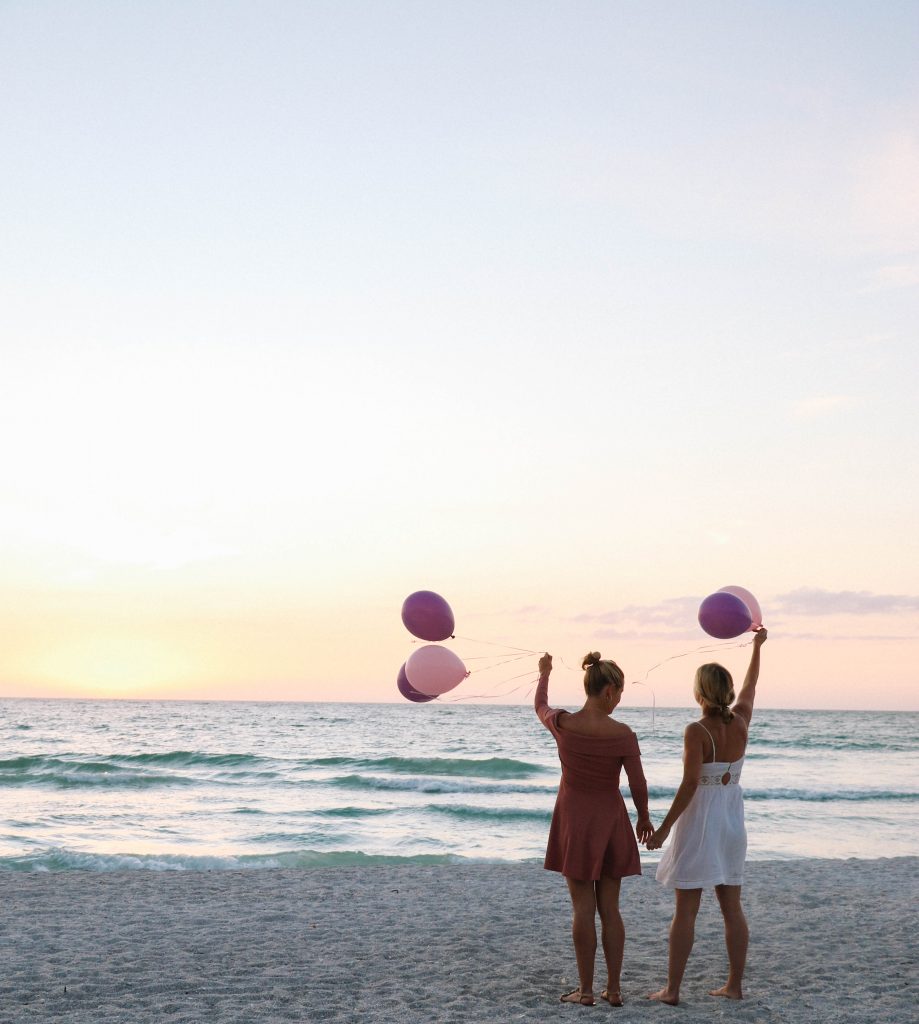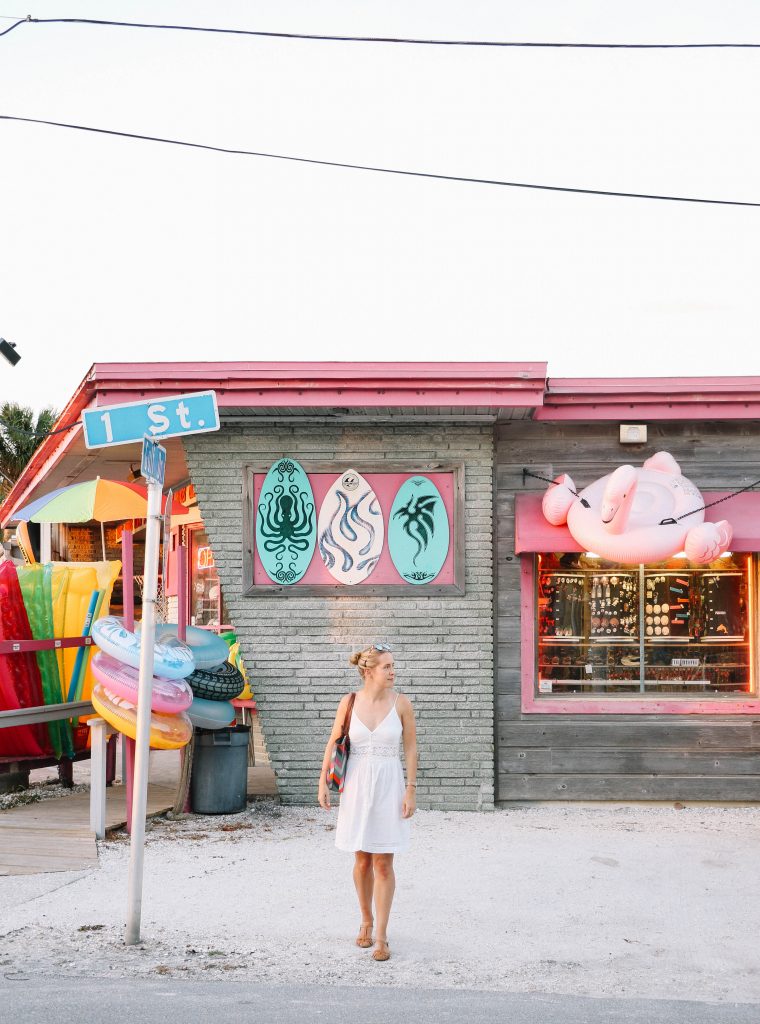 Things to do on Anna Maria Island: Final Thoughts
Anna Maria Island, Florida, sets itself apart from the rest of the Sunshine State.
It is peaceful, independent, charming and determined to uphold a piece of 1950s Florida. Each evening, locals sit on their verandas; their clapboard cottages painted pastel shades and families gather on the beach for BBQs and games.
Here, there are no grinding Tampa nightclubs, no identikit retirement villages, no screaming theme parks. It's instead a uniquely peaceful place; an island facing the horizon, waiting for its next sunset.
I can't wait to return one day, ready to join it for its next display.