For someone who prides themselves on an eclectic, wide-ranging bucket list, the experience of swimming with manatees came as a rather late addition. In fact, prior to visiting Anna Maria Island last year, the manatee itself remained a fairly mysterious animal to me – one that I'd wrongly presumed was not too dissimilar to an overweight dolphin. However, after visiting a rehabilitation centre for manatee whilst visiting Anna Maria, I quickly developed a soft spot for these gentle, floating 'sea cows', whose closest relative is actually an elephant. Watery mammals who spend the majority of their time munching along the river beds of Florida's Mexican Golf, manatees – I discovered – were my spirit animal.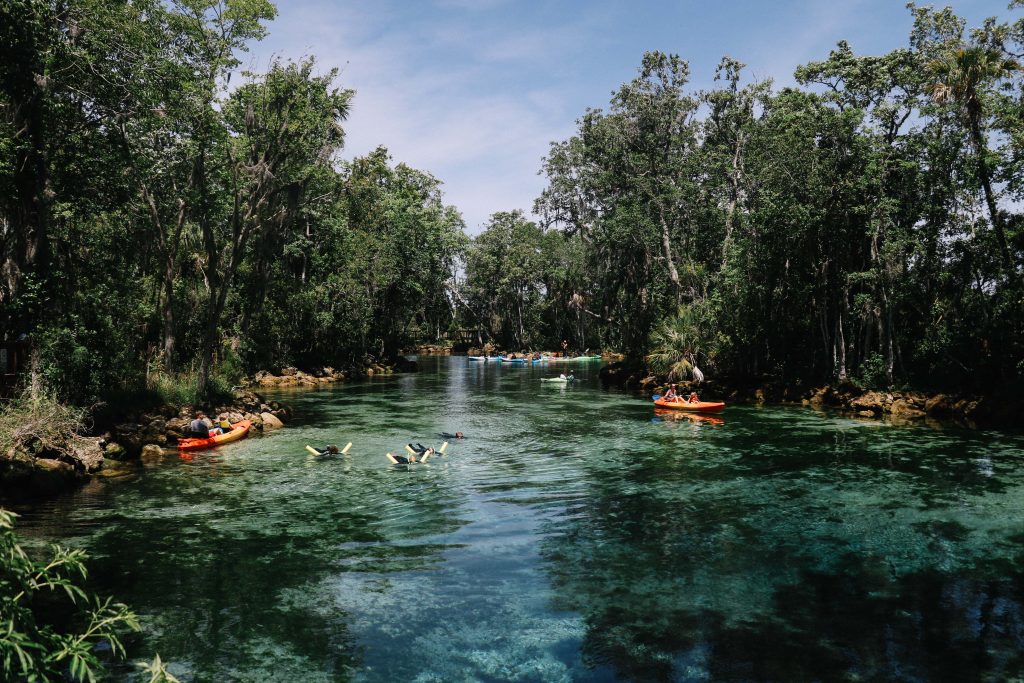 When we tore open our mystery envelope on the third day of our Florida road trip, discovering that we were heading to Crystal River – the self-proclaimed "Manatee Capital of the World" – I therefore knew I was headed for a big bucket list 'tick'. Squealing, I threw the suitcase shut, jumped into our giant jeep and took off on the 1.5 hour road trip north from Tampa . Soon we would be in a manatee paradise.
Below, you'll find an extensive guide to swimming with manatees: including when to visit, where to stay and the tours (including boat, kayaks and snorkelling) available atcry Crystal River and along Kings Bay.
A Guide to Swimming with Manatees
Where to Swim with Manatees
Crystal River, a small city located north of Tampa, is one of just a handful of destinations  offering visitors the opportunity to swim with manatees. A small paradise located along the 'nature coast' of central Florida in Kings Bay, this is an area of (unsurprisingly) crystal clear waters. It is a beautiful region. Fed by 50 natural thermal springs, which keep the water at a pleasant 72 Fahrenheit (22 Celsius) all year round, Kings Bay is one of the few places in the US where the Federal Government allows for 'passive observation' of manatee.
Indeed, the Florida Manatee (a subspecies of the Indian Manatee) is an animal that Floridians hold close to their hearts – awarded as the state's marine mammal in 1975 when they were simultaneously classified as endangered. Since 1975, however, incredible hard work has gone into protecting this gentle animal; bringing manatee numbers up to 6,600 in 2017. As a result, last year the manatee was reclassified as a 'threatened' – rather than an 'endangered' species – thanks to the Florida Manatee Program and the support of thousands of Floridians.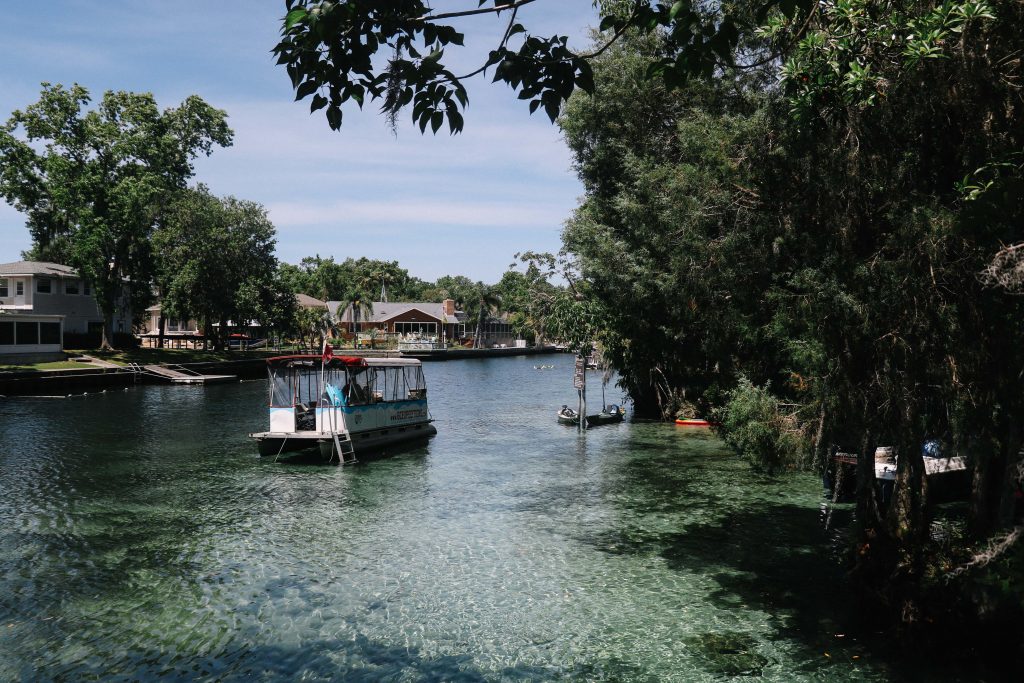 Is Swimming with Manatees Animal-Friendly?
Prior to swimming with manatees, I was keen to ensure that the activity was sustainable, eco-friendly and, most importantly, respectful to these gentle giants. Determined to avoid anything that was unnatural or stressful for them, I researched carefully and listened with interest to the introductory videos that played before each tour. It quickly became apparent, however, that this activity was entirely 'passive,' meaning we would be watching manatees from a safe distance – allowing them to come closer if they wished – but not actively following or touching them.
To ensure as little disruption as possible, the educational videos taught us how to behave once in the water. With snorkels and wetsuits favoured in order to reduce human sound and disruption once in the water, observers must 'float' in the river, with their feet held above the water, so as to remain as quiet as possible. This also applies to the boats passing through the river, with strict speed restrictions in place in order to protect manatees from being struck.
Speaking with our guides, we discussed the importance of these eco-experiences in teaching visitors to Kings Bay the importance of the manatee and their delicate habitat. This, in turn, helps to raise awareness of these quiet, gentle creatures and the importance of protecting their fragile homes. Seen as a species crucial in helping to alert researchers to changes in environment or habitat, manatees are crucial to the overall ecosystem of the area.
What's the Best Time of Year to Swim with Manatees?
As we discovered, although manatees can be found in Kings Bay and its feeder springs most of the year round, there is a definitive 'Manatee Season'. This season runs during the winter months of mid-November to the end of March. During the winter, a whopping 400 manatees descend on Crystal River to seek warmer waters: huddling together in springs such as The Three Sisters. Both our guides for our trip – Dave and Miles –  kindly showed us photos of the waters during this time; photos that seemed slightly surreal. Packed into the springs like giant, shiny pebbles, their photos showed manatee for as far as the eye could see. It's a sight that we're now desperate to glimpse ourselves – vowing to return during the winter months to get another 'manatee fix'. One thing to note is that during manatee season, springs like the beautiful Three Sisters are restricted to ensure the manatees are left undisturbed. This means prohibited boating and swimming.
Where to Stay on Crystal River
Arriving at Plantation on Crystal River was not dissimilar to stepping back-in-time to a southern inspired movie set. Resembling the backdrop to a quintessential southern town, Plantation on Crystal River is a laid-back, eco-lodge for those looking to momentarily escape  modern-day life. As guests quietly pedalled past on pastel coloured bikes and lush green palm trees swayed against the perfectly white, wood-clad hotel, we stood garishly out of place in our bright purple jeep.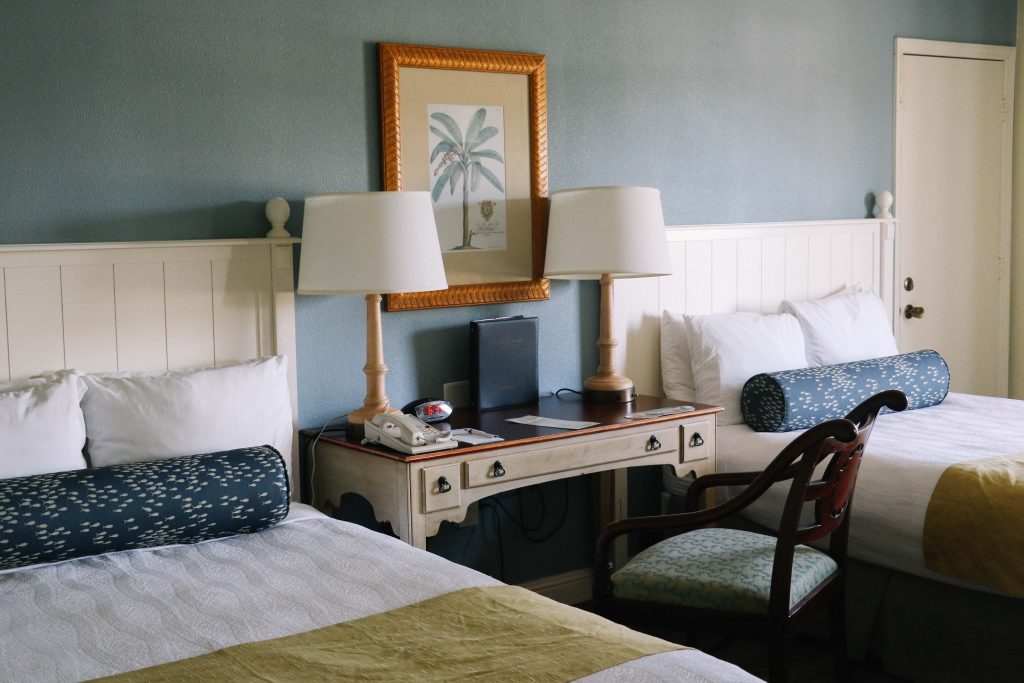 Boasting activities such as swimming with manatees, kayaking, snorkelling and scalloping (an activity we're now desperate to try), the hotel is also home to a spa, extensive golf course and heated lagoon pool. It was the ideal place to locate ourselves before swimming with manatees: encouraging us to adopt a slower pace of life before dipping calmly into Crystal River.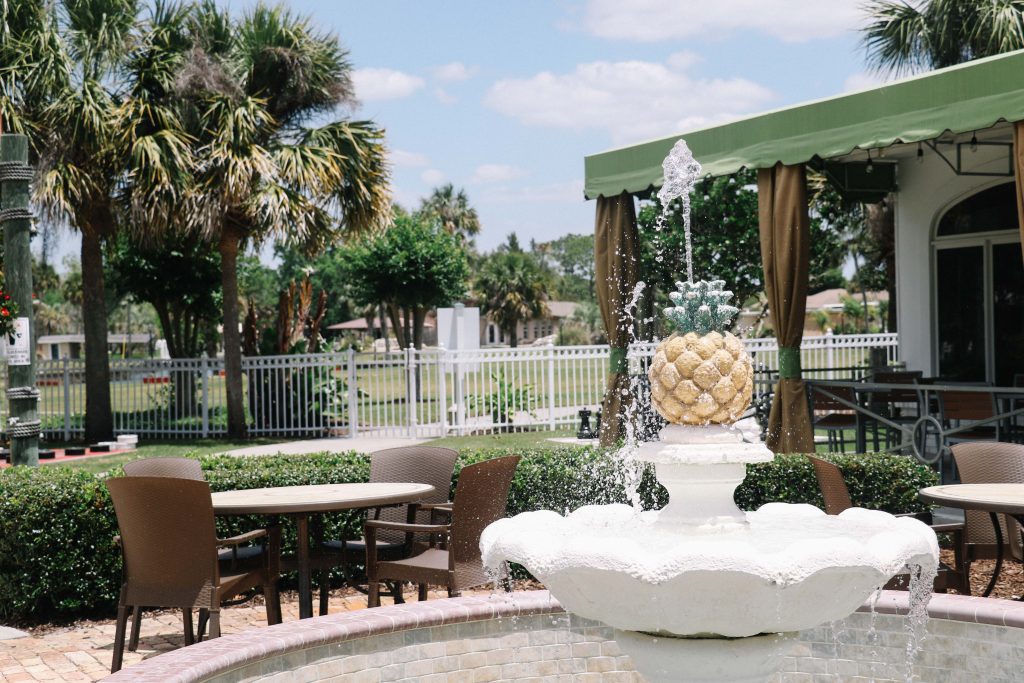 Kayaking on Crystal River
Kings Bay is as beautiful above as it is below, and a kayak tour on our first afternoon in this waterside haven came as the ideal introduction. Our tour came courtesy of the hugely knowledgable Dave Perry who runs Hunter Springs Kayaks.  Ideally located on Kings Bay, it was a hop, skip and jump onto the river once we had manoeuvred ourselves into our wetsuits. Armed with snorkels and GoPros, we set off on the water, primed to swim with manatees were any sighted by the eagle-eyed Dave.
In what felt like a matter of minutes, Dave (the apparent Pied Piper of Manatee) was excitedly pointing below us, to where a mother and calf were silently floating. "It's time to see your first manatee", he whispered, as we fumbled with our snorkelling gear and slid as elegantly as we could into the water.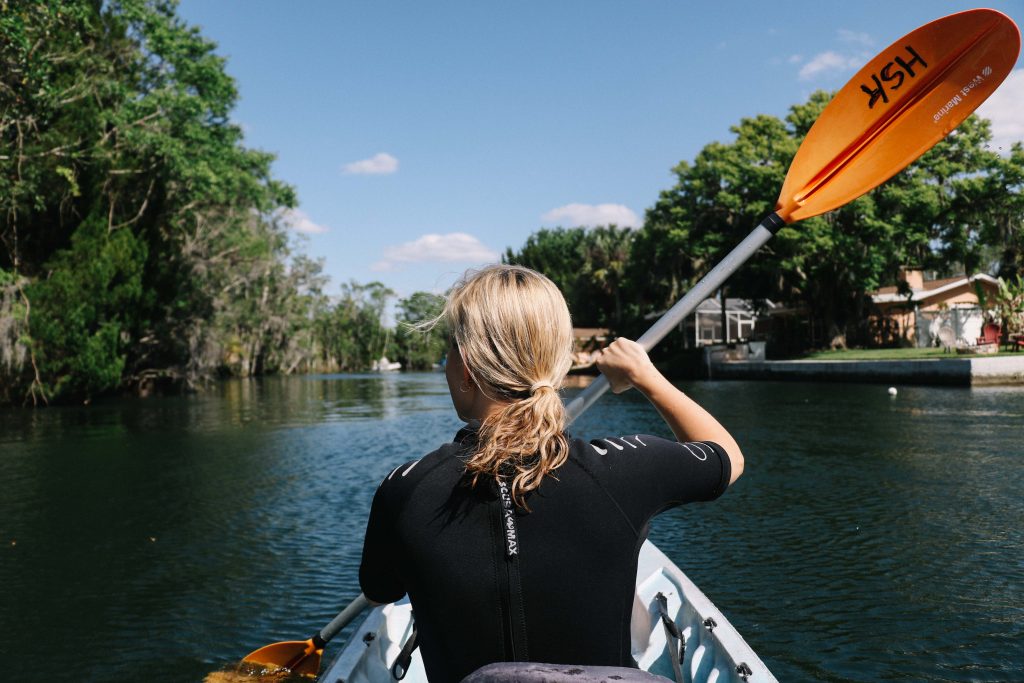 The initial few moments of swimming with manatees were unexpectedly terrifying. Not too sure where to put our legs, and not wanting to float straight between the manatees, we resembled baby elephants taking their first dip. However, after a little choking and floundering – and with Dave being incredibly patient – we managed to regain our composure. The key, I discovered, was to simply 'let go' and to allow ourselves to float freely past the manatee – our feet poking above water to avoid causing any disruption.
It was a completely surreal experience to see these giant creatures (adults can grow to an enormous 1,200 pounds) so close, whilst the animals remained entirely calm and disinterested. As we bobbed along in awe, they continued on with their daily business – coming up for air every now and again before gently sinking back to the bottom of the river bed. We were only two minutes into the tour and I was already entirely obsessed with these creatures.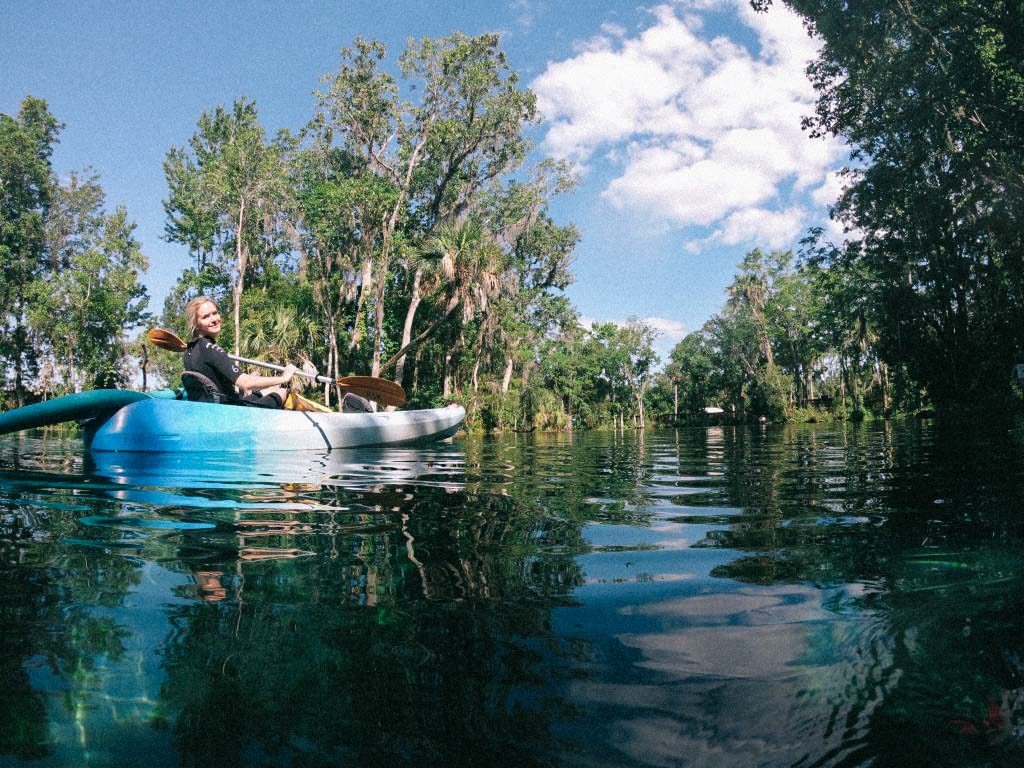 We continued hopping in and out of our kayak for the rest of the afternoon, as we glimpsed even more manatee. At one point, I had the privilege of attracting the attention of a particularly curious male, who decided to investigate me thoroughly with his snout. Similar to being interrogated by a toilet brush, he carefully inspected my limbs with his bristled nose, gently blowing bubbles against me before floating off. I clearly wasn't his type, yet I wasn't the least bit insulted – the moment had been magical.
Our afternoon kayaking with Dave was exhilarating and is a memory I've squirrelled away, primed to tell anyone who will listen for years to come. With the sun bouncing off the water, and with Dave keeping us entertained with his endless facts about Kings Bay and its residents, we left our kayak tour craving more opportunities to dip below the clear waters to see our new riverbed friends.
Manatee Boat Tours
On our second day at Crystal River, we rose sleepily at 6am ready for our second round of swimming with manatees.
This time, we were heading out on a boat and snorkel tour to spot the manatee – a tour offered by Plantation on Crystal River through their Plantation Adventure Centre. Safely inside our wetsuits, which kept us warm despite the early morning, we headed back onto the water. This time, it was only a matter of seconds before our first set of manatees were spotted. Now far more confident in the water – a self-proclaimed 'skilled floater' – I quickly submerged my head into the crystal river, finding myself face-to-face with a truly breathtaking (if gasping was an option in a snorkel) scene.
"Munch, munch, munch" was the only sound to be heard as I submerged my head, a huge manatee gliding past. He was absorbed entirely in his early morning breakfast. Not too dissimilar to the sound of a cow chewing grass, I watched in awe as the huge manatee chomped his way through the watery vegetation. Behind him, a smaller manatee appeared, ascending to the surface to take a breath. Following it up, I watched as its little pig-like snout popped above the water, blowing giant bubbles into my goggles. Trying my best not to simultaneously laugh and cry, I floated quietly next to them both – taking in the incredible scene.
Three Sisters Springs
The Three Sisters Springs was a true highlight of our visit to Crystal River and Kings Bay. Known as the 'winter home of the manatee', these unfathomably beautiful springs are one of the fifty springs that feed into Kings Bay. Accessible by land, kayak (during summer months) or snorkel, these springs can be enjoyed by those with or without their sea legs. We were fortunate enough to view the springs from both vantages- each offering a completely different view.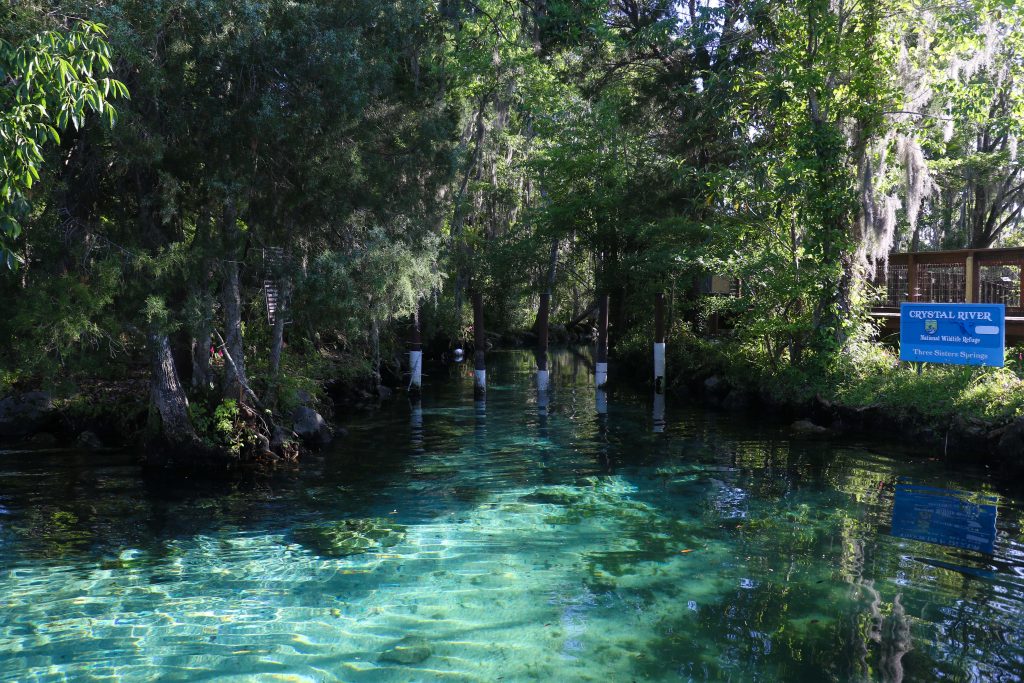 The viewing deck that runs the length of the springs exists within the 57-acre refuge of the Three Sisters, which was narrowly saved from being turned into a residential estate just a few years ago. The refuge also offers walking trails that lead to other surrounding springs, such as Magnolia Springs and Lake Crystal, as well as the opportunity to spot some of the varied wildlife in this area; including a dazzling array of birds such as egrets, herons and kingfishers.
From the water, entering the Three Sisters Springs is truly mesmerising. With no boats or large vessels allowed into the springs themselves, the entrance to the glittering waters is through a narrow channel. Gently paddling our kayaks through the water, the sun glinting through the trees, we found the channel opened up to reveal a glittering pool of blues and greens. Babbling incoherently to one another, unable to quite process the beauty of the place, we dipped into the water, ready to see life below.
As clear as bath water, the Three Sisters Springs is a snorkelling Mecca, with the floor teeming with brightly coloured fish and other residents such as Softshell and Snapping Turtles. During the winter months, this is where you'll find the manatee, snoozing in the warm waters. Asking our guide Dave if he ever got bored of visiting this sanctuary, he laughed – "what do you think?", he replied.  I could hazard a guess at his answer.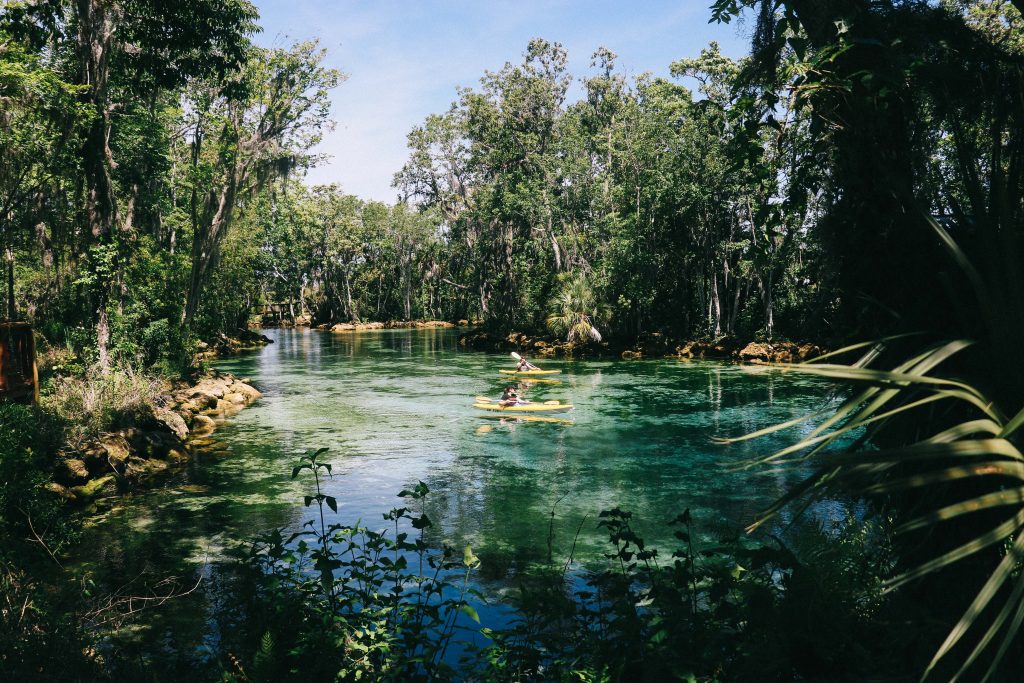 Where to Eat Around Crystal River
For our only dinner at Crystal River, we drove a short twenty minutes from the hotel to a somewhat unassuming-looking seafood restaurant, cleverly named 'Katch Twenty Two'. Located on the side of the highway, this small restaurant is a true hidden gem on Crystal River. With the interior resembling a personal dining room, and with owners Richard (chef) and his wife Tiffany, offering the warmest of welcomes, this is an intimate and friendly place to dine. Feasting on fresh crab cakes, seabass and seafood ravioli (recommended by Dave), we enjoyed the best meal of our Florida trip here; something perhaps to do with Richard's former career as a Hyatt Regency chef.
This restaurant is a 'must' for those visiting the area and looking for delicious and fastidiously prepared food, all served within a welcoming and cosy environment.
Final Thoughts
Carefully placing a cuddly manatee into my suitcase, along with a matching manatee hat and t-shirt, I closed the case and reluctantly left the sanctuary of our quiet room at Plantation on Crystal River. With my bucket list goal of swimming with manatees well and truly ticked, it was time to head onto our next Floridian adventure.
Running our travel blog has provided me with many unique opportunities over the last few years, but our time swimming with manatees – learning about their habitat and the importance of protecting these beautiful creatures – was a true highlight. The only question now is when can I return to do it all again?
This is a sponsored post in collaboration with Visit Florida who kindly took us on our Florida road trip and provided us with the wonderful opportunity of swimming with manatees. 
Pin it: