This Peloton vs Peloton Plus review contains a Peloton discount code.
Unless you've spent the last few years living under a rock, you've no doubt heard of Peloton.
This cult US brand is now synonymous with fitness – specifically home cycling – and has transformed the way that millions of us work out. One of (perhaps few) benefactors of the Covid pandemic, Peloton has seen its profits surge as customers have permanently swapped the gym for indoor cycling.
Now referred to as the 'Apple' of the fitness world, Peloton has continued to expand its range, including not just the original Peloton bike, but the Peloton Tread (running machine) and, most recently, the Peloton Bike+.
This new bike is not only new and improved, but comes with a brand new price tag, too – costing £1,995. This makes it £650 more expensive than the original Peloton bike, which is quite the price hike.
With the initial model already representing an incredible investment at £1345, you might therefore be left wondering if the Peloton Plus is worth the extra cash.
Below is my summary of the Peloton Bike vs Bike Plus review – including what the main differences are, why the Peloton Bike Plus is better than the original and ultimately, my verdict on whether the Peloton Plus is worth it.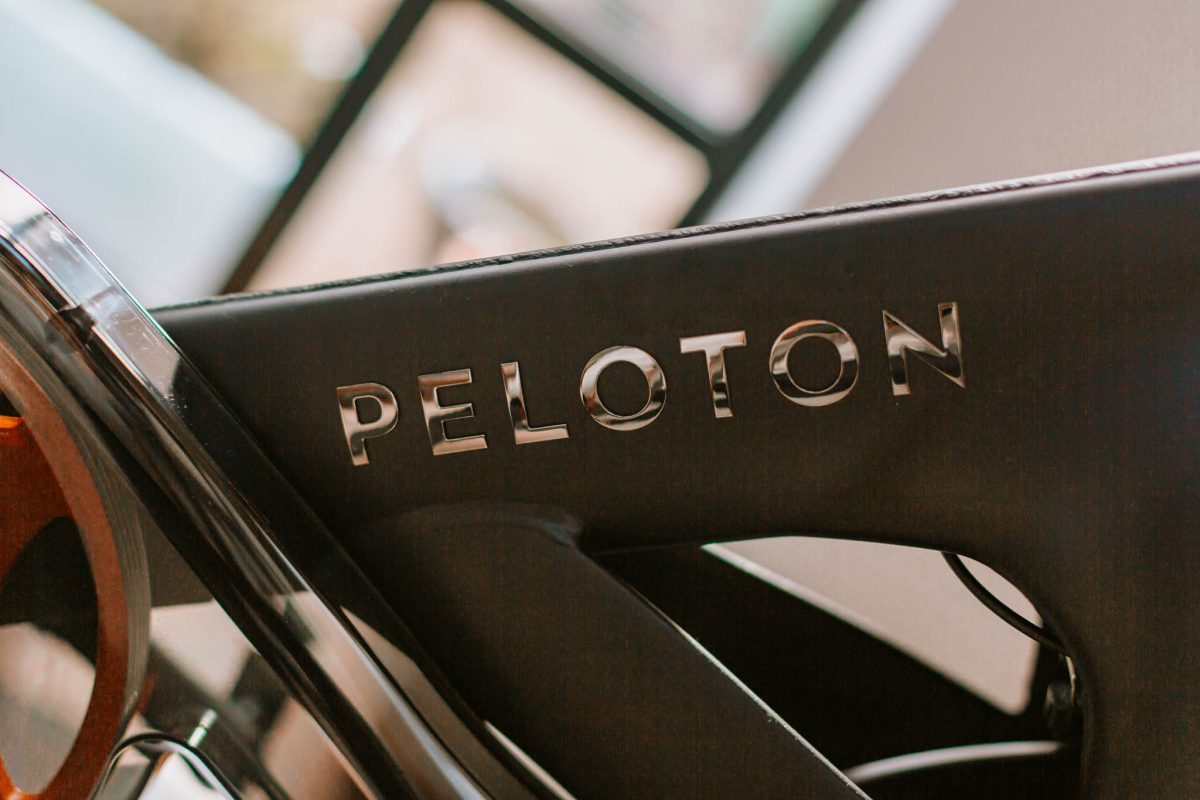 What are the Differences Between Peloton Bike vs Bike Plus?
Firstly, what are the main differences between the Peloton and the Peloton Plus? Below is a quick summary.
1. The Peloton Bike Plus has a (much) Better Screen
First up, the main difference between the peloton Bike vs Bike Plus is the fact that the latter has a bigger and fully rotational screen.
You might wonder why this matters if you're just using the screen for a cycling class – what use does a fully rotating, 360 degree screen, have?
In short, this is so that users can really engage with Peloton's other class offerings – simply swivelling the screen and directing it towards the ground, ready to move to a strength or yoga class (all these classes are accessed via the Peloton app, found on the bike).
Previously, if you had the original Peloton bike, you wouldn't be able to see the screen from the floor (as you can only tilt it or adjust its height). As such, users had to access these classes via their phone or tablets (having downloaded the Peloton app beforehand).
The entire Peloton experience – moving from bike to mat – was therefore not particularly fluid. Given that the Peloton software gives you the option to 'stack' classes – e.g selecting a spin class and then a yoga class, so they play one after the other – you'd perhaps expect an easier transition.
With the Peloton Plus, however, users can now move seamlessly between workouts; jumping off their bikes, spinning the screen and heading to the floor for a strength workout.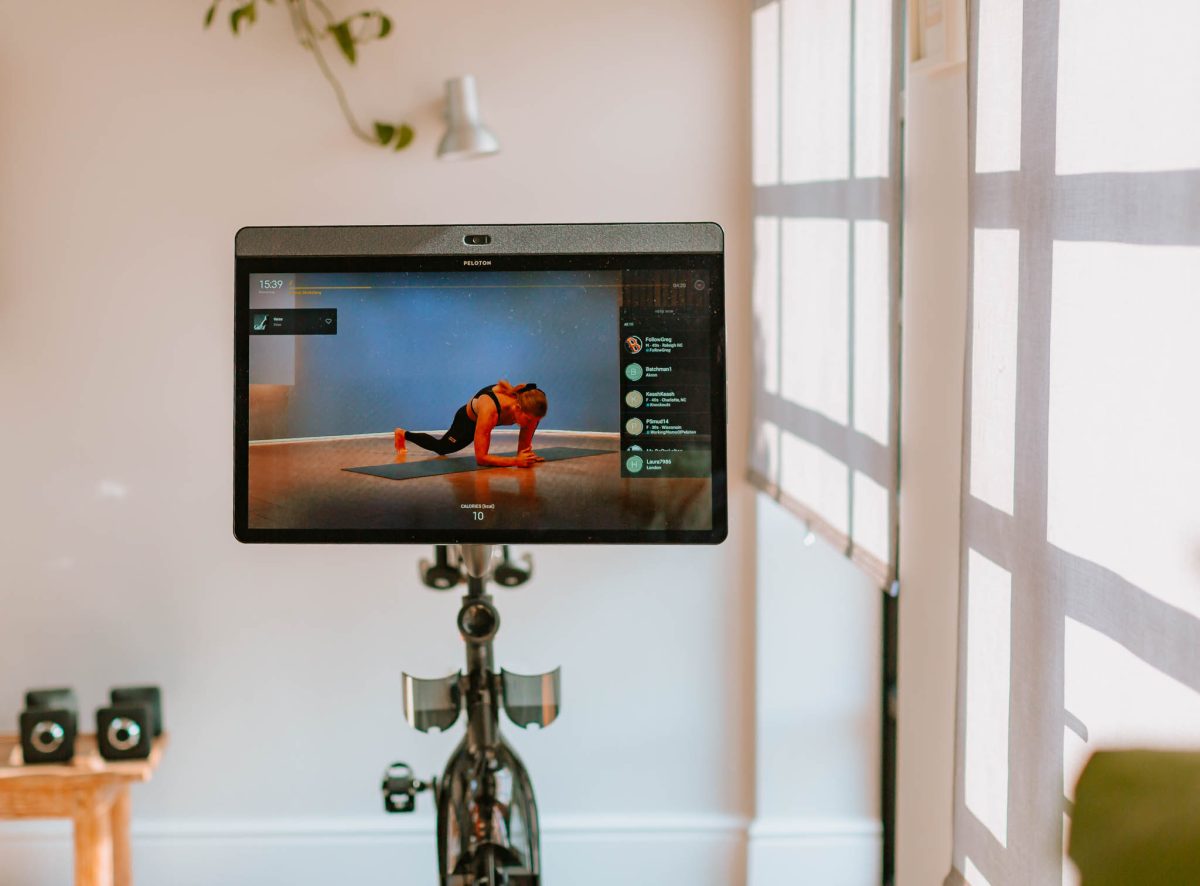 Additionally, the screen on the Peloton Bike Plus is larger than that on the original bike at 23.8 inches, rather than 21.5 inches (both are HD, although the Bike Plus also benefits from an anti-reflective coating).
Ultimately, in terms of Peloton Bike vs Bike Plus, the Peloton Plus ultimately delivers a bigger, more immersive screen experience, that adds a fluid versatility to your workouts.
2. Apple GymKit Integration
When I was researching the differences between the Peloton Bike vs Bike Plus, I was surprised to learn that the original Peloton doesn't link to Apple Watches. As a result, you can't access health data or track your Peloton workouts on your watch (although you can use a heart rate monitor that uses ANT+, but not Apple).
The Peloton Bike Plus remedies this by including software that will link to Apple GymKit – a platform that allows third-party cardio machines to effortlessly connect and sync with your watch.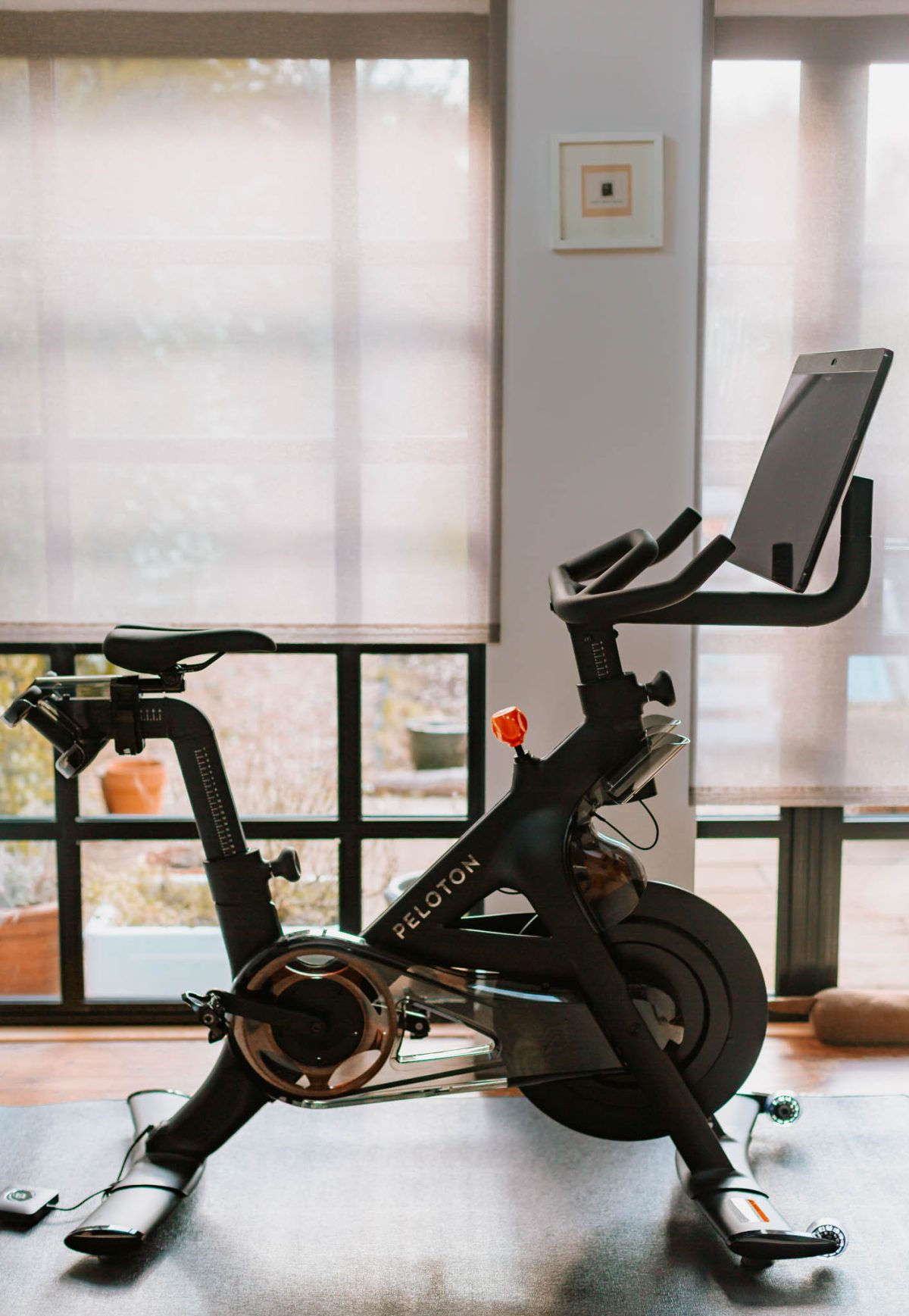 The two softwares – Apple and Peloton's – work together, offering a more accurate estimate of calories burnt and overall output (most reviews I've read seem to suggest the Peloton over-estimates how many calories you've burned – something that syncing with GymKit remedies).
I don't have an Apple Watch myself, so this wasn't a huge draw of the Bike Plus, but I know a lot of people do and swear by them when it comes to tracking their workouts.
3. Auto-Resistance Option (& a Lighter Knob)
When it comes to comparing Peloton vs Peloton Plus, the latter has an improved resistance knob, that includes a clever 'auto-resistance' option (or what most bike companies would call an 'ERG' mode).
In short, this means that rather than having to manually change the resistance on the bike, as you would with the original Peloton, you can select the automatic option and this will amend the resistance in accordance with the instructor's cues (without you having to lift a finger).
This means slightly less faff for you and has the added bonus that you can't simply plead ignorance when the ride gets really hard – 'forgetting' to increase your resistance.
The resistance knob on the Peloton Bike Plus is also much lighter and responsive – in fact, it's incredibly sensitive. Whilst the knob on the original bike requires a little force to twist, the one  on the updated model can be nudged up and down with just your little finger.
Again, this adds to a more streamlined experience, allowing you to quickly increase (or decrease) your resistance with little additional effort.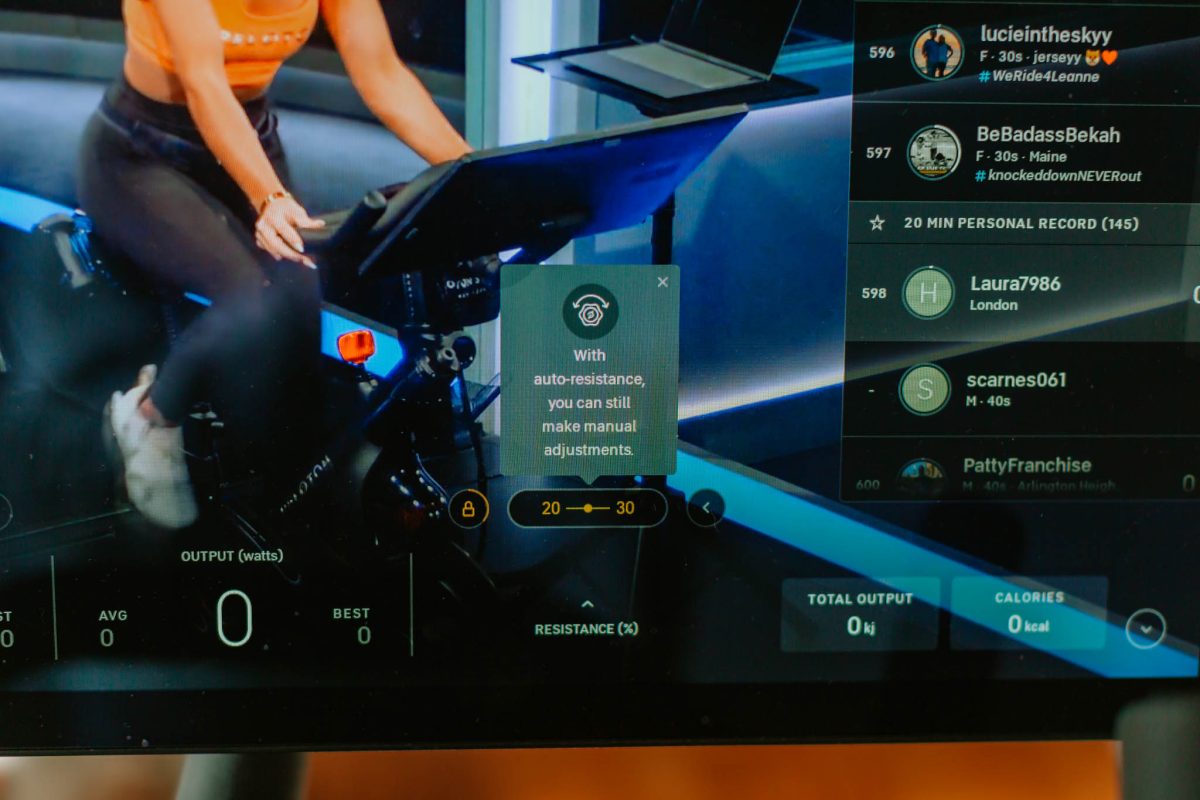 4. An Improved Speaker System
For those of you who love to blast music when you're in the middle of a particularly challenging hill, then the Peloton Bike Plus is definitely better than the original Peloton Bike.
To be specific, when it comes to Peloton Bike vs Bike Plus, the Peloton Plus has (and I'll be exact here) 4-channel audio with tweeters and full-range drivers (with two speakers at the front of the bike and two at the back). Thanks to these, Peloton claim this system delivers unbeatable, 360 studio-quality sound.
The original Peloton has a more pared back sound system, based on 2-channel audio with 2×10 watt, rear-facing speakers. I've actually heard the sound that comes from this original set-up and whilst it isn't at all bad, it's nothing compared to the Plus.
5. The Peloton Bike Plus Can More Accurately Measure Your Output (Wattage)
Although this isn't regularly publicised by Peloton, one of the differences between Peloton vs Peloton Plus is the fact that the Peloton Bike Plus can more accurately measure your output.
Now, I'm not hugely knowledgable when it comes to the inner workings of the Peloton Bike, but from what I can gather, the Peloton Bike Plus benefits from a load sensor (as a result of its newly improved resistance knob), which the original bike doesn't have.
This means that the original Peloton estimates resistance before calculating output, whereas the Bike Plus digitally calculates resistance – resulting in a more accurate output figure.
For many, this won't mean a great deal. However, for many die-hard Peloton fanatics, or those who love nothing more than fully immersing themselves in workout data, then this improvement is a significant one.
6. Minor Design Tweaks
Some of the final differences between the Peloton Bike vs Bike Plus concerns overall design and look.
Having seen how millions of users were already experiencing their original Bike, the Peloton team were able to make a few tweaks – aimed at improving overall usability and comfort.
These changes included moving the headphone jack from the side of the screen, to the handle bars. This was because most users needed an extra long lead to comfortably sit up straight when they had their headphones plugged in.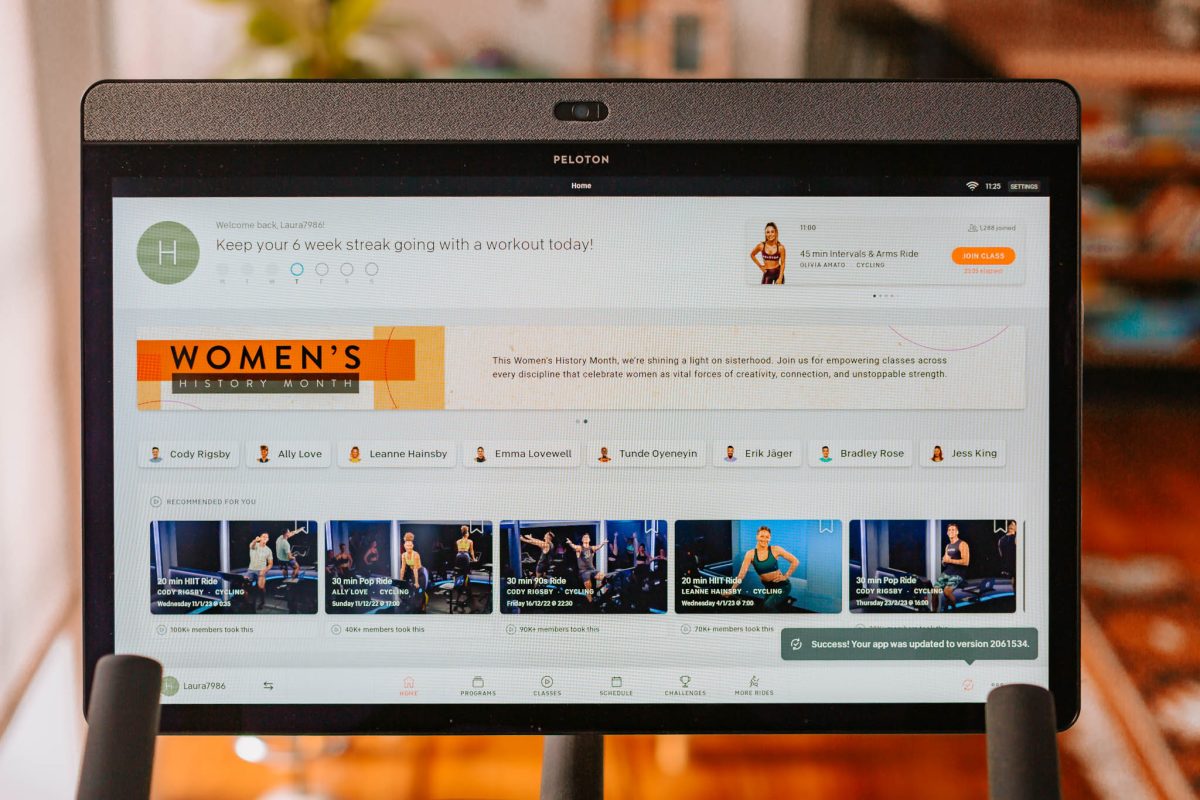 For those who want to connect their headphones via bluetooth, the Peloton Bike Plus benefits from 5.0 connectivity (whereas the original Peloton Bike has 4.0).
There is also a new, raised 'Peloton' logo down the side of the bike, the weight holder at the back of the bike has been subtly modified and the overall equipment is now slightly heavier (3kg to be exact), making for a smoother ride with less rocking.
Is the Peloton Bike Plus Worth It?
So, now that we've outlined the differences between the Peloton Bike vs Bike Plus – the question remains: is the Peloton Plus worth it?
Given that the original Peloton already represents a considerable investment, do all of these modifications really justify the additional £650?
Personally, I'm in two minds.
What is Good About the Peloton Bike Plus?
1. The Fully Rotational Screen is a Gamechanger
Having used the original Peloton bike a fair few times – mostly in gyms – one thing I did think was a limitation was the fact that you couldn't move the screen if you wanted to do a floor class.
To me, this seemed a real oversight and made moving between classes incredibly clunky. Users would either need to prop up their phone or tablets, or stream to their TV, to view these mat-based classes.
Peloton clearly got the memo on this and the introduction of the rotational screen is therefore a game-changer.
Something I do want to mention in this Peloton Bike Plus review is that moving the screen around isn't a totally seamless movement. As the screen is big, you have to tilt it fully backwards to be able to move it past the handle bars (if they're positioned quite far forward, like mine). Once past, you can then re-position it, so that you can see it from the ground, or wherever you're standing.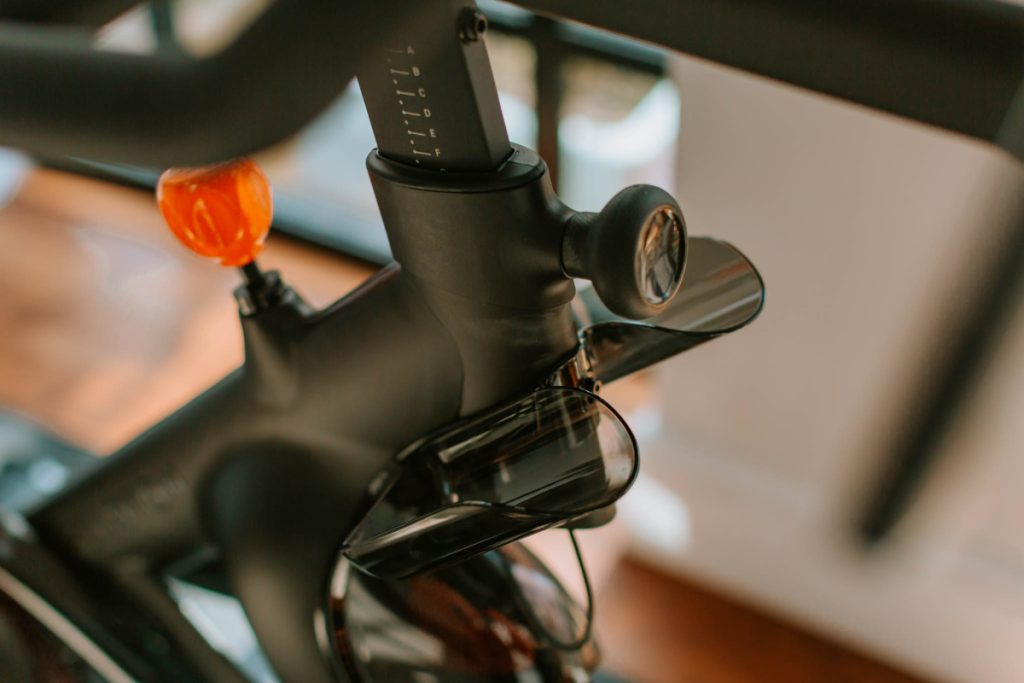 However, this really is a persnickety point – as once it's turned around, being able to use this huge, immersive screen for Peloton classes such as yoga, or HIIT, is fantastic.
I can now happily hop between classes and joining a class via a large, HD screen is so much better than squinting at my iPhone. It's also definitely improved the entire Peloton user experience and has turned this bike into an incredibly versatile piece of kit; bringing an entire gym, and workout studio, into my home.
2. The Sound Quality
One of the first things I noticed when reviewing the Peloton vs Peloton Plus, is just how incredible the sound is on the Bike Plus.
For me, music is absolutely crucial to my workouts and my biggest motivator. In fact, I'm not sure I can do any form of exercise without it. The immersive, multi-layered sound experience offered by the Peloton Bike Plus is therefore a dream come true and perhaps one reason why I'm just so hooked on my bike.
Thankfully, we are lucky enough to live in a detached house and my partner works out of the house. When my son is at childcare, I can therefore crank the volume up as high as it will go (surprisingly loud) and let Cody Rigsby's pop playlists completely surround me.
This makes such a difference to the quality of my workouts and motivates me to really give it my all.
It also means that when I'm doing a floor-based workout, or one of Peloton's meditation classes, the sound experience is still just as good – and I don't feel removed or detached from the audio.
3. Peloton Bike Plus Is So Quiet
It's extraordinary sound quality aside, the Peloton Plus is an incredibly quiet piece of kit.
Indeed, and let's face it, the Peloton is not a small bit of gym gear. Although claiming to only have a 120 cm x 60 cm footprint, the bike is still chunky – a large and dramatic piece of furniture that's difficult to discreetly hide away in your home.
In fact, when I first had my bike delivered, I was quite alarmed by the size of it and imagined that it would be quite loud and cumbersome.
Thankfully, the opposite is true.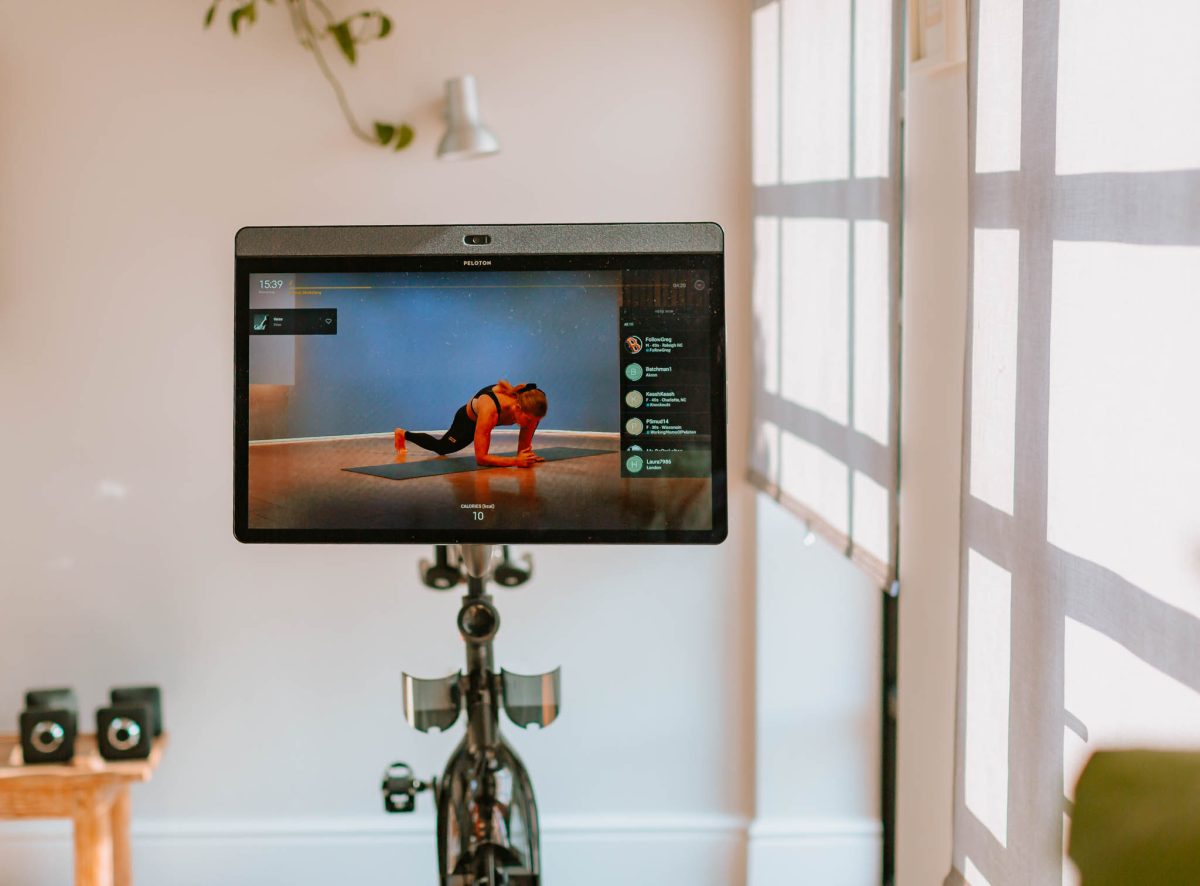 The Peloton Bike Plus is stealth-like quiet (when you haven't got 90s pop music blasting from it, that is). Indeed, although heavy duty, its weight means that it doesn't rock or rattle, and the peddling motion is buttery-smooth. If you don't have an instructor or music on, you wouldn't even know somebody was on the bike.
This is great if you are just doing one of Peloton's more general, scenic rides and are listening to your own audio on your phone.
What Didn't Impress Me About the Peloton Bike Plus
1. Auto-Resistance Doesn't Work with Live Classes
When it comes to comparing the Peloton vs Peloton Plus, the marketeers at Peloton will likely focus on the fact that the newer model comes complete with a newly introduced 'auto-resistance' option.
Claiming that this makes workouts more seamless, allowing you to 'get in the zone' without having to keep nudging the resistance manually, the automatic resistance option is often used to justify the price hike between the Peloton Bike and the Bike+.
However, what Peloton don't mention is that the auto option is only available on pre-recorded classes.
For those of you who, like myself, really enjoy taking the live classes (in my opinion, there's a better atmosphere in these), this is likely to be a disappointing revelation – and something I wanted to include in this Peloton Plus review.
Of course, changing the resistance yourself isn't exactly laborious and the new knob is so lightweight you barely need to touch it. However, given that the auto-resistance feature is one of Peloton's biggest boasts, this caveat is pretty disappointing.
2. GymKit Only Works with Cycling Classes
Another disappointing discovery when it comes to Peloton Bike vs Bike Plus is the fact that you can only use your Apple Watch (and GymKit) with Peloton's cycling classes.
As a result, if you decide to do one of the mat-based cardio or strength classes, you won't be able to track or save  your Apple Watch metrics on the bike.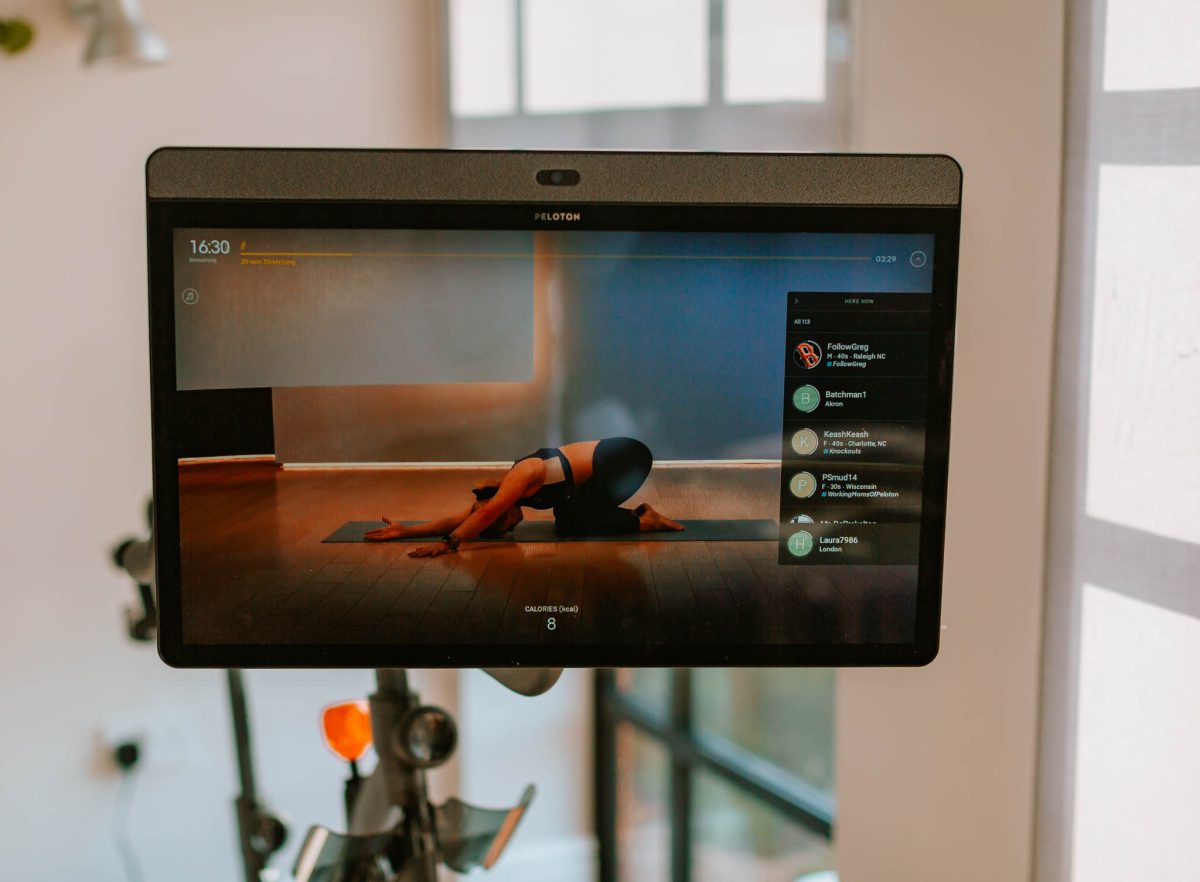 As is, Peloton will just automatically save its pre-recorded estimate of what you'll burn in any particular class, rather than collect exact data from the Apple Watch.
I've also seen reviews stating that connecting the Apple Watch to the Peloton can be a bit glitchy, and the bike and Watch don't stay paired – meaning you have to re-connect every time.
Again, for a piece of technology that will set you back nearly £2,000 – small flaws like this are pretty disappointing.
3. Can You Connect Peloton to Spotify or Netflix?
In short, no – and I think this is a drawback of the Peloton Bike Plus.
While Peloton is no doubt the leader when it comes to home exercise bikes, there still remain a whole host of other fantastic home gym companies that offer equipment (bikes and treadmills) with much better third party platform integration.
For example, the Bowflex C7 indoor bike lets you connect to Disney Plus, Netflix and HBO Max – something you definitely can't do on a Peloton.
Now, I do partly understand why this is the case. One of the big draws of Peloton is the sheer quality of its classes. Its instructors are now famous across the globe, and their classes and incredible playlists are what make Peloton – well, Peloton.
Sitting on your bike and firing up a podcast, or watching a Netflix show, therefore detracts from this experience.
However, I do think that if you're paying nearly £2,000 for the Peloton Bike Plus, then these features – which much cheaper alternatives manage to offer – should come as standard.
4. How Loud Can You Really Be?
While there's no doubting that the sound quality on the Peloton Bike Plus beats that offered by the original Peloton, this is only useful if you live somewhere where you can turn the volume up – and up loud.
If, like many, you live in a flat, or share your home with children or partners who are working (or sleeping), you may need to keep the noise down – or even wear headphones.
As a result, this new 360 sound experience gets a little lost and suddenly seems a bit pointless.
Indeed, if you're going to be regularly plugging your headphones in, you might as well just get the original Peloton Bike and save yourself a few hundred pounds.
5. How Technologically Savvy Are You?
Lastly, when considering why the Peloton Plus is better than the original Peloton, many people point to the fact that it has improved accuracy when it comes to measuring output and wattage.
In fact, and technologically speaking, the Peloton Plus really is a top-of-its-game piece of kit.
However, and for those of us who just want to jump on a bike for 20 minutes, get sweaty and jump off again – how much does this really matter? Will knowing that your output is completely accurate, down to the calorie, really enhance your user experience?
In all honesty, it's not had a huge impact on my own experience. While I like having a rough idea of how many calories I've burnt, it's largely how I feel inside (my mental health and feeling physically healthier) that really counts.
Conclusion: Is the Peloton Bike Plus Worth It?
Now that we've looked at the main differences between the Peloton vs Peloton Plus, do I ultimately think that the Peloton Bike Plus is worth it?
The truth? I'm a little torn.
If you asked me more generally – is the Peloton Bike worth it? – the answer would be a resounding 'yes'. I absolutely love – nay, am addicted to – my Peloton bike. Whilst no doubt an investment, this is a high-class piece of kit. It's beautifully designed, sleek, comfortable to use and feels nothing short of premium.
Add to this the entire Peloton experience – the fantastic classes (Peloton really has found the magic formula when it comes to charismatic instructors and amazing playlists) and I'd say that investing in a Peloton has been one of the best decisions I've ever made.
Although it sounds somewhat cliché, using a Peloton isn't just working out – it's an entire experience – with the energy of the Peloton instructors transporting you to a different place entirely.
However, would I say that this positive experience is entirely down to the fact I chose the Peloton Plus over the original Peloton Bike? No, probably not – something I wanted to underscore in this Peloton Bike Plus review.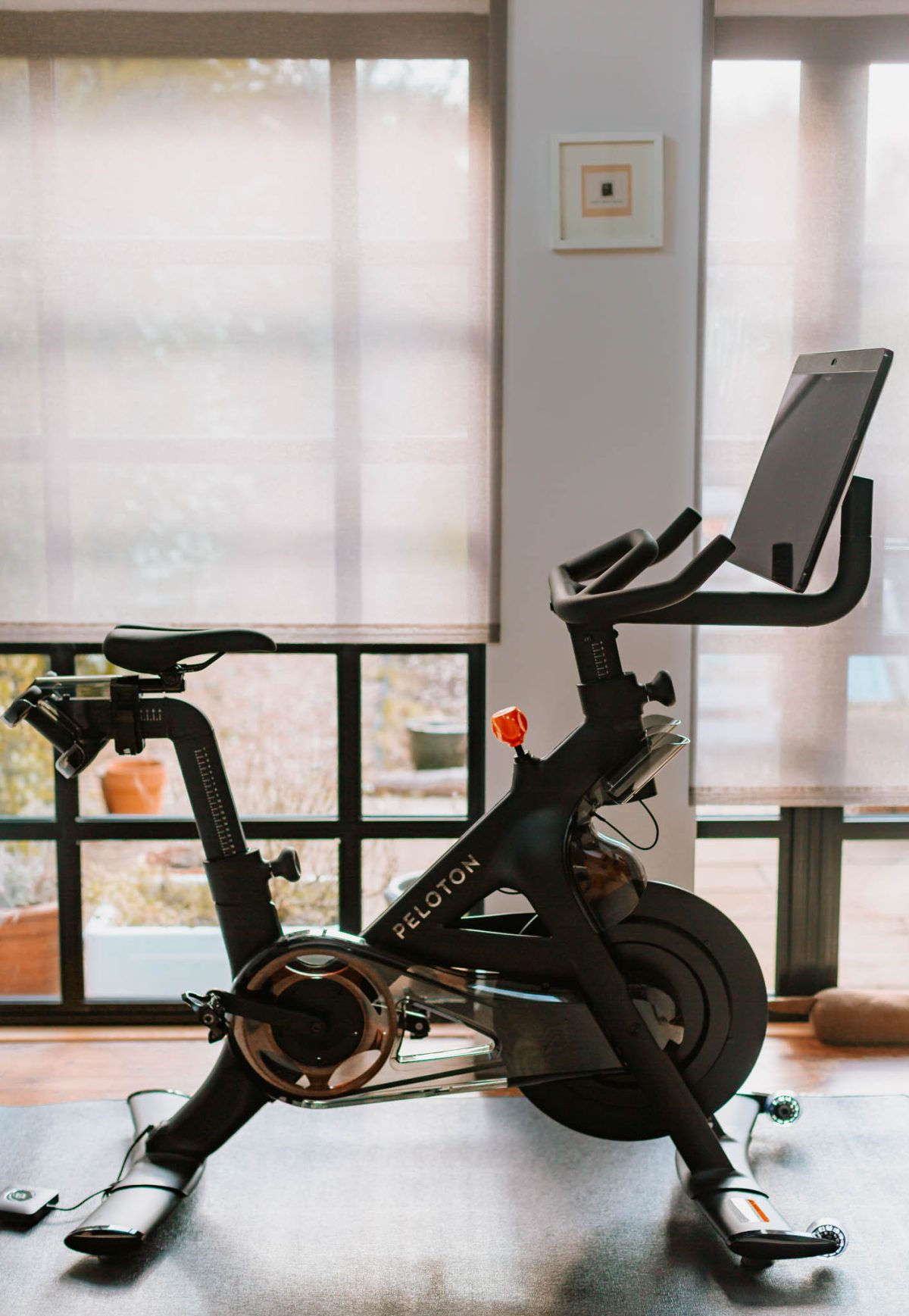 I am by no means an aficionado when it comes to indoor cycling and have scant knowledge of the technology behind these bikes. As such, many of the bells and whistles of the Peloton Bike Plus have been lost on me. Likewise, I don't have an Apple Watch, so the GymKit integration isn't particularly beneficial to me.
Furthermore, and as someone who enjoys the live classes, not being able to use the 'standout' auto-resistance feature of the Bike Plus is incredibly frustrating.
For these reasons, part of me thinks I could have perhaps saved myself £650 and just bought the original Peloton bike.
However, the new screen really does clinch the deal for me – and stands me firm in my decision that the Peloton Bike Plus is worth the money.
Thanks to the simple act of being able to swivel this beautiful, immersive screen around, my workout routine has completely changed.
By being able to see the classes from the floor, or from the other side of the kitchen, I feel more engaged and immersed in these classes than ever. The music is louder, I can see the faces of my instructors and I can hop between bike and floor seamlessly.
Yes, £650 is a lot to pay for a 360 swivelling screen but, and in my humble opinion, it really is worth it.