Do you suffer from travel anxiety?
We can help you overcome anxiety and see the world.
This list of the 8 best things to do in Marzamemi, Sicily, contains affiliate links.
Where is Marzamemi in Sicily?
The sleepy fishing village of Marzamemi, Sicily, is located just a few kilometres from the southernmost point of the island. Tucked into the southeast corner of the country, Marzamemi isn't necessarily a destination for those visiting the likes of Syracuse, but it's truly worth  a visit.
We visited Marzamemi for an afternoon, travelling from our base in Syracuse. It was an incredibly straightforward 50-minute drive to the village and there was ample parking available in the town (note, you do need to pay for parking at the small kiosk on site – card accepted).
Marzamemi is also conveniently located just a 25-minute drive from Noto, the famous Baroque capital of Sicily.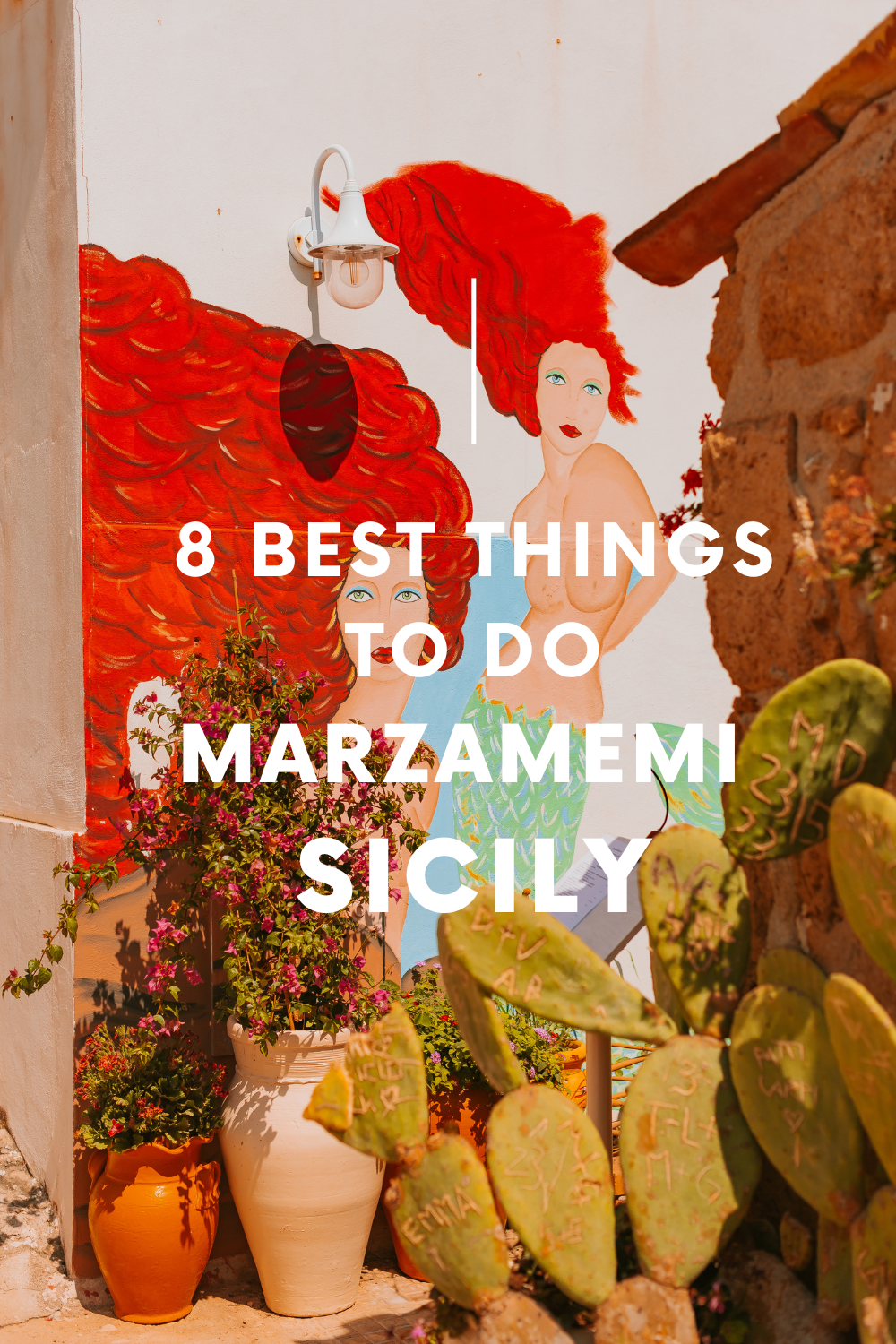 The History of Marzamemi, Sicily
For a sleepy seaside village, Marzamemi, Sicily, has a surprisingly interesting history.
Discovered by the Arabs in the 10th century, the name translates to 'Turtle Dove Bay'. The village's Tonnara (tuna processing plant) built by the Arabs, went on to became one of the most important in Sicily.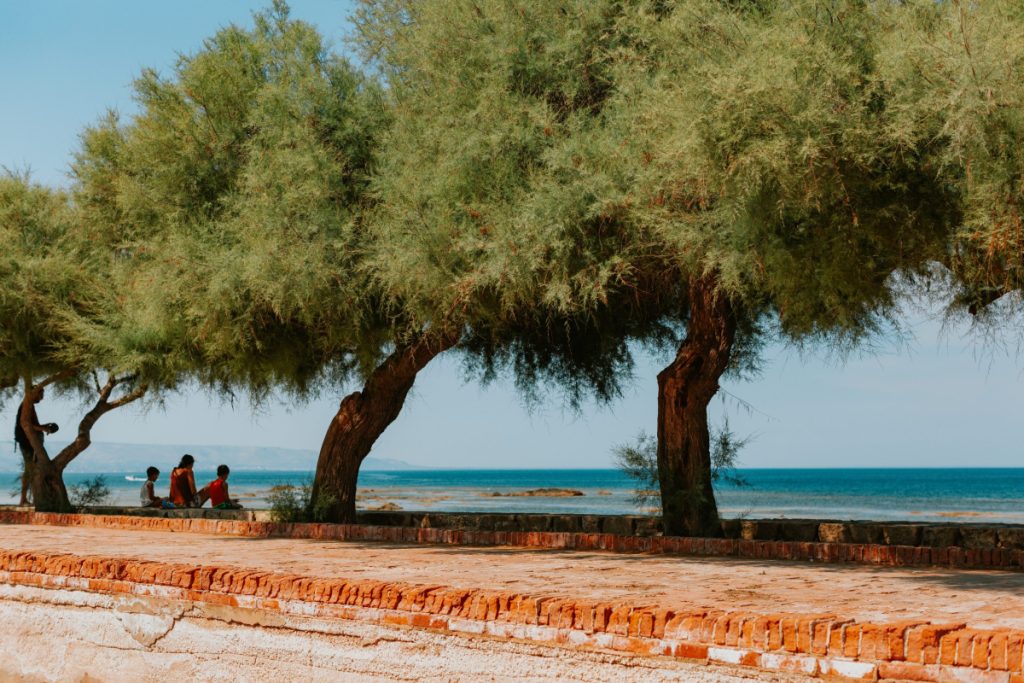 Although the tonnara is no longer in use, the village remains committed to the artisanal fishing and processing of its catches. Indeed, visitors are spoilt for choice when it comes to the number of produce on offer – from marinated anchovies, canned tuna to smoked swordfish and tuna salamis.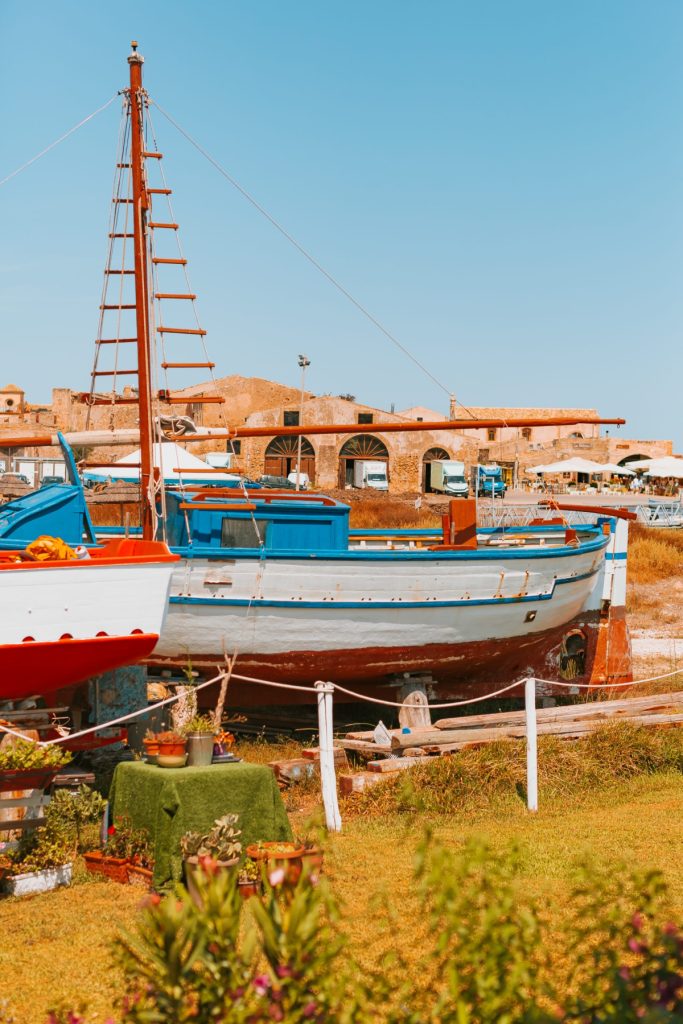 8 Things to do in Marzamemi, Sicily
Marzamemi is a slice of Sicilian paradise and, in my opinion, one of the prettiest destinations on the whole island.
We visited in June, when temperatures were already hitting the mid-30s and the village was alive with colour and busy seafood restaurants.
A small, but perfectly formed, village, there's no need to worry about missing any of its sights. To uncover the best things to do in Marzamemi, all you need to do is just start strolling.
1. Piazza Regina Margherita
The main piazza of Marzamemi, Regina Margherita, is perhaps one of the prettiest spots I've ever stumbled across on my travels. An explosion of white washed houses adorned with pink bougainvillea, azure-blue doors and rustic tavernas, Marzamemi really is a treat for the eyes. The piazza is also called 'Antico Borgo dei Pescatori' or ancient fisherman's village.
Top tip: Make sure you explore the surrounding passageways that meander off the piazza. You'll be treated to red-headed mermaid murals snaking up the side of the walls.
2. Fishermen's Houses
As a keen photographer, it was the images of the Fishermen's cottages in Marzamemi that excited me most. Flanking the pretty piazza and alleyways surrounding it, the fishermen's houses will leave you dreaming of packing it all in and starting a new life in this sleepy Sicilian village.

3. Visit the Church of San Francesco di Paola
The Church of San Francesco di Paolo sits within the Pizza Regina Margherita. In fact, there are two churches within this piazza, with the original church – Chiesetta sconsacrata di San Francesco di Paola – retired from use after heavy bombing during WW2.
During the midday heat, this was a lovely space to escape to and is a church that is still used regularly by the local community.

4. Enjoy a Lazy Seafood Lunch
Without a doubt, one of the best things to do in Marzamemi is to gorge on delicious, fresh seafood. Our visit was based purely around an extensively long, lazy lunch and was the highlight of our visit.
We opted for a restaurant overlooking the harbour and as temperatures soared, we feasted on fresh fish, grilled vegetables and a chilled white wine. Although lunch in Marzamemi was a delight, it's the evening time when the pretty piazza truly comes alive. In the summer months, bands play, candles flicker and locals and visitors enjoy sundowners over the harbour.

5. Visit Artisan and Boutique shops
During my afternoon exploring Marzamemi, I was surprised at just how many artisan and boutique shops there were for such a small village. My favourite shop was a bookstore-cum-restaurant called Liccamuciula.
Here you can enjoy tasty deserts and Sicilian wines, all whilst browsing through local crafts, books, jewellery and more.
6. Enjoy Gelato at the Harbour
On the south side of Marzamemi, you can find the village's two natural harbours. Filled with colourful bobbing wooden boats, this is yet another extremely photogenic spot in Marzamemi. Many of the harbour houses are now available to rent out as holiday homes – and I couldn't think of anywhere more perfect to wake up on a warm summer's morning.
7. Head to the Beaches of Marzamemi
During the summer months, a visit to Marzamemi wouldn't be complete without a little beach time. There are three, equally beautiful, beaches for visitors to enjoy and a visit to any is definitely one of the best things to do in Marzamemi:
San Lorenzo: this is the most popular bay in Marzamemi. Bordering a nature reserve, it boasts large beaches and picture-perfect inlets to explore.
Spiaggia Cavettone: 1.5km from Marzamemi, Spiaggia Cavettone offers golden sands and crystal clear waters, ideal for snorkelling.
Spiaggia della Spinazza: situated north of Marzamemi's town center, this beach is an easy 12 minute walk from the village. Spend a morning splashing in the translucent waters and exploring its coves.
8. La Tonnara in Marzamemi
And finally, the most obvious thing to do in Marzamemi is pay a visit to its famous tonnara (tuna fishery). Built by the Arabs and dating back to the 18th century, Marzamemi's tonnara was once the most important in eastern Sicily.
Although you can't explore the inside of the building, which officially closed in 1969, it's still worth a visit. Giving visitors a glimpse into this once bustling fishing harbour, a walk around the tonnara is the perfect way to end a visit to Marzamemi.