Long before the UK heatwave of 2018 began, an email landed in our inbox from Victorinox. Titled the 'Modern Pathfinder', it invited us to embrace adventures closer to home this summer, with Victorinox's range of stylish luggage and accessories on hand to help. As self-declared microadventure aficionados, we accepted the invitation in an instant. Having recently travelled to Florida, the Caribbean and Finland, the prospect of nearby rambles seemed the perfect antidote to our travel fatigue. Braced with anoraks and warm jumpers, we therefore prepared excitedly for what we thought would be the predictably damp English summer ahead. A little rain surely wouldn't dampen things?
"I'm so hot that the gems are sliding down my face," Laura whispered as we made our way towards the glittering lights of Wilderness Festival. Four months on since our initial email from Victorinox, and all thoughts of warm clothing and cosy microadventures had promptly vanished. Instead, England was sizzling under its hottest heatwave since 1976.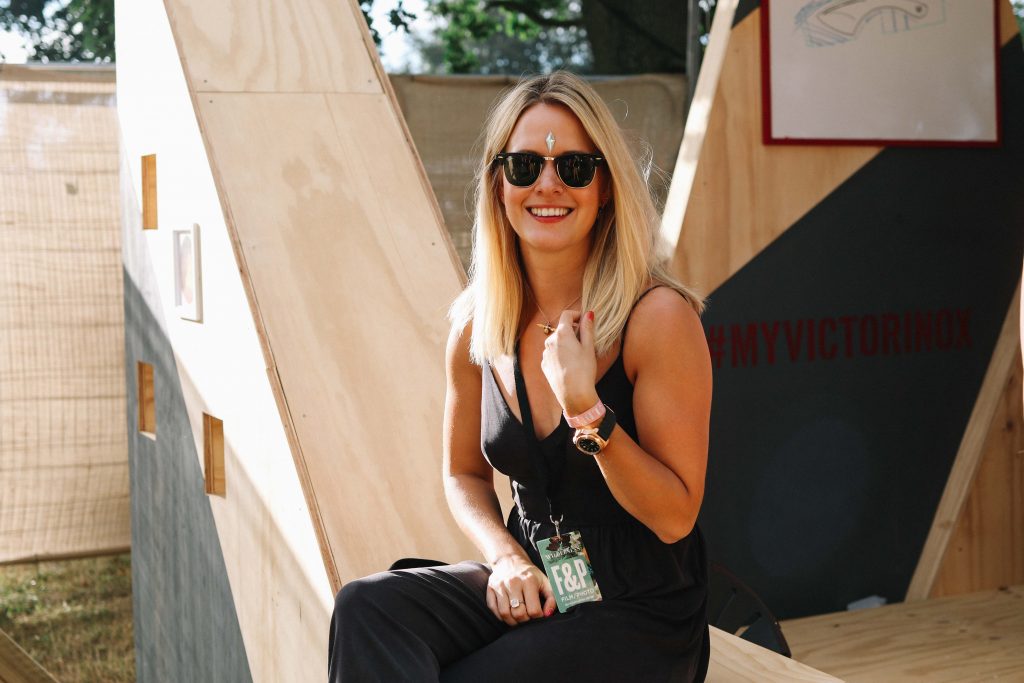 Watch: I.N.O.XV (Black)
Nearing the festival entrance – arms adorned with Victorinox watches and glittering pink armbands – we felt a rush of excitement. As both guests of Haus of Victorinox and Modern Pathfinders, we had been invited to Wilderness Festival in order to enjoy an immersive escape from reality: an adventure that whilst unforgettable, was just an hour's drive from home. It was the perfect microadventure to begin our summer, and a fantastic opportunity to get to know Victorinox and its ethos a little better.
Where to stay at Wilderness Festival
Sparkling fairy lights lined the bell tent that would be our home for the weekend. Located on the glamorous Boutique Camping site, our pre-erected tent offered cosy beds and blow-up mattresses, welcome bags filled with Neal's Yard products and fluffy towels. The neighbouring toilets and showers also offered a higher quality experience, with private cubicles and hot running water. Looking around, it seemed that we'd arrived at the 'Chanel' of festivals, with Wilderness offering that extra layer of luxury to the usual (muddy) festival experience.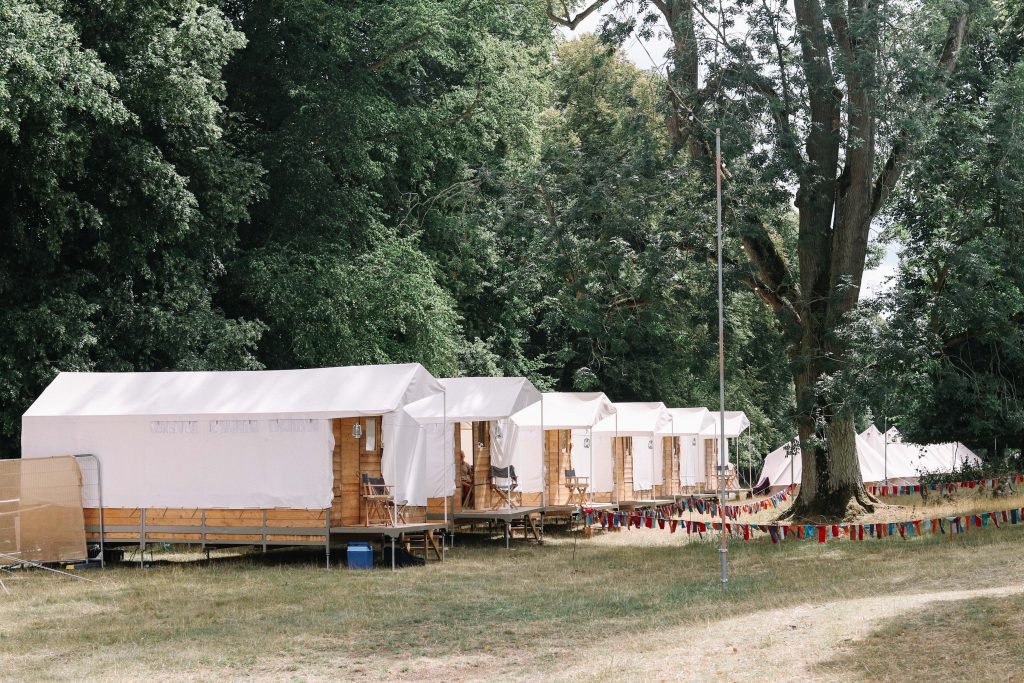 Filling our tent with our carefully packed Victorinox bags, we sat down on our surprisingly bouncy beds and began to plot our weekend.  The festival programme overflowed with eclectic workshops, global music, international food, outdoor experiences and holistic and wellbeing events. It was difficult to know where to begin.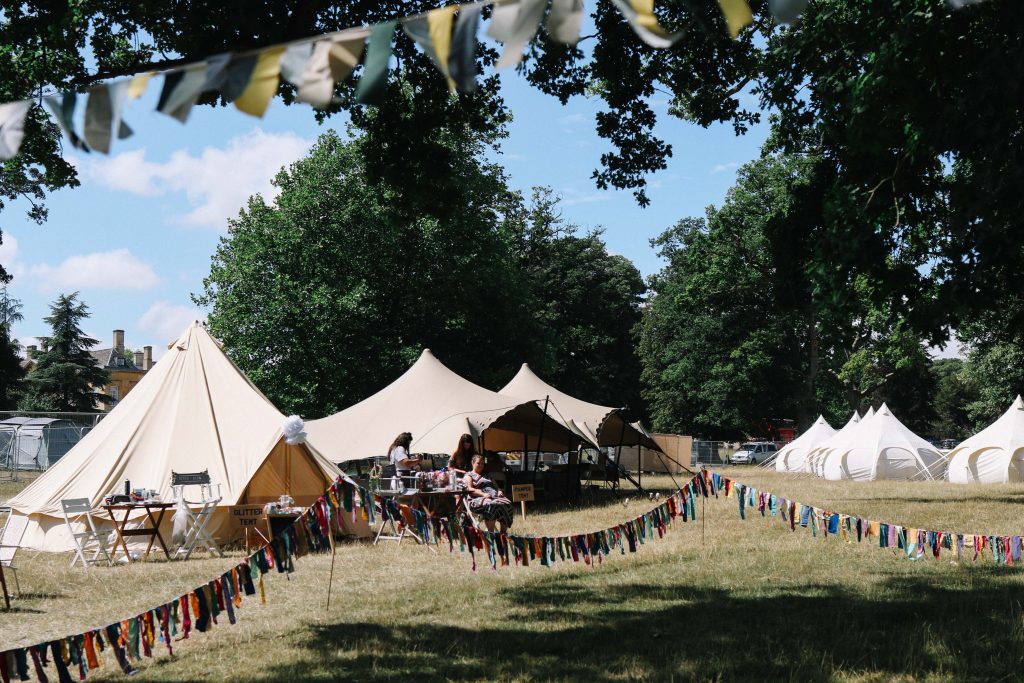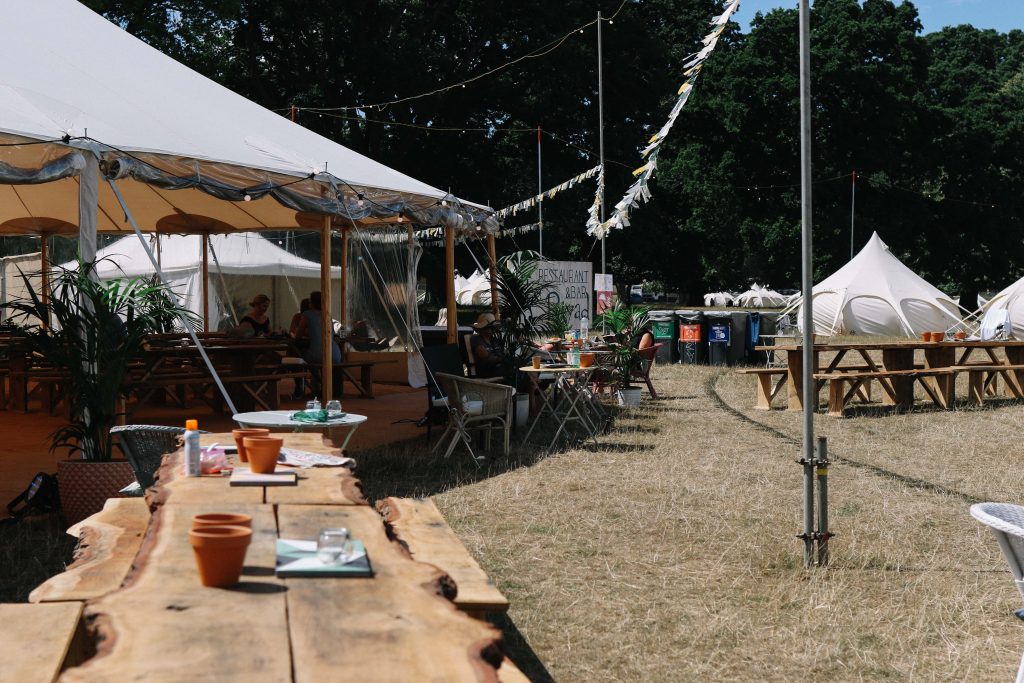 "I need to get out there," Laura yelled, frantically sticking pink gems to her forehead. Overwhelmed by the sheer number of possibilities that lay ahead, and with Laura already bolting out the tent door, we decided it best to plot our itinerary over lunch; the Boutique Camping site offering its very own food and drink stalls. Away from the crowds, this shaded area offered a relaxed and peaceful place for lunch: ideal for overwhelmed festival newbies such as ourselves.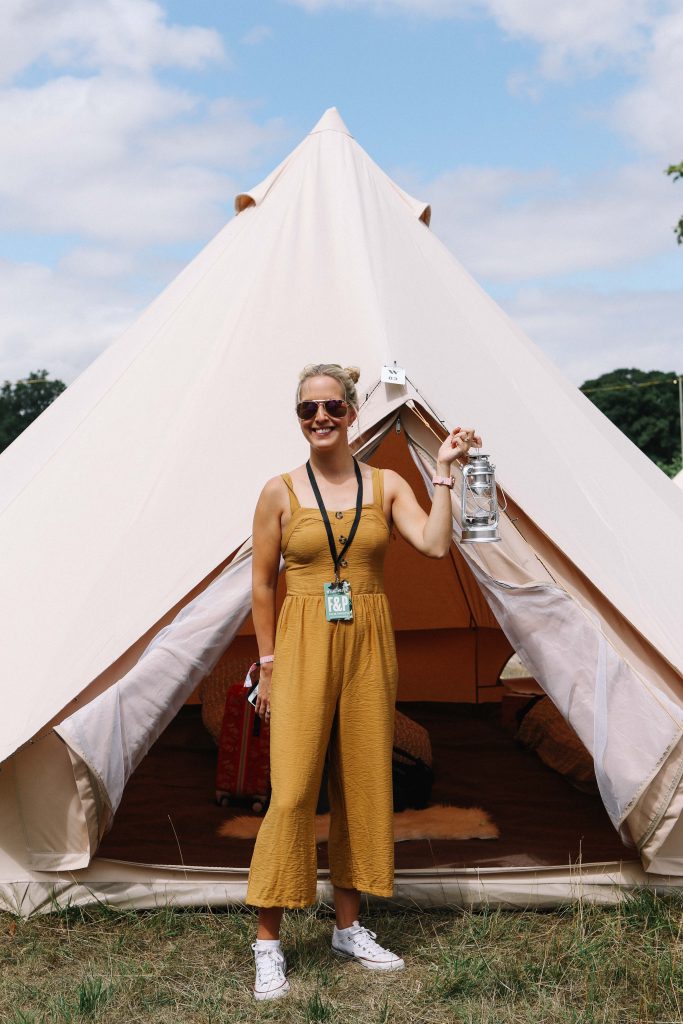 With our first beer of the weekend in hand, we set to work – our weekend timetable overflowing with yoga classes, Haus of Victorinox craft workshops, book talks and wild swimming. Just an hour into our Wilderness experience and we were already immersed in an altogether different reality; one where planning a guided Tai Chi session just before a 'Wild Singing' workshop was the norm.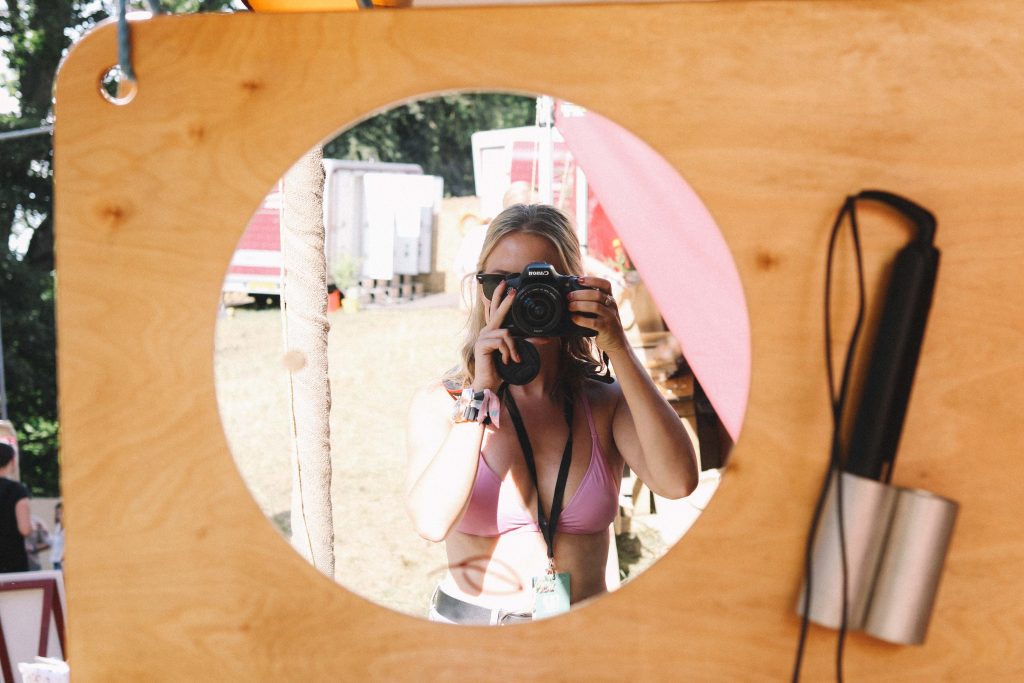 After an hour of intense consideration, and satisfied we'd allocated all of our waking hours to as many activities as possible, we set off on the short walk to the festival gates. Much to our relief, this took us past perhaps the most important tent of them all: the pamper tent. Equipped with hairdryers, mirrors, straighteners and pots of bio-degradable glitter, this tent confirmed our suspicions: Wilderness Festival was a different kind of festival.
Our kind of festival.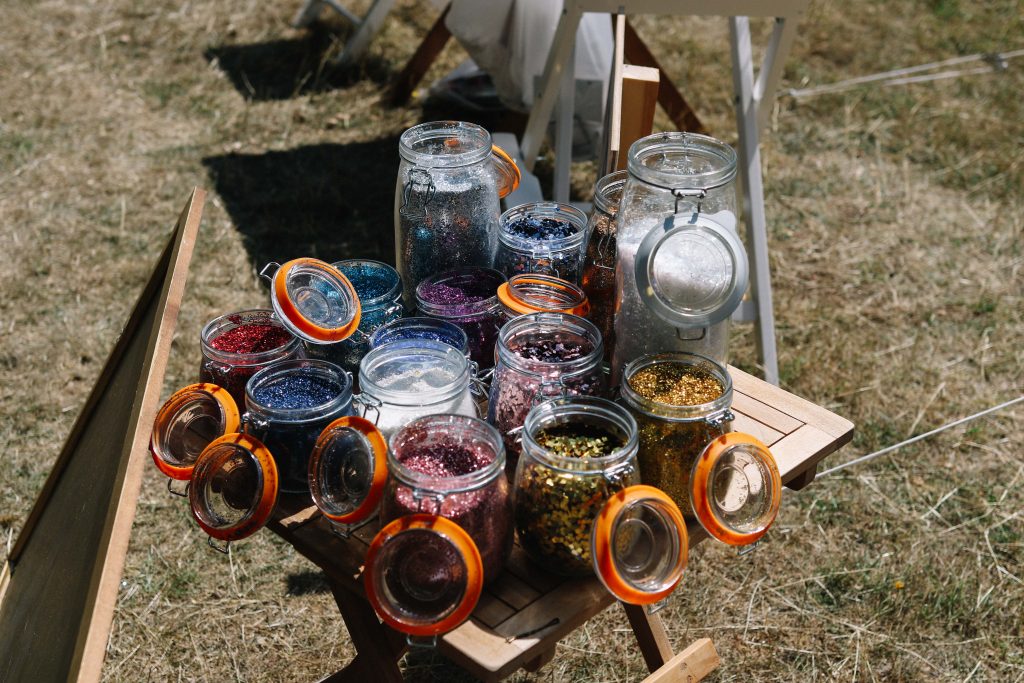 Aside from Boutique Camping, there are plenty of other options available for more seasoned campers. These include: a general campsite, a family campsite, a quiet campsite, and live-in vehicle camping. For non-campers, there is also the option to locate yourself offsite when the need for sleep takes you. In this case, the closest town is Charlbury, offering not only a small selection of hotels, but a regular  shuttle bus that travels back and forth to the festival.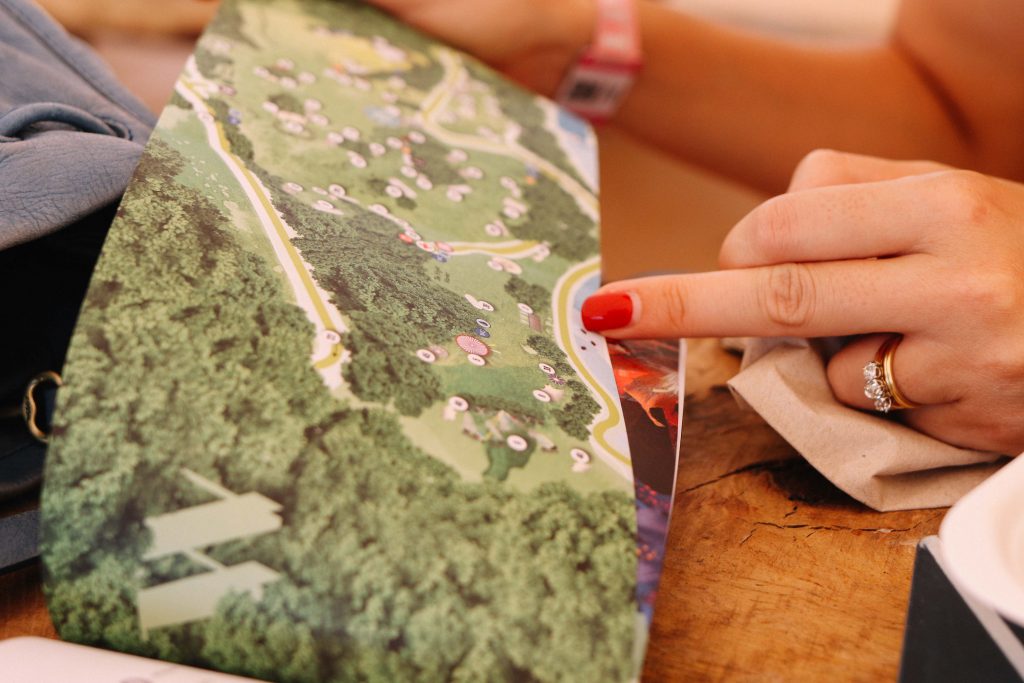 Outdoors at Wilderness Festival
"JUMP!", the crowd shouted as a lady sporting a bright red swimming costume (complete with flowery headband), flung herself into the lake. Laughing as she emerged shrieking, the crowd continued to clap and cheer as more revellers made their lakeside debut. One by one, like pale lemmings, we watched as eccentric Brits dived and belly-flopped into the dark waters of Cornbury Park. With soaring 30-degree temperatures, it seemed that wild swimming was proving the most popular pastime at Wilderness Festival, and we were itching to join in.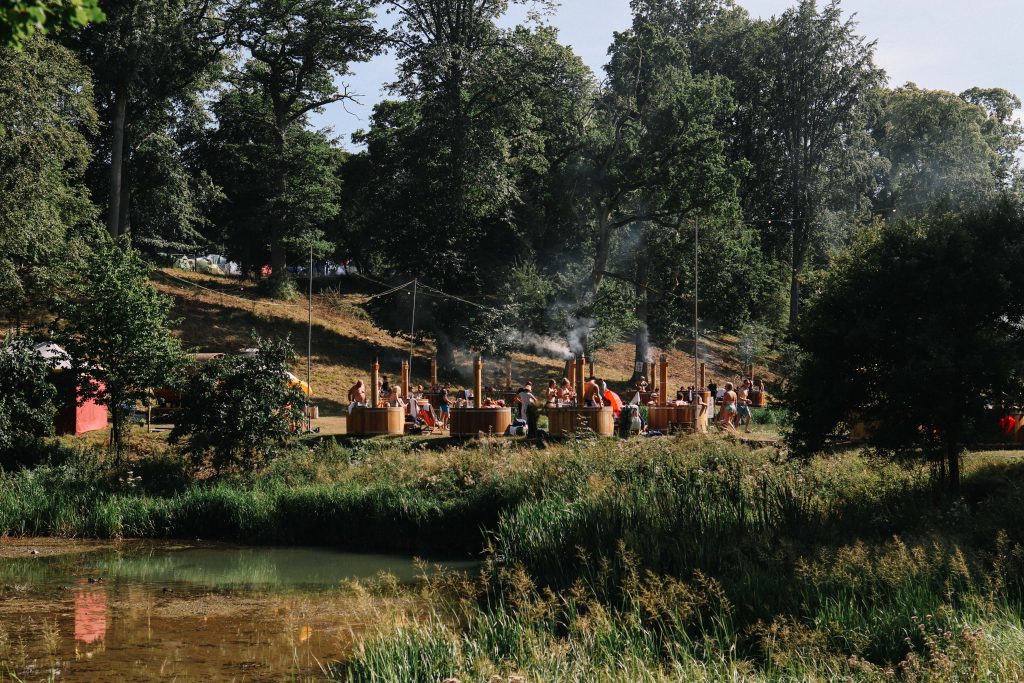 Having only arrived at the festival an hour earlier, and now joined by our  friend Whitney – a bonafide Californian – we explored Wilderness' leafy lakeside.  "Could this be anymore British?" she mused, as we passed ice-cream vans handing out Mr Whippies and a collection of ladies performing an elaborate synchronised swimming routine. The scene, so quintessentially English, left me with a pang of pride. With bunting flapping wildly overhead and the smell of candyfloss and woodsmoke mingling in the air, Wilderness Festival was surely the UK at its very best.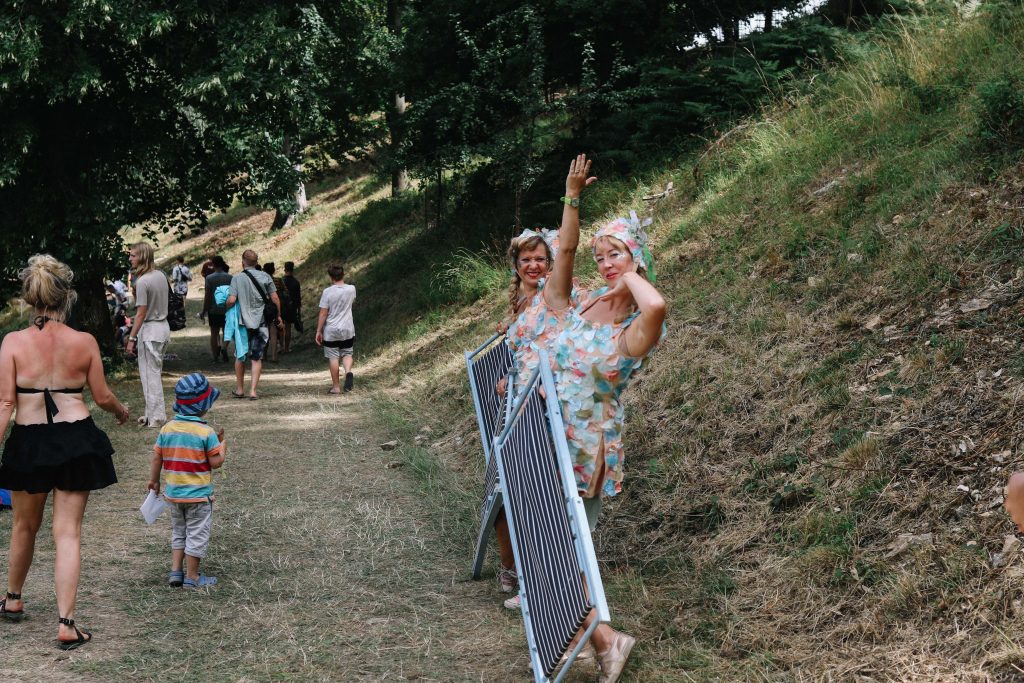 For those seeking to add a touch of luxury to their lakeside swim, then the Festival's Lakeside Spa  comes highly recommended. Picking our way down the small track that led to the private lake, we were met with a scene reminiscent of our recent trip to Finland. Ahead lay wood-fired hot tubs, their chimneys casting plumes of delicious pine-smelling smoke into the late afternoon air. Inside the tubs, revellers tilted their heads upwards towards the sun; glasses of champagne dangling from their hands.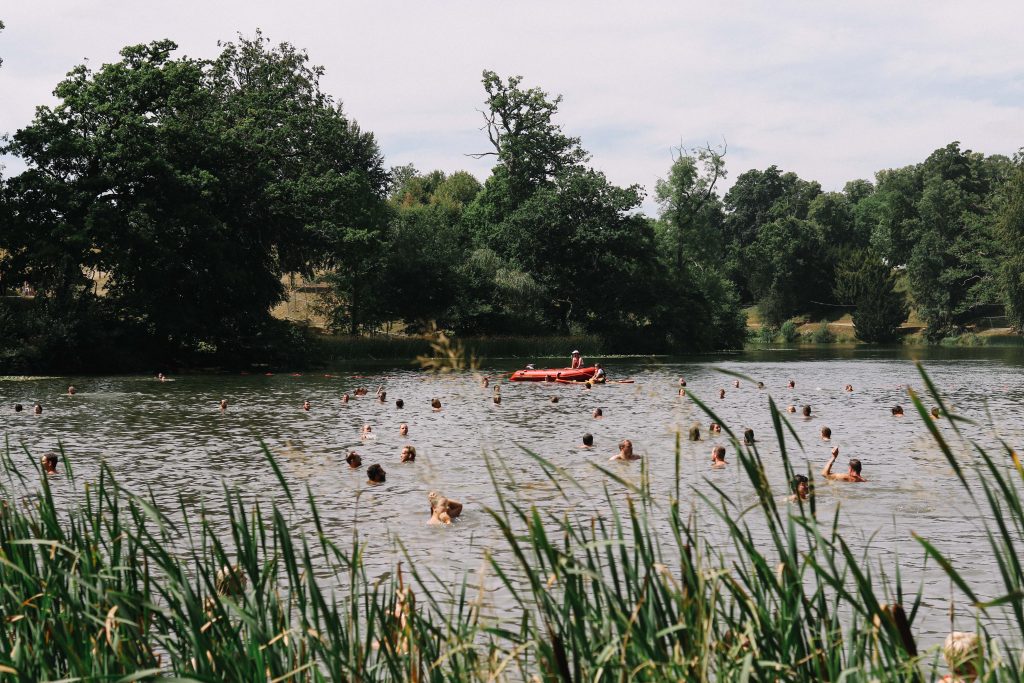 The water now entirely irresistible, we tentatively lowered ourselves in; the coldness of the velvety lake briefly taking our breath away.  Surveying our surroundings, I watched as tanned bodies hung out of the small hot tubs and children practiced their diving. It was hard to believe that we were still in rural Oxfordshire. If this was festival life in the UK, then I was a convert.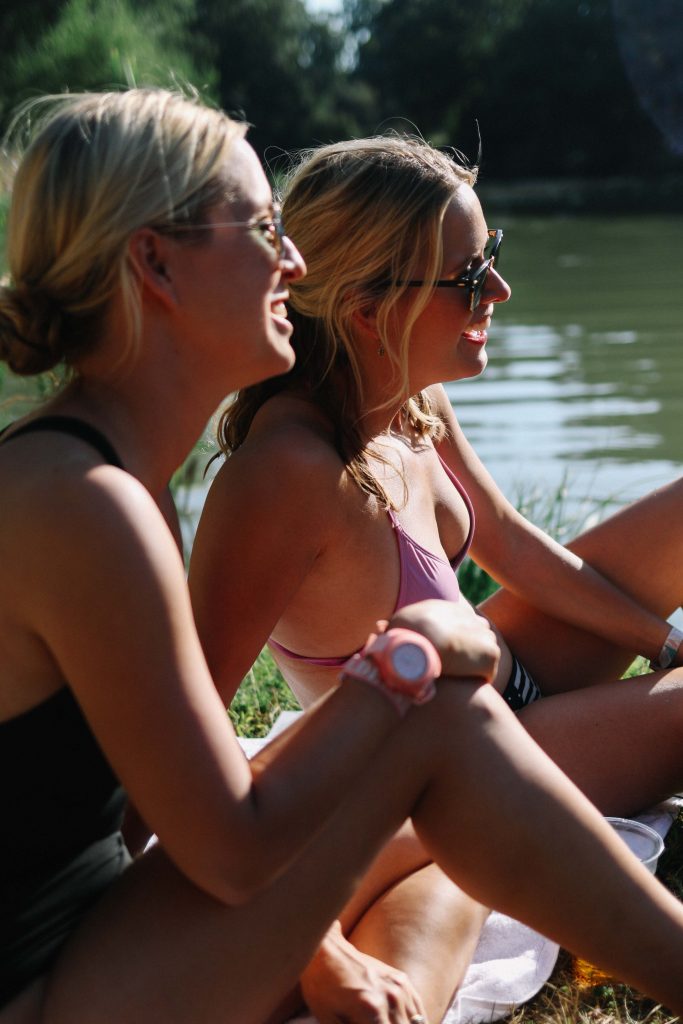 For those looking for more outdoor experiences, then wild swimming is just one of a seemingly endless list of activities on offer at Wilderness. From fly fishing, archery, croquet and wild runs, to horse-riding and foraging workshops, escaping into nature at the festival comes easily. Perhaps the only source of stress is how to fit it all in.
Eating and drinking at Wilderness Festival
Carefully studying my shopping list the weekend before the festival, I reminded myself to eat well that week.  After all, festivals aren't exactly known as Meccas for healthy eating. Fast forward to our first night at Wilderness, however, and any stereotypes of the traditionally beige festival diet had been truly quashed. In fact, it seemed that food here was something to be genuinely celebrated, lingered over and enjoyed at candlelit banquets.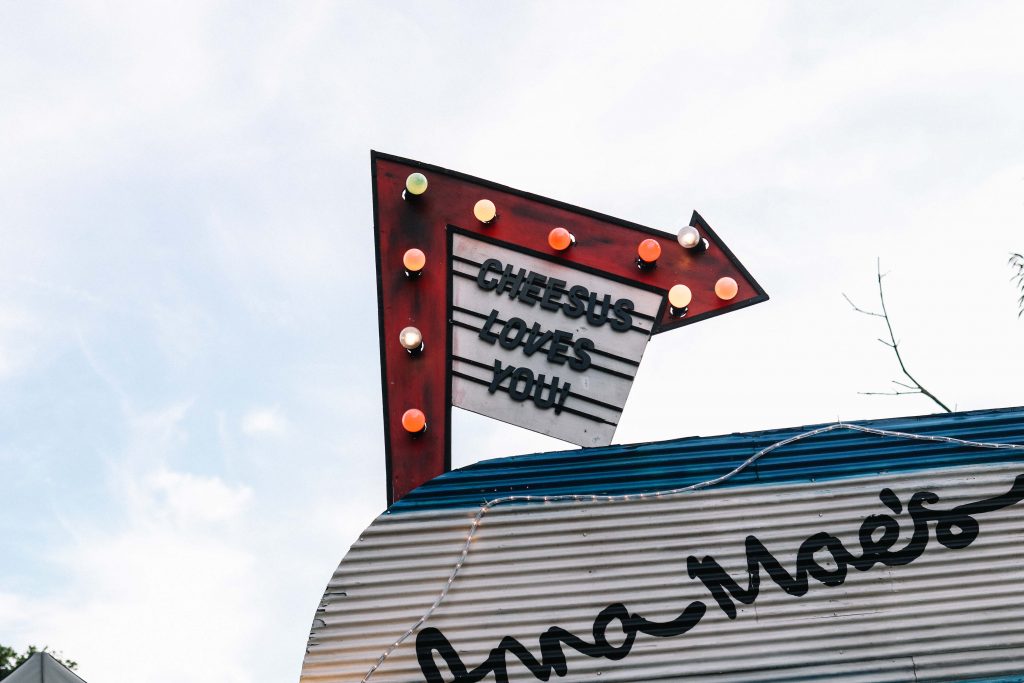 Referred to within the Wilderness Programme as 'Feasts and Dining,' the culinary display at Wilderness was one of the true highlights of our weekend. Aside from the many delicious and independent food vans on site, the festival also offers renowned pop-up restaurants, located at the Dining Room, and at the infamous Long Table Banquets and Feasts area.
Pre-booked, and sadly sold out before we had a chance to purchase tickets, the Long Table Banquets are the signature dish of Wilderness Festival. Running over three nights, the banquets are created by hugely talented chefs who bring together delicious cuisines from all over the world. Held over long tables, with candles flickering against pastel pink sunsets, the settings for these feasts are nothing short of magical, and something we intend to return for next year.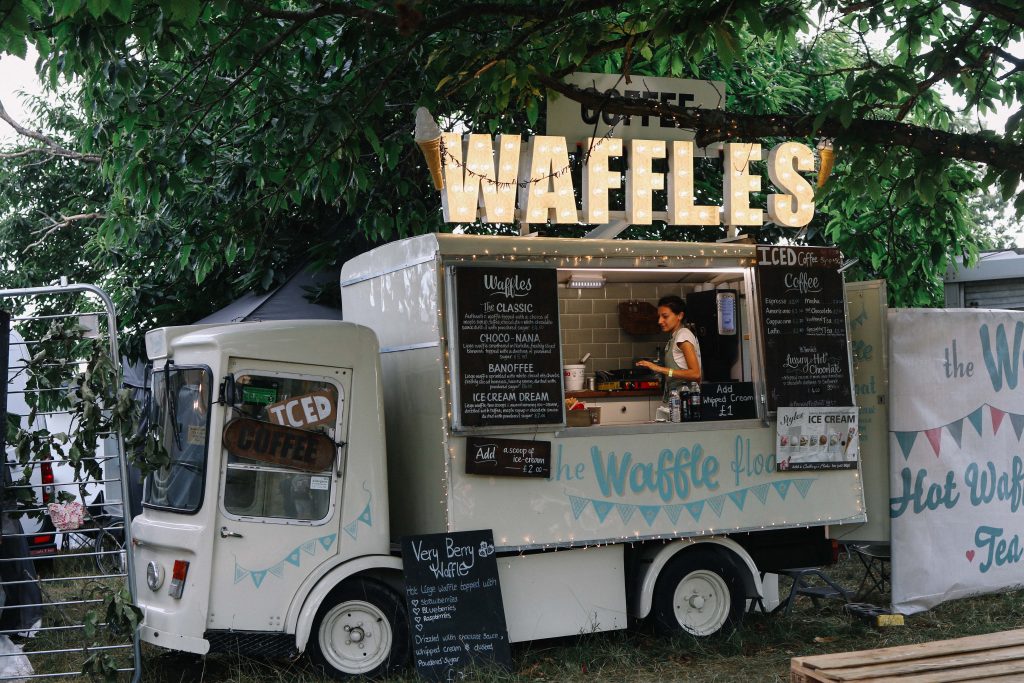 However, missing out on a banquet isn't too much of a concern, as there are plenty more options readily available. From Homeslice Pizza to Petersham Nursery's fine dining option, through to independent food vans selling Vietnamese, Korean, Middle Eastern, Caribbean and Mexican food (to name just a few), the belts of our high-waisted shorts were adjusted repeatedly over the course of the weekend.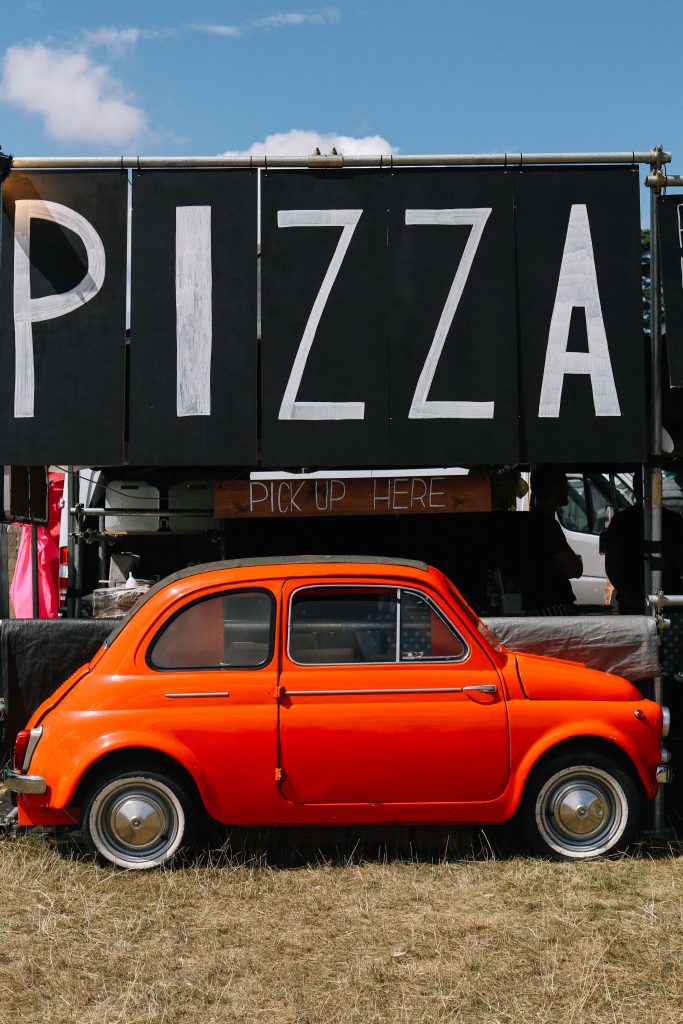 The Greencrafts Village
"What is this place?" I whispered, as we wove our way through Greencrafts Village. Hidden from the glaring midday sun, the collection of craft stalls looked more like a film set than reality. Walking through the dappled shade of the village and we were immediately surrounded by sound: a blacksmith at work in one corner, the hypnotic sound of a wood whittler in another. Open all day and late into the evening, this haven of workshops are all  free to attend, with no prior booking required.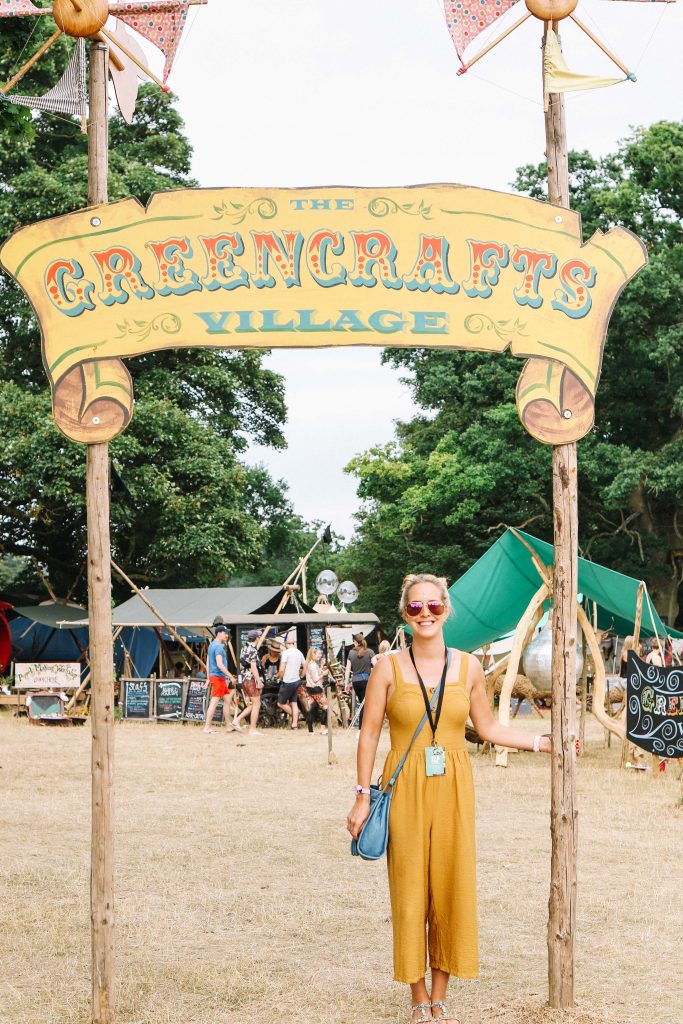 Overwhelmed with the twenty unique crafts on offer, I wondered how the children attending the festival must feel. As two boys charged past with their newly carved wooden swords, I couldn't think of a more magical place to visit if I were small. A wifi and computer-free zone, people sat quietly under the collection of wooden shelters and huts, studiously crafting. Some had chosen to carve their own wooden spoons, whilst others had turned their hand to creating floral headdresses. Wandering quietly past, every scene looked as idyllic as the next.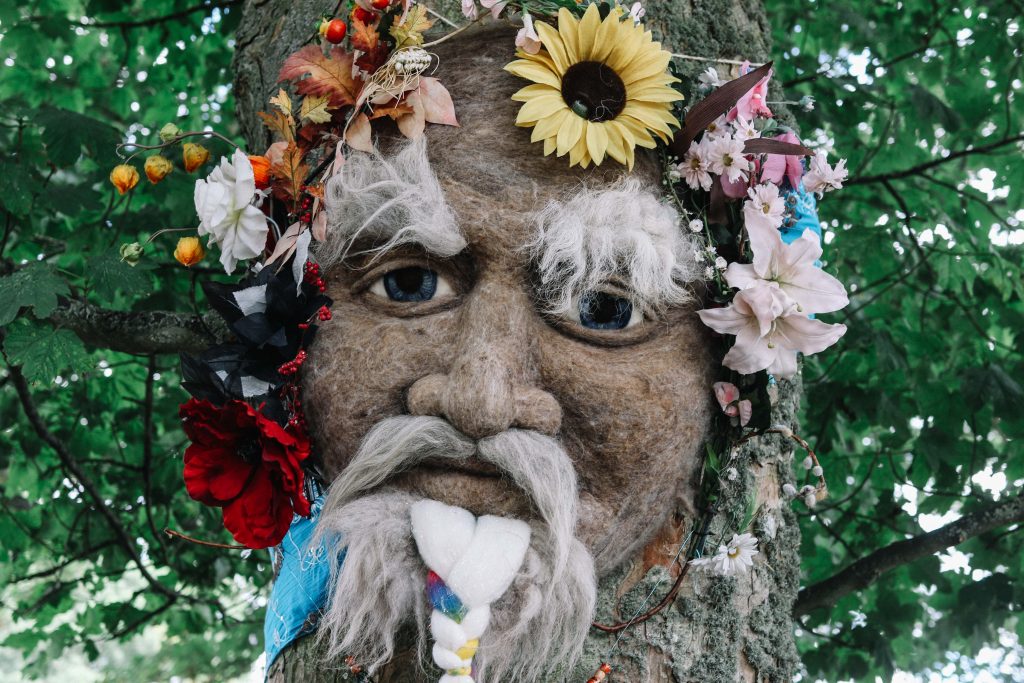 Far from a festival based simply around music (although this is a highlight for many Wilderness attendees), Wilderness Festival is a place that caters to every taste; allowing attendees to step into – as the programme puts it – 'your very own Midsummer Night's Dream.' Whether it be escaping reality whilst learning to weave your own basket, or staying up until the early hours whilst dancing in the mysterious 'Valley', Wilderness Festival offers something quite unique in today's modern world: pure escapism.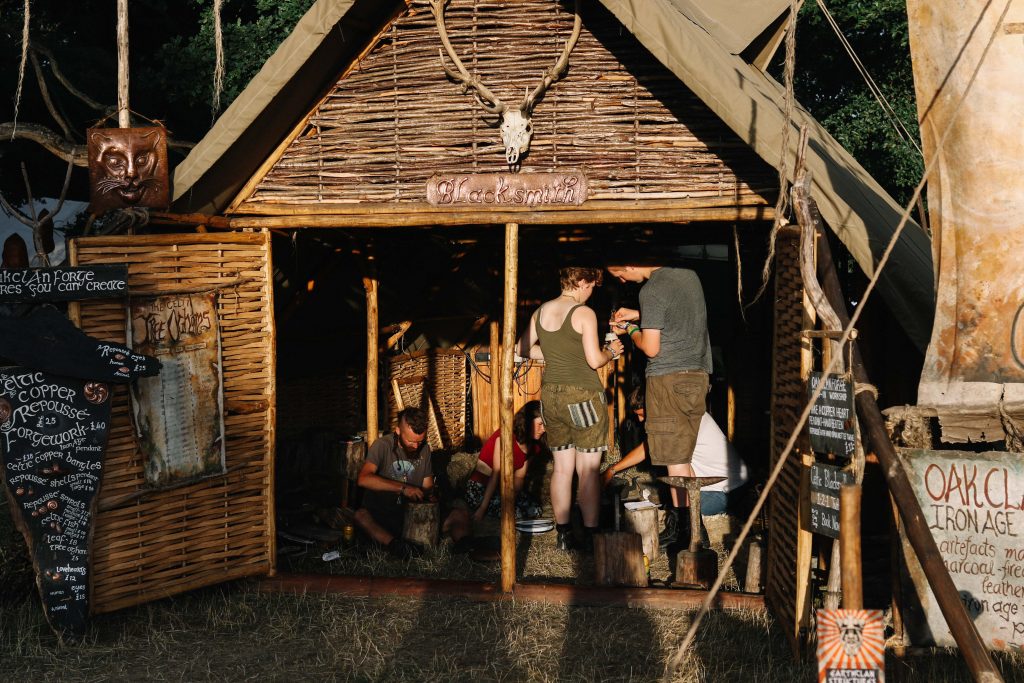 Haus of Victorinox
Located in a shady spot next to the bustling Greencrafts Village, the Haus of Victorinox was a hive of activity. Walking through its wooden entrance, we were met with the clamouring sound of hammering, as workshop attendees hunched over their designs. Exploring the Haus, we spotted that its walls were adorned with photos taken by Victorinox's Modern Pathfinders: our own image hanging proudly next to them. Gazing at the photograph, it seemed impossible that it was taken just a few miles away from our current location: the outside world already feeling a world away.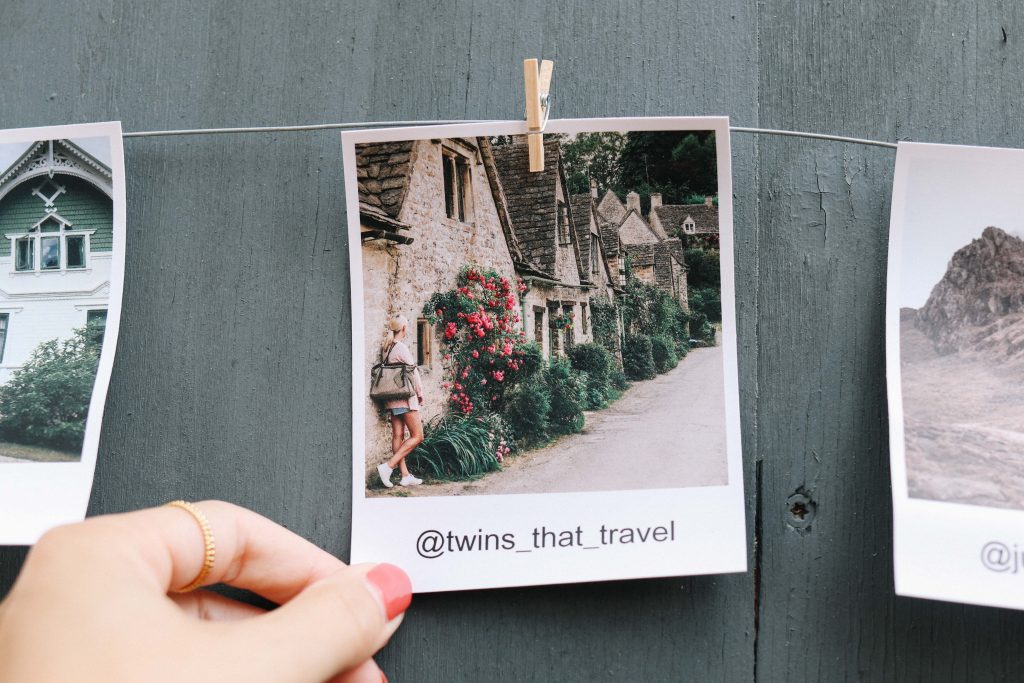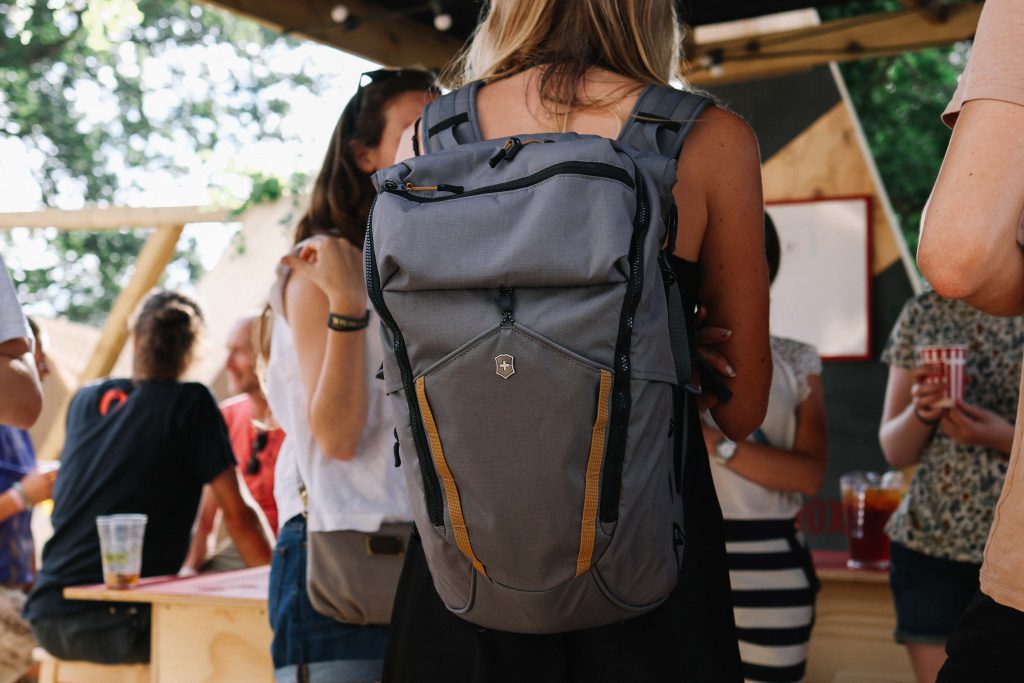 As part of our Wilderness weekend, we had been invited by Haus of Victorinox to take part in a Saturday afternoon workshop. Makers of the original Swiss Army Knife, these outdoor enthusiasts were running a number of fantastically hands-on workshops over the course of the weekend. From wild food foraging, to 3D Decoupage, (a workshop we'd be attending), Haus of Victorinox were on hand to help bring that extra element of 'wild' to the festival.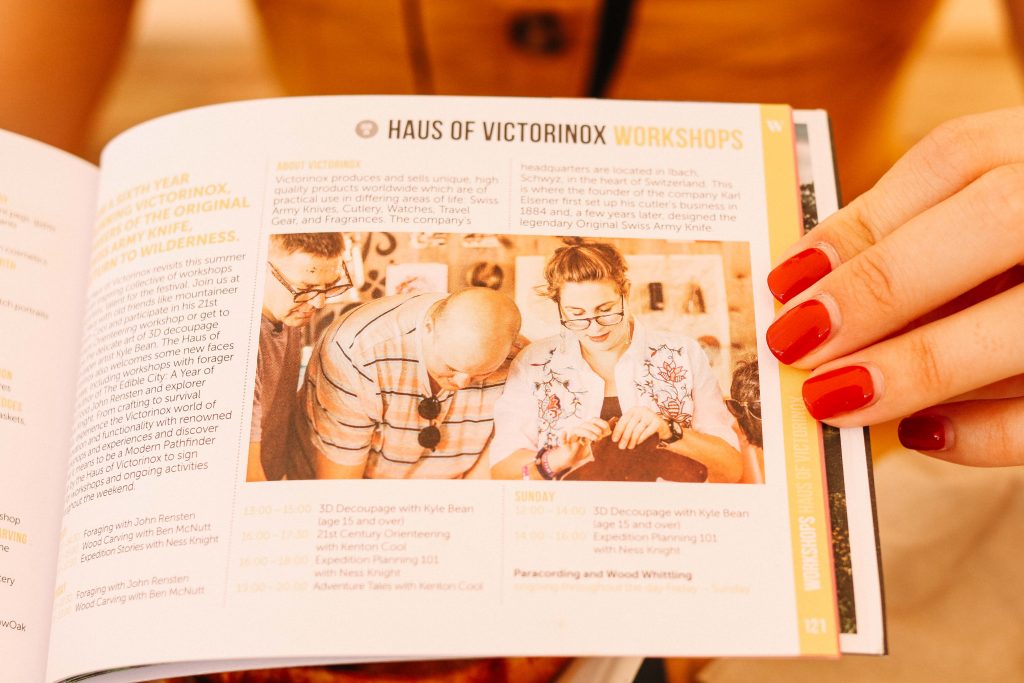 Settling down in our seats for our afternoon of crafting, we tucked our phones away and replaced them with a pair of scissors and a sturdy looking ruler. "I can't remember the last time I sat down to make something for the sake of making something," a fellow workshop attendee commented. A murmur of agreement passed through the small room.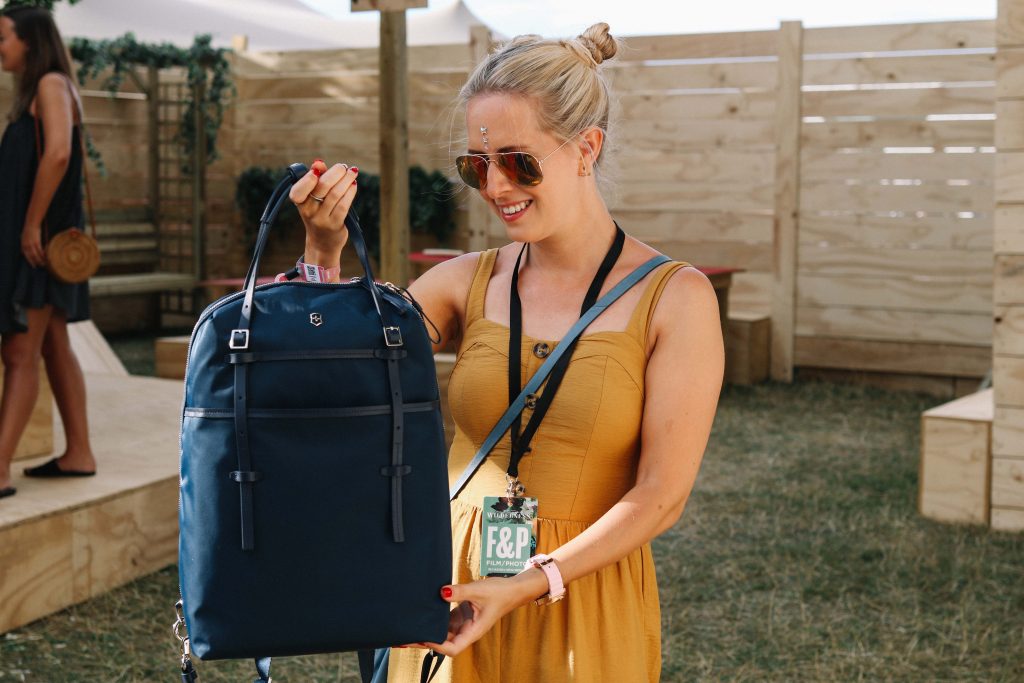 As Kyle Bean, our paper artist, began to talk us through the delicate (and surprisingly challenging) art of decoupage, I realised just how beneficial a few hours of mindful craft could be. Concentrating simply on the cutting and layering of the paper, the hours slipped quickly by as we chatted and laughed with other workshop attendees.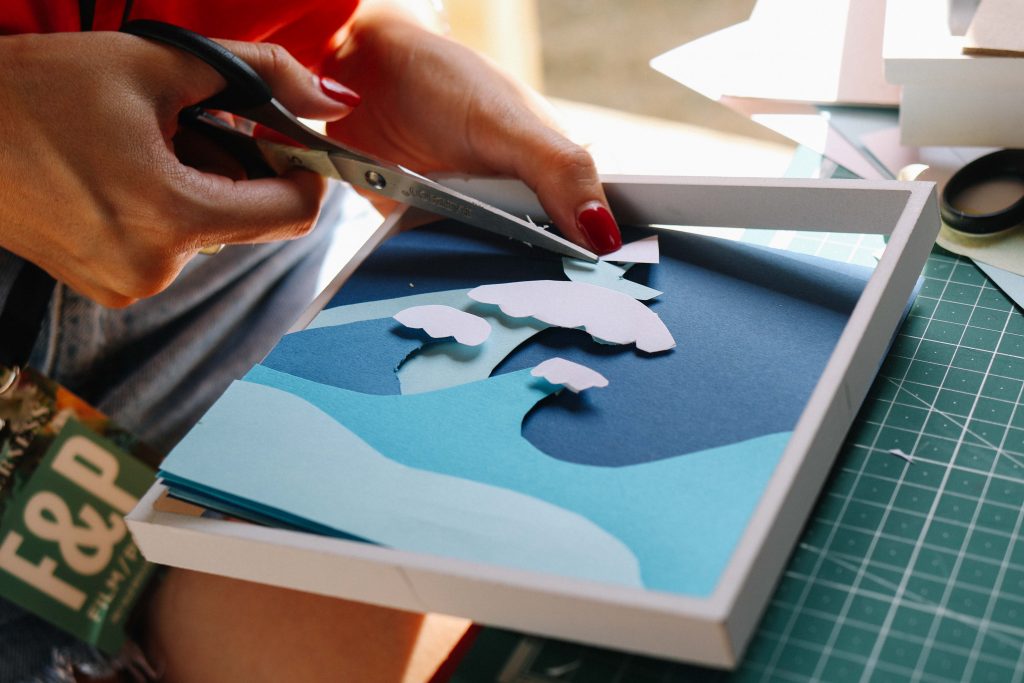 The only slightly disappointing outcome of our wonderful afternoon with Victorinox came with the realisation that both Laura and I were actually quite inept at crafting. "Quick, hide your picture," I hissed to Laura, having had a quick glance at our fellow classmates' finished pieces. Staring glumly at mine – my little ship on the sea looking a little worse for wear  – I vowed to incorporate more crafting into my day. The art of patience was obviously still lost on someone so used to hurrying through life.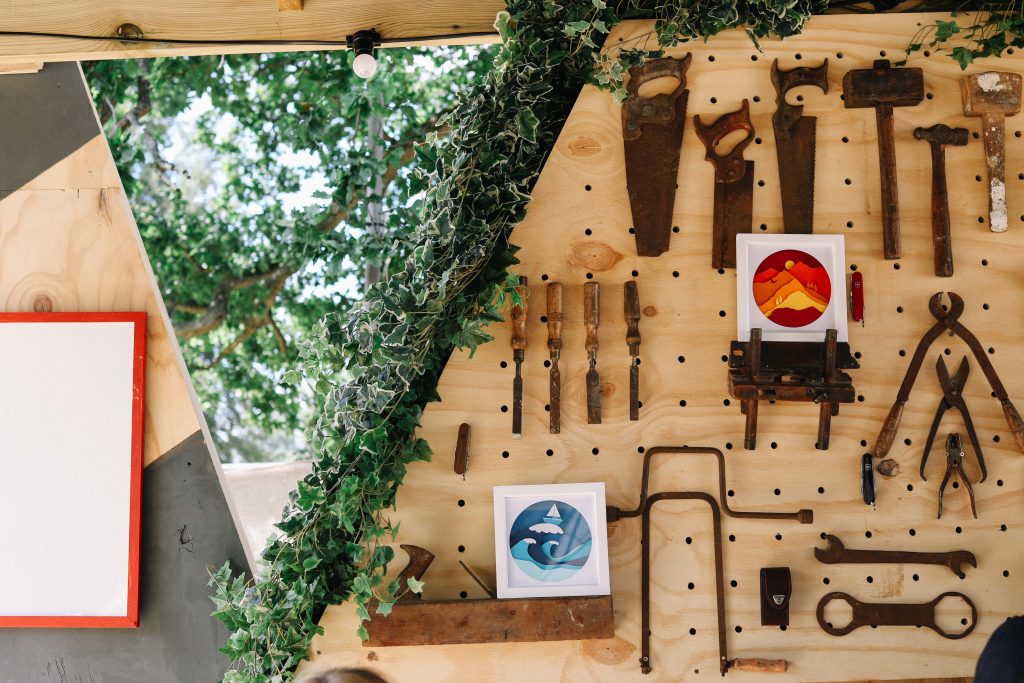 Music at Wilderness Festival
"Have you been to the Valley yet?" – a question we were asked on our second day at Wilderness Festival. With a twinkle in his eye, our camping neighbour continued to tell us of an almost mythical location found on site. "You have to get there tonight," he said, "if you haven't discovered another party along the way, that is." As we were to find out, music at Wilderness Festival was less about a pre-made plan, and more an unexpected adventure.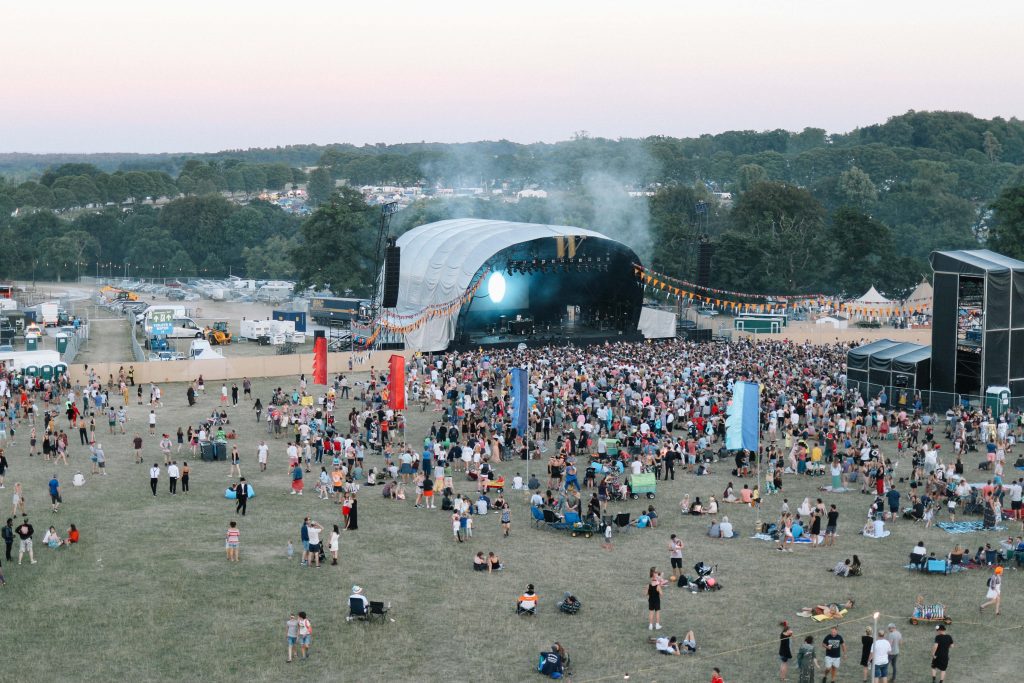 As the sun dipped in the sky and revellers adopted Wilderness' fancy dress themes (think 'Creatures of the Night' and 'Weimar Republic'), the festival took on an altogether different feel. Drifting away from the main stage having watched Nile Rodgers and Chic, we watched as a crowd of people moved at speed towards the fields. Curious, and spurred on by Wilderness' advice to 'wander wide', we followed. But before we could catch-up, they had all but disappeared: instead replaced by a merry-go-round complete with a performing jazz band. It all felt very Alice in Wonderland.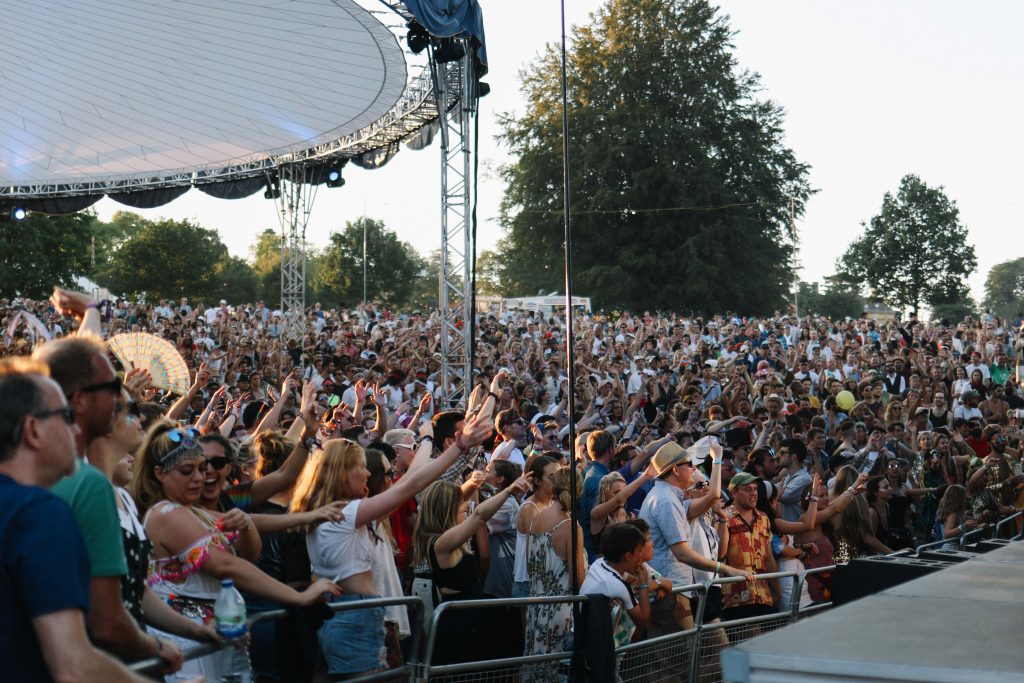 Gawping in awe as the merry-go-round swayed and bounced, we turned to our right. Just a few metres ahead, there was another party in full swing atop a red double-decker bus. This time, jazz tunes had been replaced by Blink 182, as people took it in turns to crowd surf and throw giant balls into the night's sky.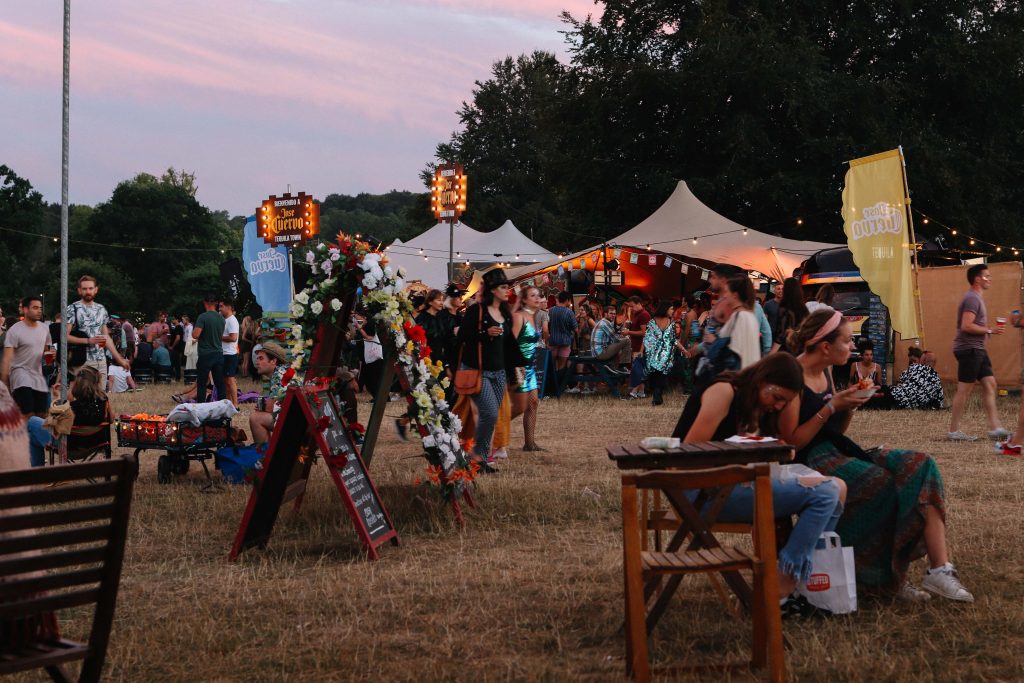 Our night continued like this, as the festival revealed party after party. From a beautiful trapeze act that made the crowd cry, to a live Cuban band just a few metres on, music at Wilderness was a truly immersive experience. Now late evening, with the sky sparkling with stars, it felt like almost anything awaited you here – you just needed to find it first.
Wellbeing at Wilderness Festival
"I'm having my chakras read before a Thai massage," Laura declared on our final day at Wilderness. "Once that's done, we should head for our guided mediation workshop". Nodding, I excitedly packed my Victorinox bag for the day. Long before our weekend at Wilderness, I had been eagerly reading about the vast array of wellbeing workshops  on offer. This was perhaps the one element of the festival that I was most excited about.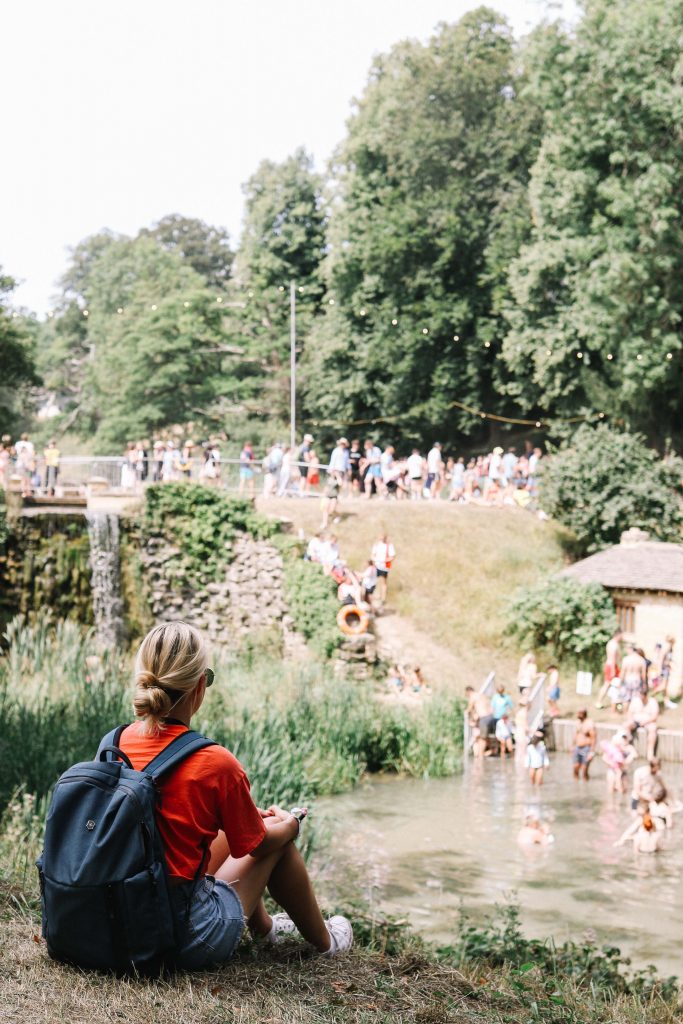 Located within The Sanctuary, we discovered three distinct areas: the Yoga Sphere, the Solar Space and the Lunar Space. Following a frantic couple of months, it was the Lunar Space that we gravitated to the most. Here, the emphasis was on calming energy, and as such, was where the meditation classes were held. Strangely nervous about attending our first class, we crept into the cool tent and sat ourselves at the back. Taking a quick peak before our eyes closed, I noticed that the tent was full of people of all ages. Male, female, young and old, our tiny tent was a quiet oasis of calm.
Seizing on this warm, contented feeling of festival camaraderie, I closed my eyes and melted into an hour's meditation, led by a brilliant local teacher. It was the perfect way to end our first festival experience.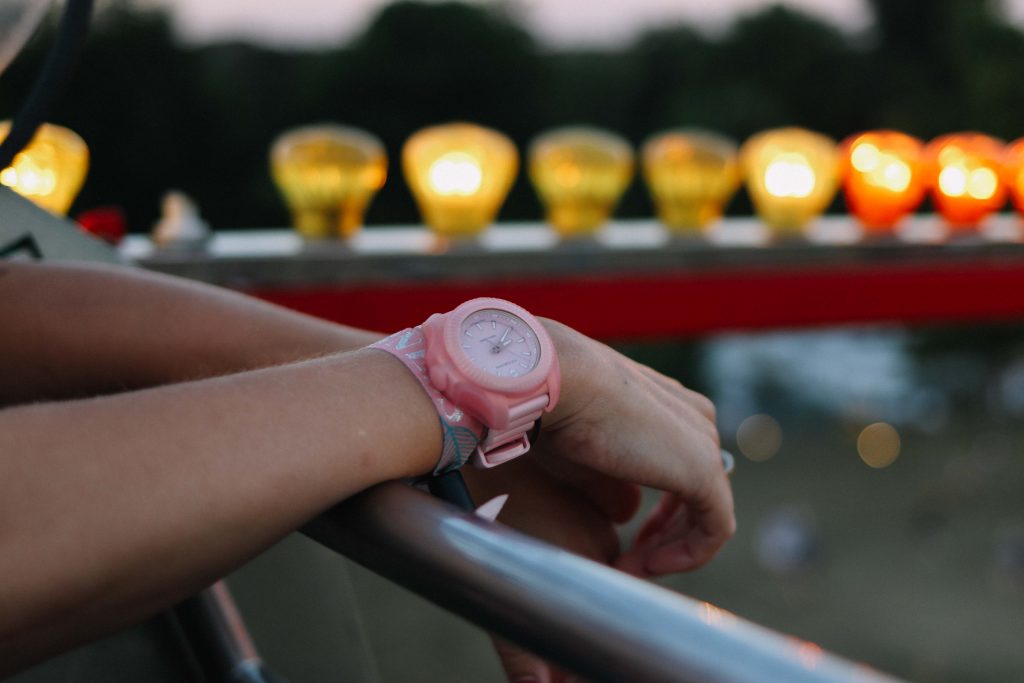 Packing our belongings into our Victorinox bags – a few more additional sequins thrown in than when we arrived – we surveyed our bell tent one last time. We may have only arrived three days prior, but memories of the real world were now hard to conjure. Reluctantly, we made our way out of our little home to say goodbye to our camping neighbours (and fellow midnight tooth-brushers) one last time.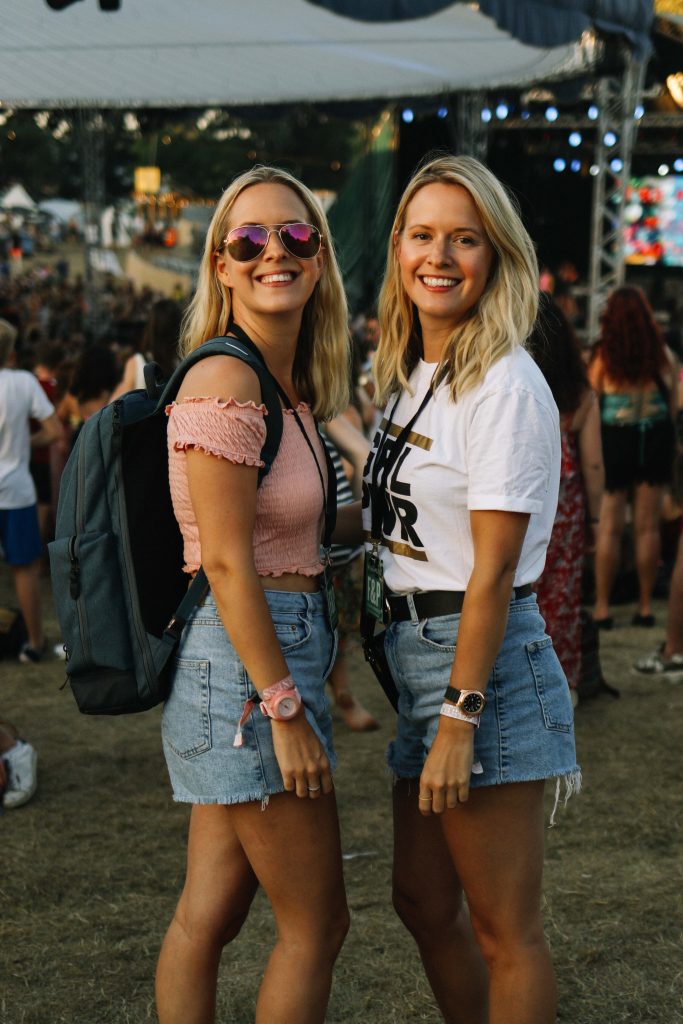 With assurances that we'd all be back again next year, we waved goodbye to our new friends and trudged towards the car.  Turning on the radio, the cheery newsreader welcomed us back to reality; reminding us that the world had continued spinning whilst we'd been so busy microadventuring.
Our weekend away may have only been an hour from home, but it was perhaps one of the most brilliant travel experiences we've had to date. Thanks to Victorinox, we were given the rare opportunity to wave goodbye to everyday life, mobile phones and social media, and instead replace them with things far more memorable (a giant 'spooning session', for example).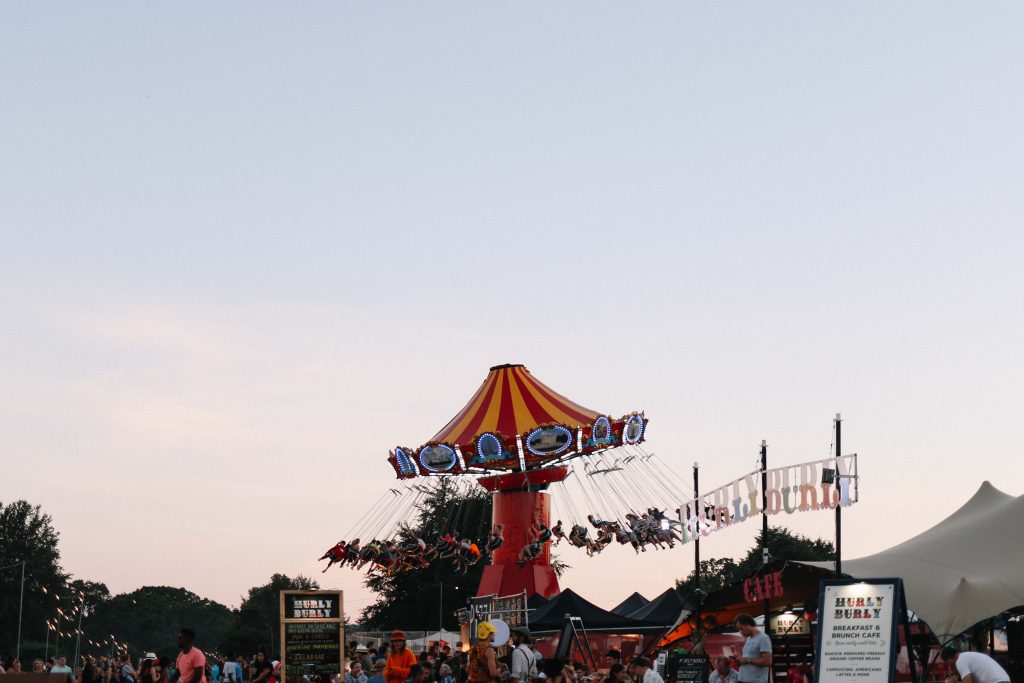 From watching the glittering lights of the festival from high atop a ferris wheel, to plunging head first into a cold, shimmering lake, Wilderness Festival reminded us (much like the English summer) that sometimes the most unexpected things in life can be the most rewarding.
This is a sponsored post in collaboration with Victorinox, however our Wilderness Festival experience was just as magical as it sounds.
Pin for later: