In 1791, London's Great Cumberland Place was complete. A handsome thoroughfare that ran between Marble Arch and leafy Hyde Park, Great Cumberland was a street lined with towering Georgian mansions and flickering oil lamps – a place reserved only for London's very finest residents. Here, behind lofty sash windows and velvet curtains, Dukes and Duchesses lived, with the likes of Lady Trollope sashaying along its cobbled streets, as American ambassadors rattled past in horse-drawn carriages. Living here would have been a very refined affair; the sort of thing found in a Jane Austen novel.
Glancing out of the open sash window – Great Cumberland Place falling away below – my first impression was that not a lot had changed. Stood inside my own Georgian mansion – now home to London's five star boutique hotel, The Arch London – I watched as a newly flowered blossom tree showered passersby with its sugary petals; its street confetti fluttering up into the air. It was all so quiet, so peaceful – so refined.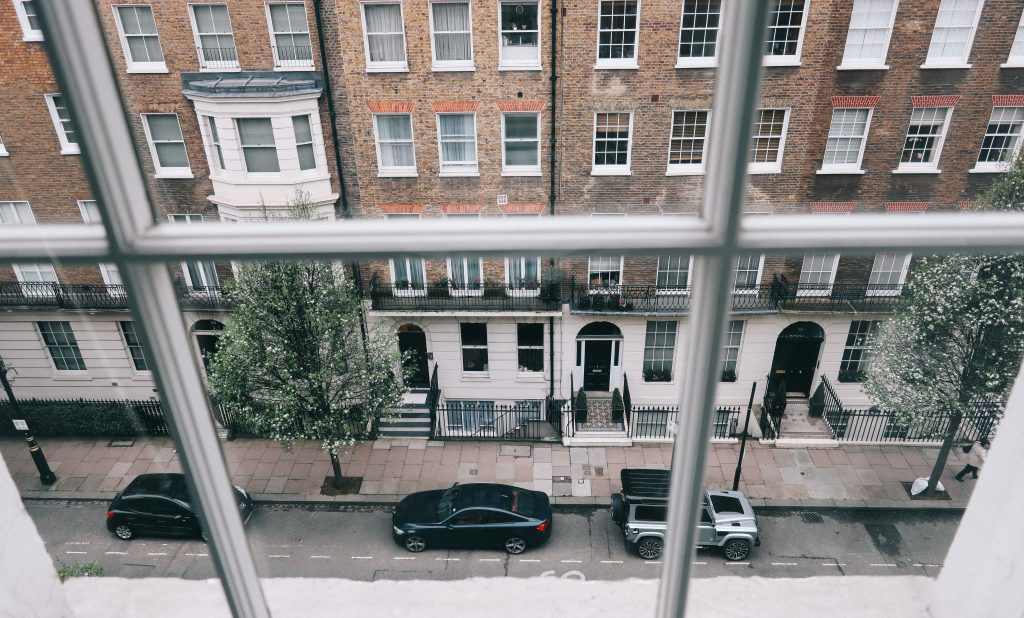 As our helpful porter showed us to our lofty hotel room, I asked if royalty still lived on these streets. Did Counts and Countesses still call this tranquil part of London home? Smiling, he explained that whilst the houses were perhaps no longer occupied by petticoat-wearing Lady Trollopes, they were however home to a new form of royalty: pop royalty. Pointing directly across the street to a smartly dressed house with fifteen flower-filled windows, he explained that we were looking at the home of Madonna. He whispered this part with an almost religious reverence, as though we were staring at a holy shrine. It seemed that Great Cumberland Place and its glittering residents were still the talk of London; the award-winning The Arch Hotel included.
We had first heard about The Arch Hotel via our good friend Laura, owner of the lifestyle blog Heroine in Heels. She'd described the family owned residence as quietly lavish and distinctly modern: a place where traditional Georgian architecture meets modern art. Just a stone's throw from Oxford Street and Marble Arch tube station, the hotel was ideally located for anyone hoping to explore the areas of Marylebone and Mayfair, or – as we were – anyone attending an event in the neighbouring Kensington Gardens.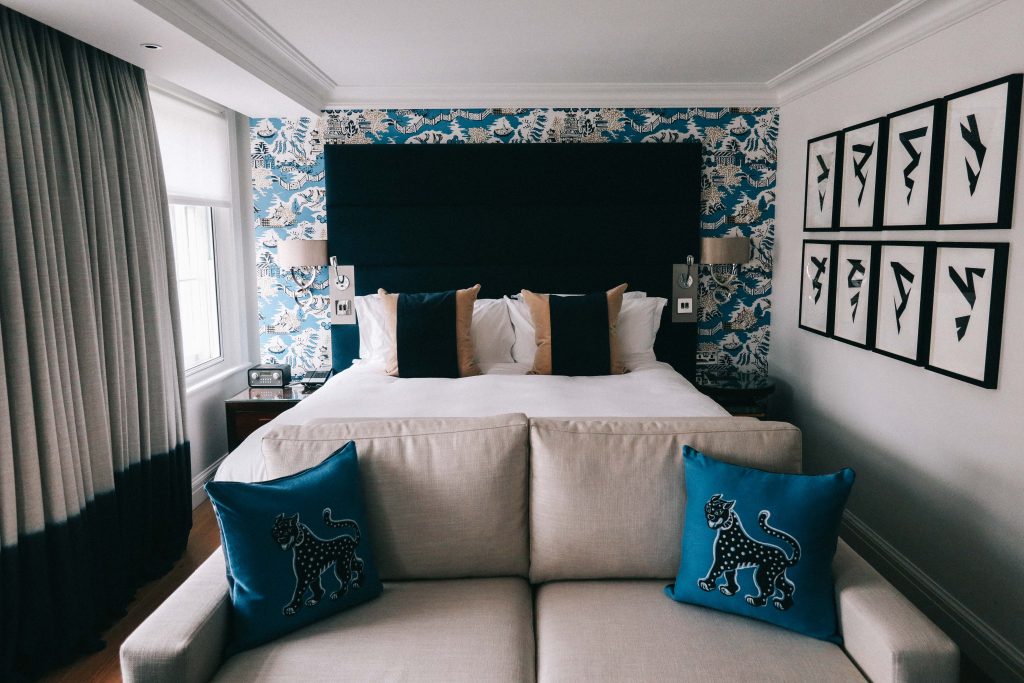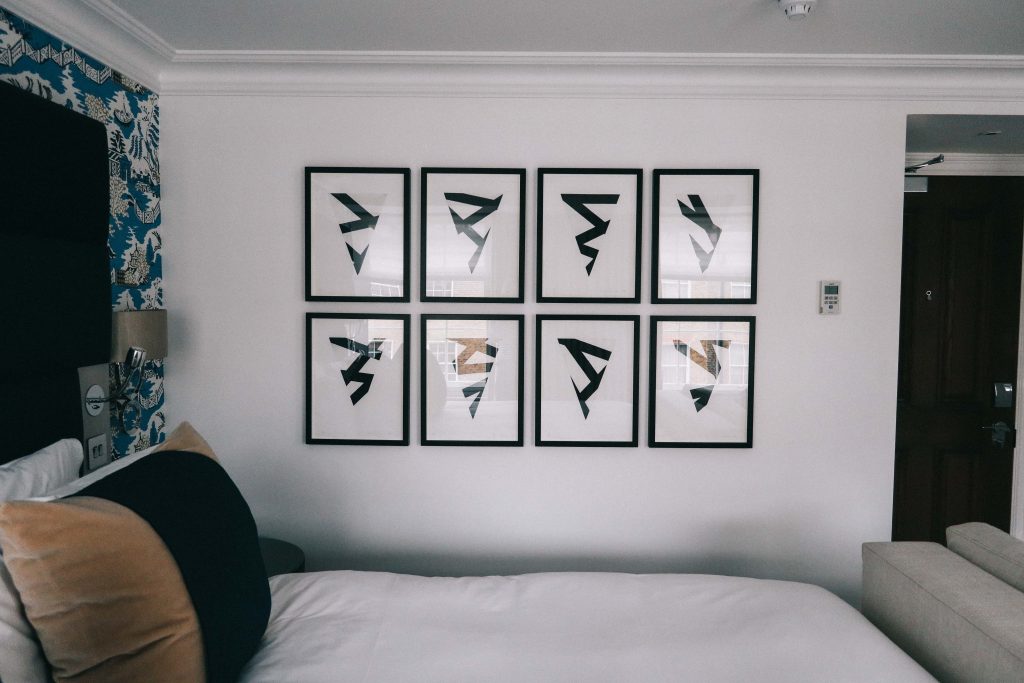 We had arrived at the hotel earlier that afternoon in true Twins That Travel style: running late, wheels of our suitcases missing and our hair still set in rollers. In an hour's time we were to be arriving at the Cosmopolitan Influencer Awards, yet once again, we'd gotten our timings horribly wrong. Running down the street with our hair carefully piled high on our heads, and fake eyelashes fluttering in the wind, now was no time for distractions.
Yet once inside The Arch Hotel, distractions, it seemed, were everywhere. Whilst outwardly dressed in its finest Georgian attire, inside the hotel was a glittering sanctuary of modern art – bold prints and bespoke paintings staring down at arriving guests. Whilst reception staff checked us in quietly behind shining iMacs, I gazed at the cleverly shot 'Alphatecture' series by British artist, Peter Defty. It seemed the hotel was a clever mix of Georgian heritage and contemporary style: a seamless blend of past and present, of Lady Trollope and the Queen of Pop herself. It was all brilliantly done.
As we walked up one of the hotel's many traditional Georgian staircases, our attendant told us more about The Arch Hotel's colourful character. Entirely family owned, the hotel straddles seven grade II listed Georgian townhouses and two cosy mews homes. Neither bland nor homogenous, the hotel instead boasts 82 individually decorated rooms, each filled with painstakingly hand-printed wallpapers, bold colours and sumptuous furnishings. Owned by a family fanatical about interior design and art, the hotel clearly mirrors their passions: the building's every corner dripping in design and colour. Walking along its creaking corridors, it was all too easy to imagine that we were staying in the family's private home.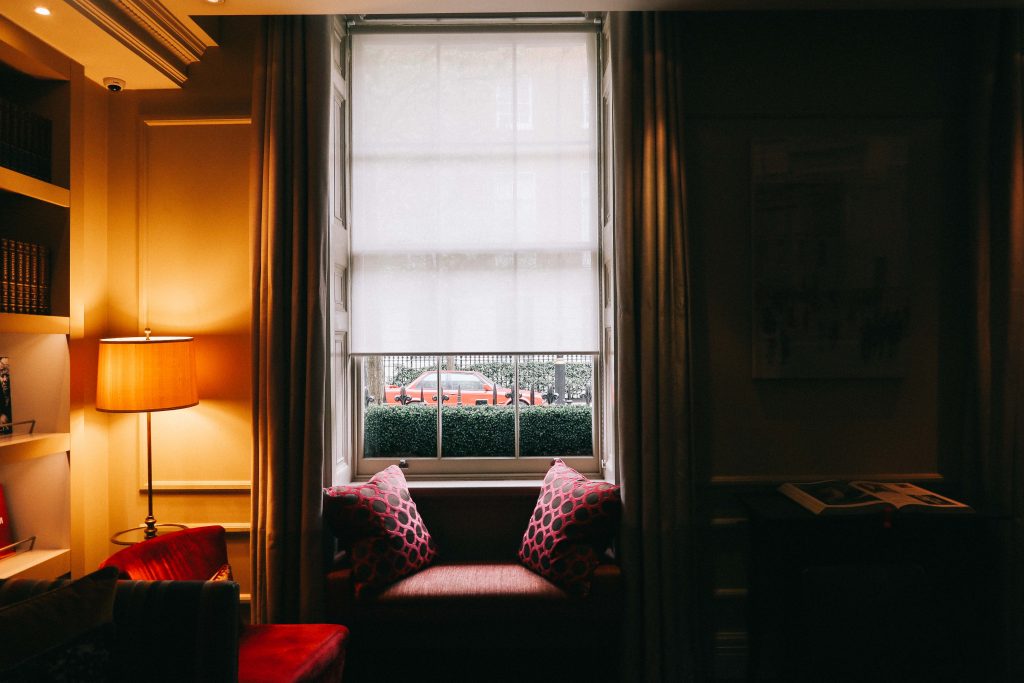 Having seen previews of other rooms in the hotel – visions of orange and red – it seemed that our own deluxe room was to be their counterbalance: a cool palette of soft blues and downy whites. Lit by three towering sash windows, the room glowed in the late afternoon sun – Madonna's residence and her neighbouring blossom tree staring steadily back. Featuring double height ceilings, a spacious lounge area and a glittering marble bathroom, the room also came complete with a sunken bath and inbuilt TV. In short, it was a room filled with distractions; distractions we tried unsuccessfully to avoid.
With just thirty minutes to get ready, I trialled the room's 'digital maid' service whilst brushing my teeth, setting the little sign outside our room to 'Do Not Disturb'. While slapping on foundation, I flicked through the room's complimentary Sky TV channels – the Nespresso Machine brewing quietly in the background. At one point, I found Claire lying in her party dress in the empty bathtub, one eye on the integrated TV ahead of her, another on her half painted toenails. With just the final touches to go – a blast of hairspray here and a squirt of perfume there – we ate the delicious smorgasbord of desserts that had been left in our room: head chef Gary Durrant clearly an expert when it came to pleasing his sweet-toothed guests. Lastly, and as I staggered out the door with a lone macaroon in my hand, I had just enough time to call downstairs to concierge: a shiny black cab waiting for us as we arrived in the lobby.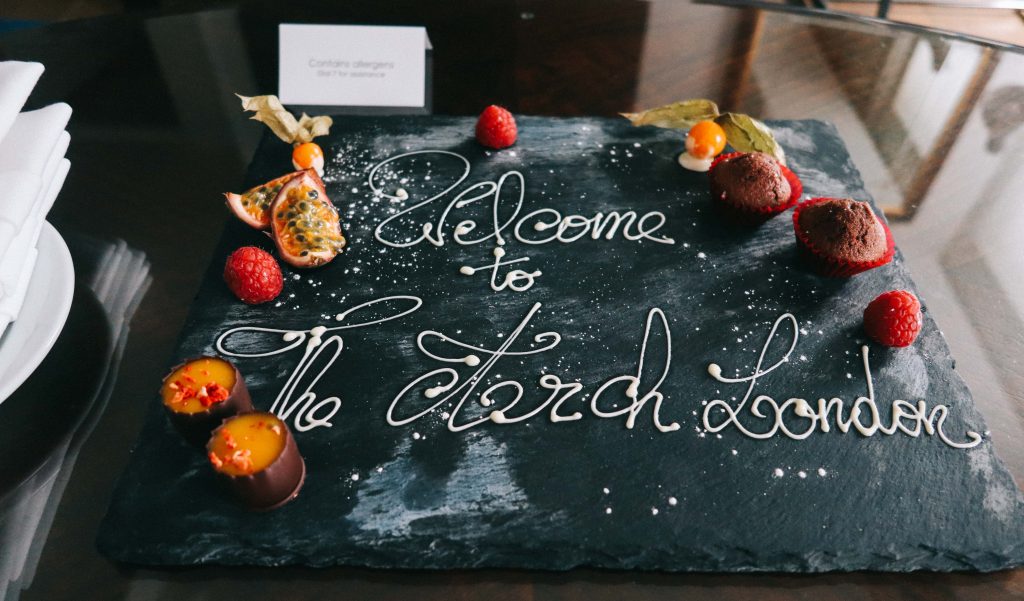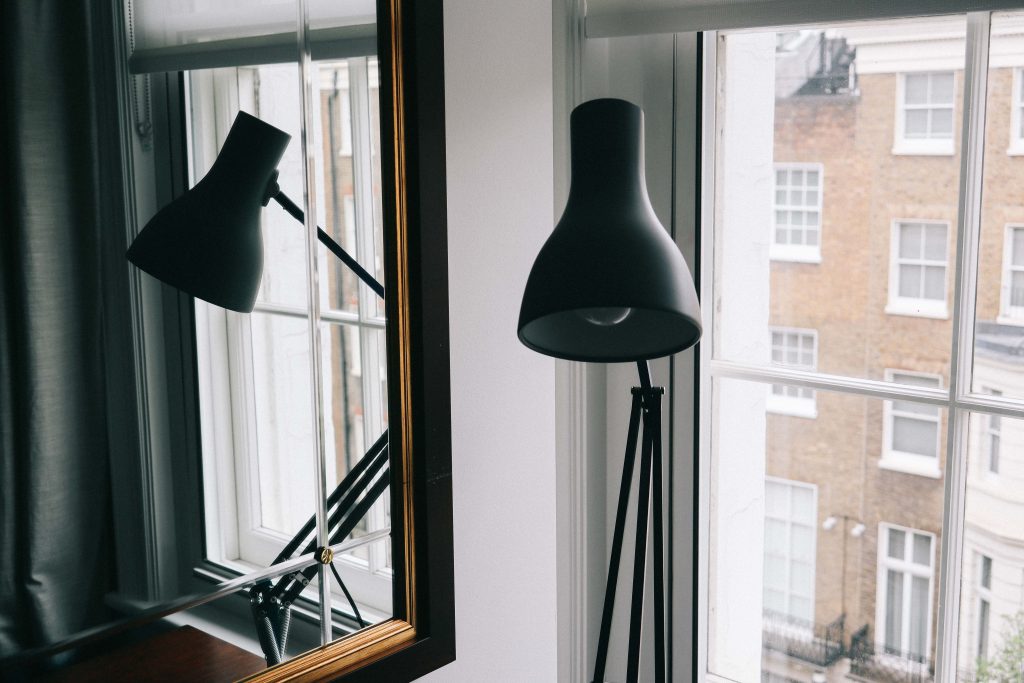 The rest of the night, which took place just a ten-minute drive away at Kensington Palace, was a blur of stunning floral displays, falling glitter and the sound of clinking cocktail glasses. This year, the Cosmopolitan Influencer Awards were bigger and better than ever: a reputable line of judges bringing a real sense of integrity to the night. Shortlisted for the Travel Influencer of the Year category, this was our third time at the Cosmopolitan Awards: something that didn't seem to help lessen my nerves. Over a (delicious) banquet-style dinner of sea bass, I struggled to finish my lovely meal as my mouth became steadily more devoid of saliva. At one point, my top lip remained glued to my teeth for over five minutes.
Eventually, the results were in and whilst we didn't win this year, a pair of incredible travellers did: the locally-led Jess & Charlie who run The Travel Project. Promoting truly adventurous, authentic travel that is determined by local Instagram recommendations, their blog is a real breath of fresh air in the travel blogging world, making them incredibly worthy winners.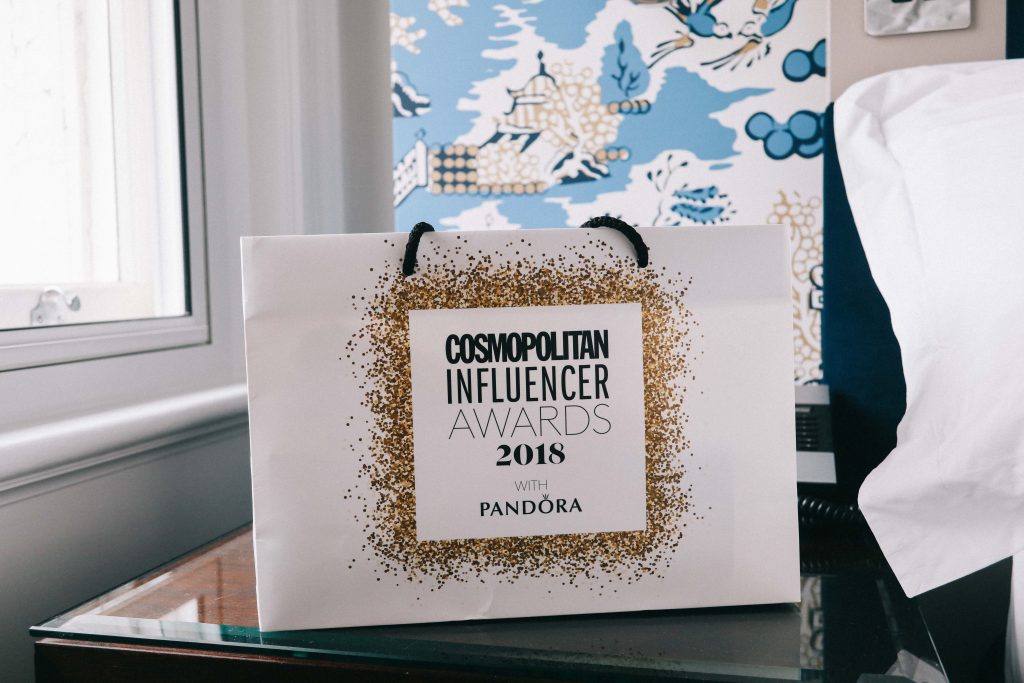 After some post-dinner cocktails and having roamed the venue for the stands filled with little pink desserts, we eventually took a cab back to the hotel: The Arch Hotel's porter waiting for us with a smile. "Sleep tight, ladies", he said as we walked back into our Georgian mansion, "and we'll see you in the morning". Walking inside, the hotel quiet, warm and still, it felt as though we were arriving home.
The next morning, we woke up to the sound of silence. No frenetic traffic, beeping horns or that sound of perpetual drilling that seems to haunt most London streets. No, everything was quiet – peaceful. With time now finally on our side – no mad dashes or dresses to squeeze into – I began the day inside our room's enormous bath, 'Frasier' playing on the TV in front of me. Outside, Claire sat in a giant fluffy robe and watched for a glimpse of Madonna's hand or foot – perhaps a wisp of hair, even.
After dragging ourselves from the quiet of the room – Madonna still MIA – we headed downstairs to the hotel's acclaimed Hunter 486 restaurant (the name apparently a nod to Marylebone's 1950's dialling code). Inside, the restaurant was once again a fusion of towering Georgian windows and shimmering modern design, with blown glass pieces hanging from the ceiling, and a glittering bar and open kitchen taking centre stage. Headed by classically trained chef, Gary Durrant, this restaurant is far from the tired hotel bistro serving penne pasta or chicken madras. Offering seasonal and creative dishes, even our breakfast of Eggs Benedict was served with a notable finesse.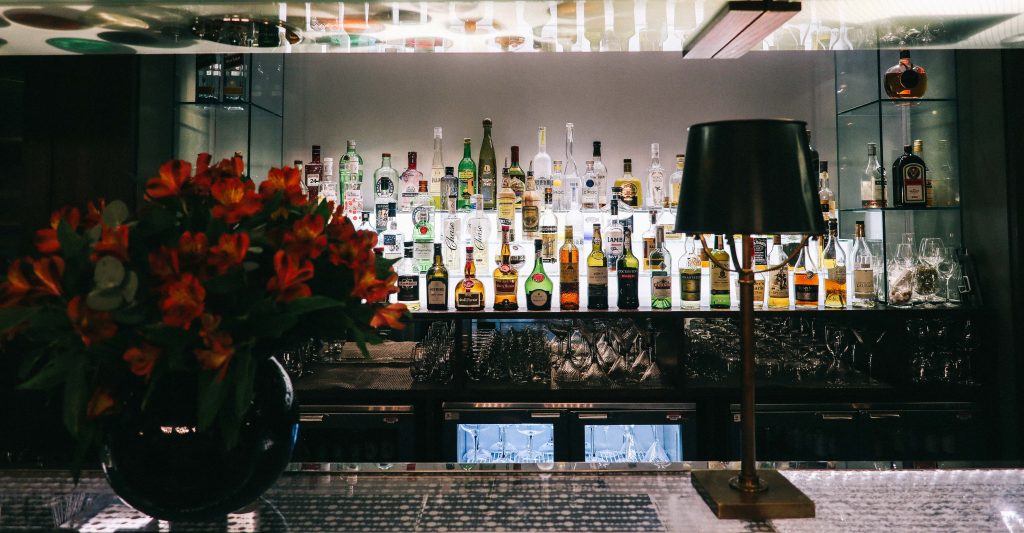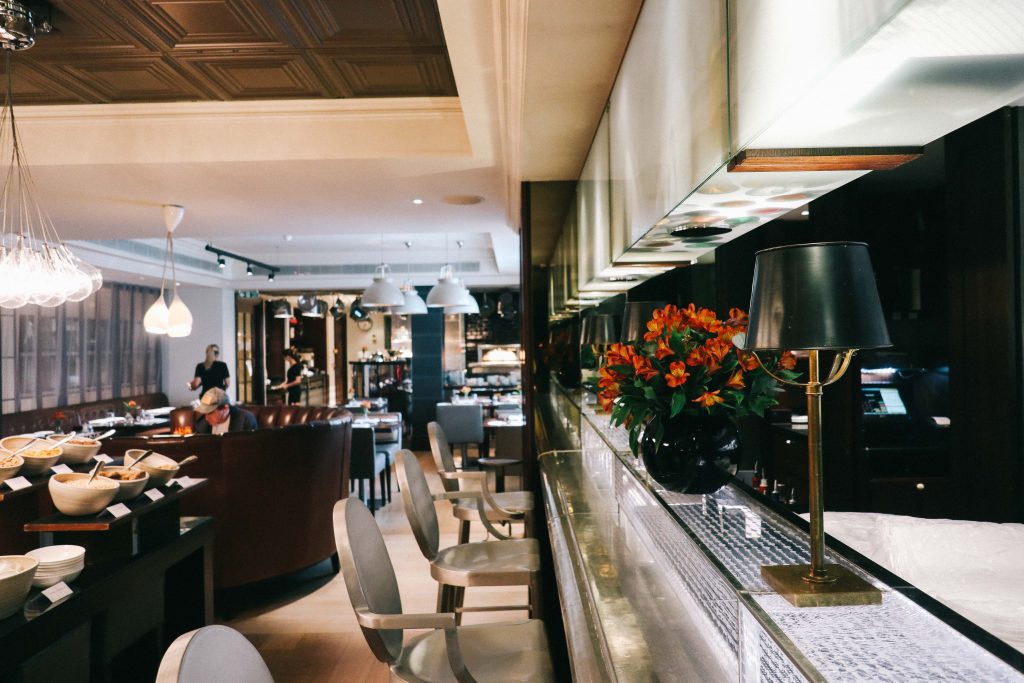 Before leaving The Arch Hotel, we had time for a final small tour. Gliding passed the historically inspired Martini Lounge – a room with all the airs of an eighteenth century drawing room – we discovered The Arch also offers an impeccably presented gym, complete with complimentary towels, polished apples and cooled water. Any well-intentioned guests can find it neatly installed at basement level. We also passed one of the hotel's fluffier guests – a little dog who, thanks to the hotel's dog-friendly policy, had also enjoyed a peaceful night in one of the Georgian bedrooms; hotel dog walkers ever on hand if he suffered restless paws.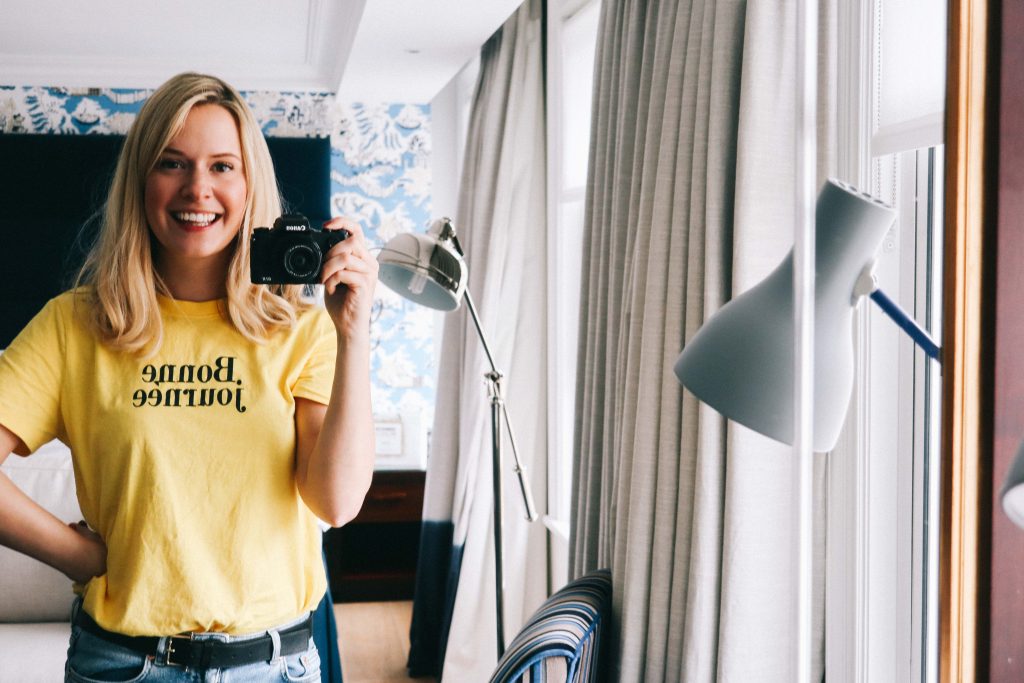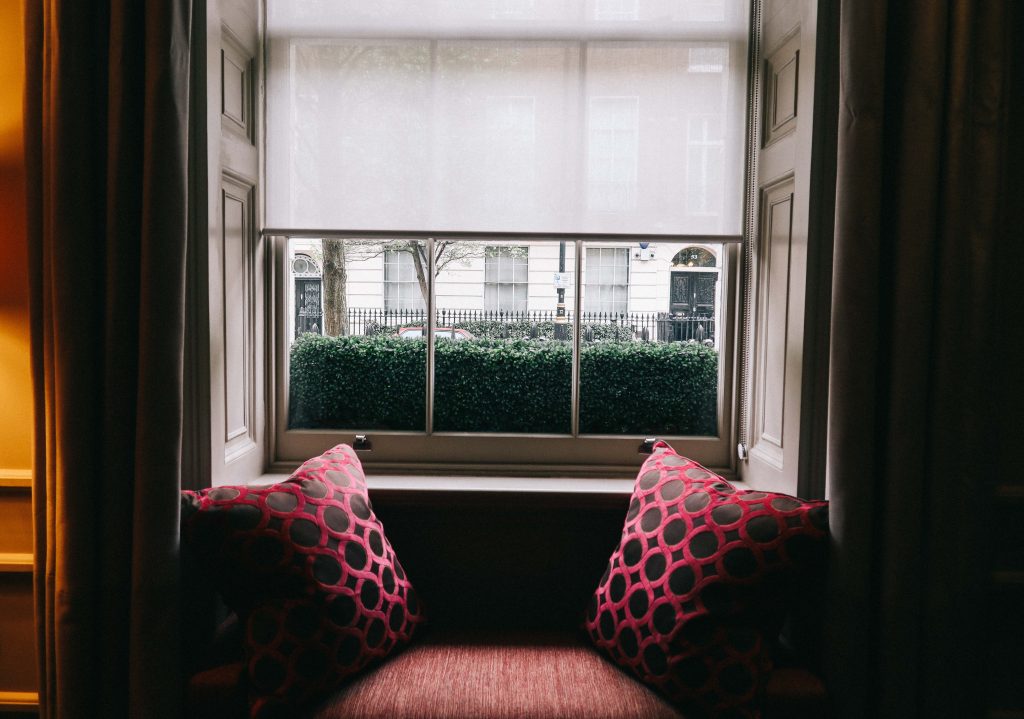 With a day of meetings ahead, it was eventually time to leave our Madonna Watch Tower behind and head back onto the streets of Great Cumberland Place. After a day of nerves and hurrying, The Arch Hotel had offered us the perfect antidote: a quiet and peaceful Georgian mansion, dressed as a family home. Warmly lit, with thick carpets and smiling staff, the hotel remains every inch the grand home it once was to London's eighteenth century residents. Yet, and as Lady Trollope was eventually replaced by our very own Queen of Pop, so the hotel has its own modern twists: glittering artwork and bold design hidden behind its handsome exterior.
It is a beautiful place to stay in perhaps one of the most tranquil and characterful parts of London.
The Arch Hotel is part of the 'Small Luxury Hotels of the World' collection, and was named one of the top 20 luxury hotels in the UK in 2017 Traveller's Choice Awards. Double rooms begin at £350 and suites from £420.