How often do we shake ourselves from our airline rut? Forget our loyalty schemes and air miles, and try something new? Below is our review of Air New Zealand  Premium Economy and our flight to LA; a flight that might just have revealed a whole new way of flying.
Our eleven-hour flight was spent chasing the sunset; our cabin illuminated a dusky pink. Leaving London just before twilight we'd flown west, our entire journey caught in that sugary hinterland between night and day. Watching as we passed over Greenland's snowcapped mountains and the wilds of Canada's sea border, it felt as though time had stopped inside our plane. We were 35,000 feet in the air – free from time zones and ticking clocks – soaring across pastel skies. As flights go, this was perhaps one of the most beautiful that I'd experienced.
Eventually, our pilot gave up the race: dusk finally swallowed by night as we passed over an inky black Nevada. Our flight was nearing its end. Settling back in my big leather chair, I watched as LA began to emerge from the darkness; a mass of sparkling lights and rocky peaks. It was a dizzying sight – as though a collection of Christmas decorations had slipped from the sky. Staring downwards, I couldn't quite believe that I was finally here – the world-famous city of angels glittering below me and Air New Zealand's soft leather furnishings surrounding me.
Indeed, it was not only LA that I'd been excitedly waiting for, but this very flight, too.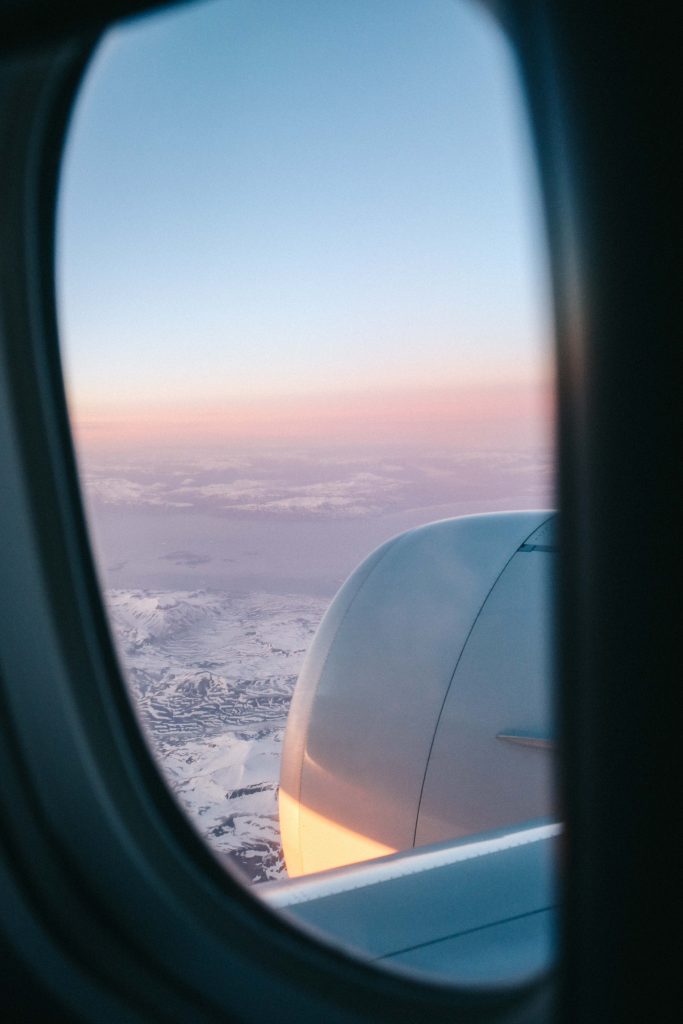 Who Are Air New Zealand?
Early last Spring, we'd travelled to London to attend a 'try before you fly' event, hosted by Air New Zealand. The invitation had come at an apt time. I'd recently found myself in a bit of an airline rut – taking the same cramped flights and browsing the same few films. A little like politics, it seemed that when it came to organising my travels, only two airlines came to mind. You know the sort: those well-established, inherently British airlines. The airlines you cling to because they are familiar and safe. The airlines that recently took away your complimentary drink and salted peanuts.
It seemed that somewhere along the line, I'd forgotten that there were other airlines available – more exciting airlines. Airlines that boasted cabinets of glittering awards, that served gourmet doughnuts onboard, that let people fly in seats called 'The Sky Couch'.
Airlines like Air New Zealand, for example.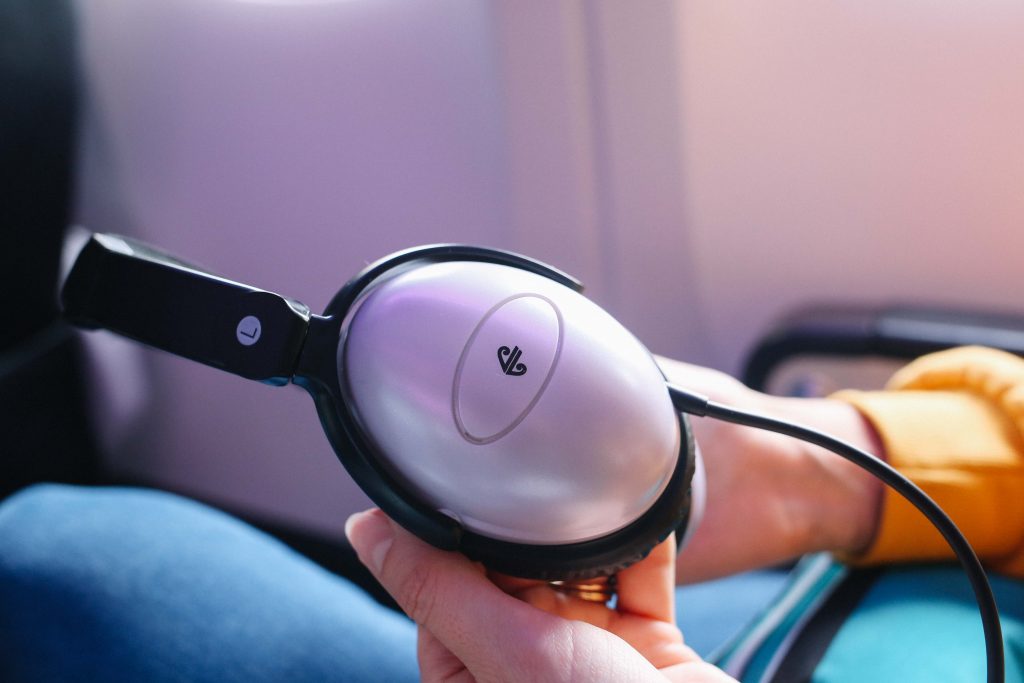 Our morning with Air New Zealand had been an exciting one. Given that it was spent within a small space in Soho, with neither an aircraft nor New Zealand in sight, this is perhaps an indication of just how brilliant this airline is. Over plates of Crosstown Doughnuts (a decadent brand that can also be found onboard their flights), we'd learnt that Air New Zealand was not only the winner of Airline of the Year 2018 (for the fifth year in a row), but flew to a host of international destinations: from Chicago to Fiji, Buenos Aires to Bali. Ignorantly, I'd assumed that this was an airline I'd only call upon when I wanted to take that well-known route from the UK to Singapore, Singapore to Auckland. Evidently, I'd forgotten just how adventurous Kiwis are.
Given that long-haul flights are a rite of passage for most New Zealanders – something that they (and their bladders) seem born to endure – perhaps it's unsurprising that this is an airline that strives to continually innovate: modelling new chairs, new cabins and new forms of entertainment almost yearly. Indeed, why not make the long haul experience less an experiment into human endurance, and instead an enjoyable experience? Comfortable, enjoyable, fun? It's a mission that this airline have taken seriously.
Air New Zealand's Economy Skycouch
Over the course of the morning, we tried and tested a few of these innovations, including the airline's much-lauded 'Economy Skycouch'. Allowing couples, families or individuals to book out entire rows, these seats magically transform into an extended couch, offering that coveted 'flat bed' experience. Indeed, there's no need for anymore wistful gazing into Business Class, now you can stretch out on your very own inflight sofa. Offering additional safety features that allow babies and infants to lie next to their parents, the Skycouch experience might also be the answer to every parent's prayers.
 Premium Economy Mean on Air New Zealand
Our morning also featured an introduction to Air New Zealand's crowning jewels: their Premium Economy Cabin. Settling down in one of the mock cabin chairs, we were waited on by an attendant; all whilst the crowds of Soho passed by. I felt like a kid playing airlines again, albeit with seriously upgraded props. I was even able to recline my chair, smiling surreally as my attendant flourished a blanket and tucked me tightly in.
Named the best Premium Economy cabin in both 2017 and 2018, this ink-coloured haven offers large leather seats (with 50% more recline than those in Economy) leg rest elevators and foot support. The result is an incredible amount of personal space. Furthermore, a distinctly Kiwi menu is on offer and each dish accompanied by a premium New Zealand wine. Lastly, the amount of entertainment available within the Premium Economy cabin is staggering, with a whopping 1,700 hours of content available. Surely even the most gruelling of 24-hour flights would fly by (if you'll pardon the pun) with that amount of entertainment available?
(N.B. the airline shows every film from the Lord of the Rings trilogy onboard its flights. Although each film might feel like it lasts 1,700 hours, I was reassured that these were not the only films available).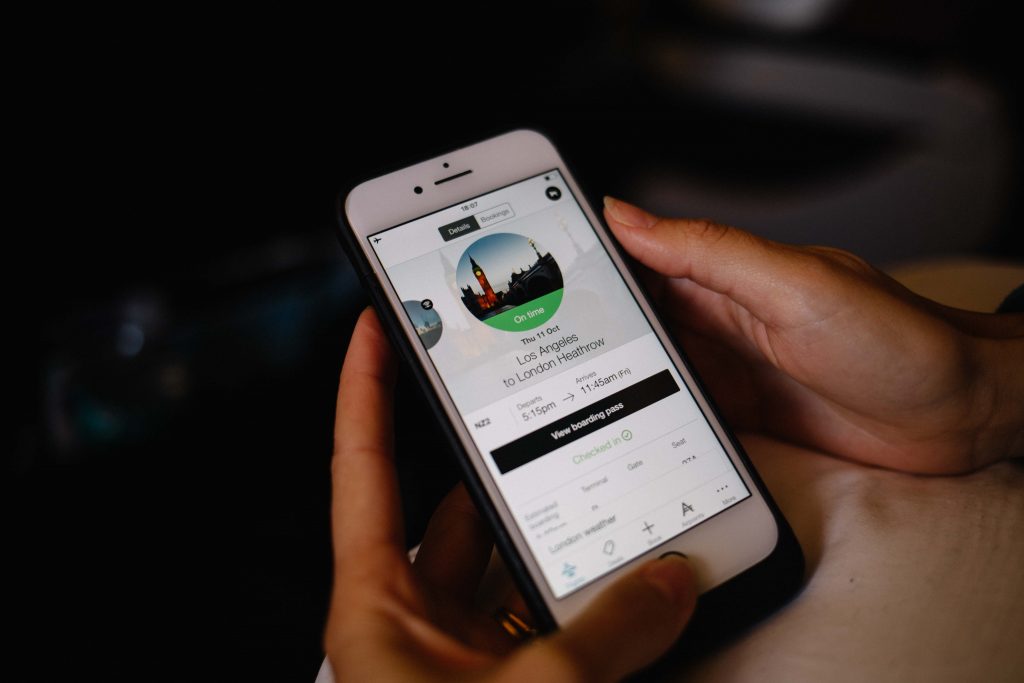 Although my experience of Air New Zealand Premium Economy might only have taken place within a small exhibition space in Soho, I left feeling as though I'd just taken a trip of my own (although thankfully without the jetlag or static hair). I'd sampled New Zealand wine, devoured gourmet doughnuts, been tucked into a Premium Economy seat and enjoyed a short lie down on a Skycouch.
Stepping back onto the streets of London, my only questions were: how soon could we travel with this airline? And where could we go?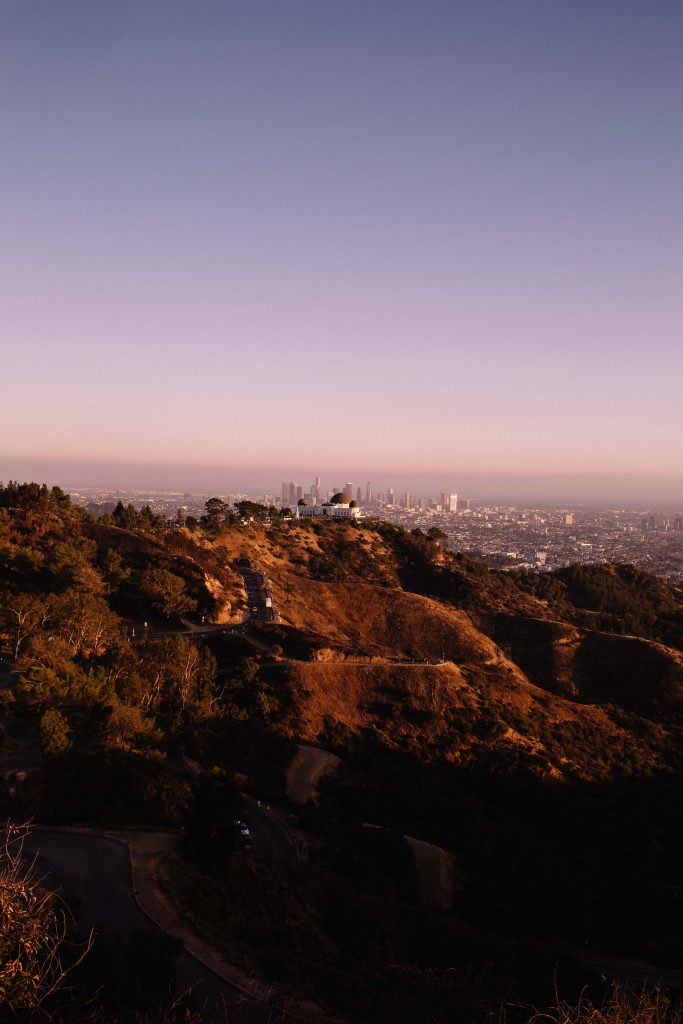 Air New Zealand's Route Europe to LA
Updated March 2022: Air New Zealand no longer fly a direct route from London to LA but you can pick up a connecting flight to LA from these European airports. 
It might come as a surprise to hear that one of Air New Zealand's most popular routes is not simply that to Singapore or Shanghai, but to the city of stars: LA.
Sharing this fact on social media, it seemed that I was the last to the party; a barrage of tweets revealing Air New Zealand's loyal UK-LA fan base. 'I always fly with Air New Zealand to LA', one user tweeted, 'but just don't tell too many people about them'. Another Instagram message revealed that one regular commuter often flew to LA simply so that she could fly with the airline. Upon her arrival, she would have to double back on herself, driving eastwards to Las Vegas. 'They're my little secret', she confided via an Instagram message, 'their toilets are wallpapered'.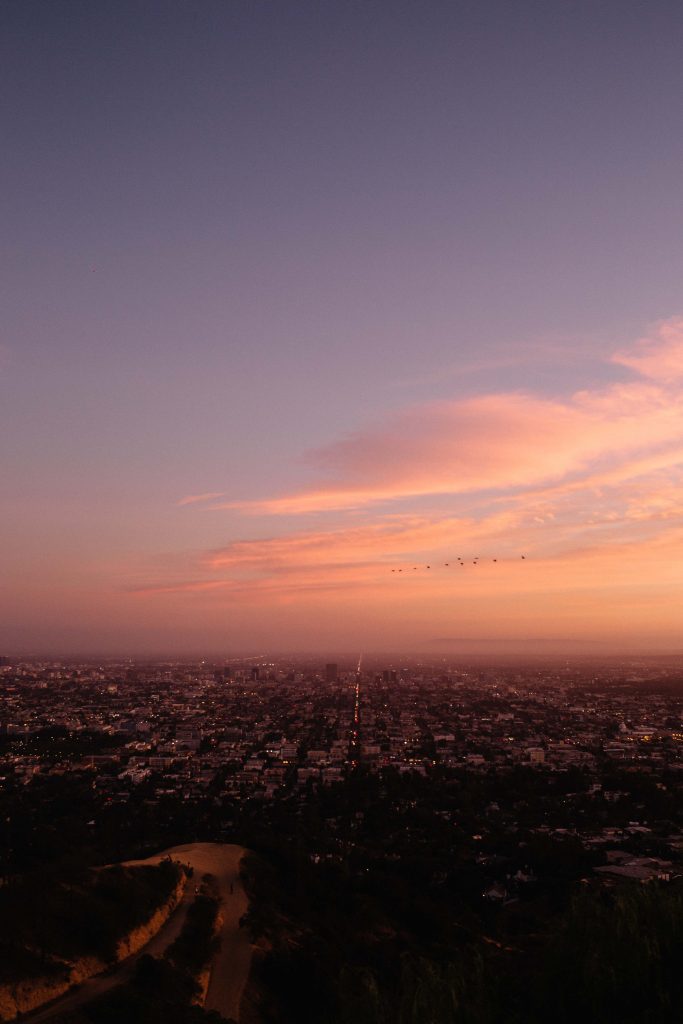 It seemed that Air New Zealand's LA route was travel's worst-kept secret: an almost cult-like devotion surrounding it. Predictably, I wanted in. I wanted to experience the wallpapered toilets and the delicately flavoured doughnuts. I wanted to watch 1,700 hours of entertainment and enjoy a barrel-aged New Zealand Sauvignon Blanc. I wanted to travel to LA with Air New Zealand.
A Review of our Premium Economy Flight with Air New Zealand
And so it was that a mere 18 months later we found ourselves bound for LA – two Air New Zealand Premium Economy tickets booked in our names. Given our experience with the airline the year before, it was an eleven-hour flight that I had been wildly anticipating.
What is the luggage allowance with Air New Zealand Premium Economy?
My early introduction to Air New Zealand's Premium Economy experience came when I caught wind of their generous baggage allowance. For those flying in Premium Economy, passengers are allowed two pieces of checked in luggage (up to 23kg each) and two pieces of carry on (up to 7kg each). Given that several taxi drivers have asked lately if I enjoy travelling with my 'brick collection' (a horribly predictable 'Dad joke' that even more horrifyingly, I've now adopted as my own), such a substantial allowance came as considerable relief.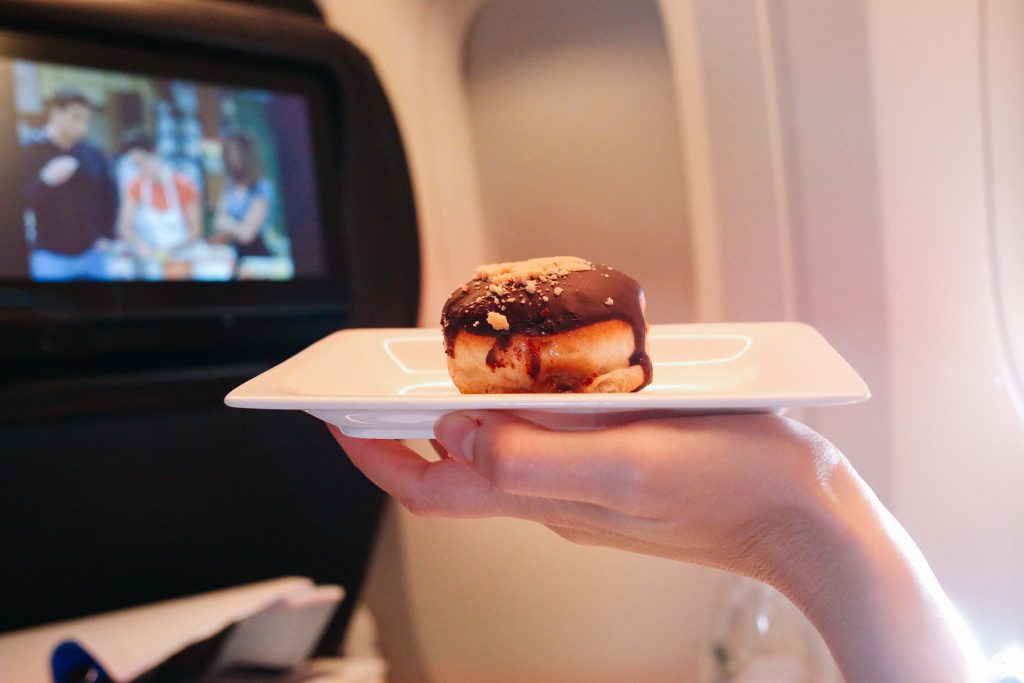 Before we flew, we were also told that as Premium Economy passengers, we were eligible to check in via the airline's Premium Check-In Service; a perk that not all other airlines offer. Arriving at Heathrow before our flight, the opportunity to bypass the queues and to immediately check in (alongside a small dog who would also be flying in our cabin) not only saved us time, but reduced that unique tension that seems to arise in airport queues.
Review of Air New Zealand Premium Economy Cabin
Having checked in (and waved goodbye to our fellow passenger, Suki the Maltese) it was soon time to board: the glowing magenta tones of the Air New Zealand aircraft beckoning. After boarding quickly (another advantage of flying Premium Economy), we made our inaugural and much-anticipated entrance onto the 777-300, our Premium Economy cabin waiting just ahead.
Air New Zealand Premium Economy Seats
"Let me take that", a voice came from behind. Turning around, I was met with the smiling face of Sarah – our attendant for the flight – who swiftly took my bags and led us to our seats. As we approached, my first thought was just how large they were: two giant armchairs, upholstered in ink-coloured luxury leather. Although I'd already taken such a chair for a spin at the Air New Zealand event in Soho, seeing it within the cabin setting made it only appear larger – abnormally large, in fact. Compared to its peers, this Air New Zealand Premium Economy seat was surely the heavyweight champion.
A little overwhelmed, I quickly stored my bags away before throwing myself into the blue leather. Dramatically reclining my seat, I immediately elevated the leg rest and extended the foot support; hurriedly throwing a large complimentary pillow behind my head. I was now in an almost entirely reclined position. To really mark the occasion, I asked Claire to unravel the neighbouring blanket, smiling as she firmly tucked me into my enormous armchair.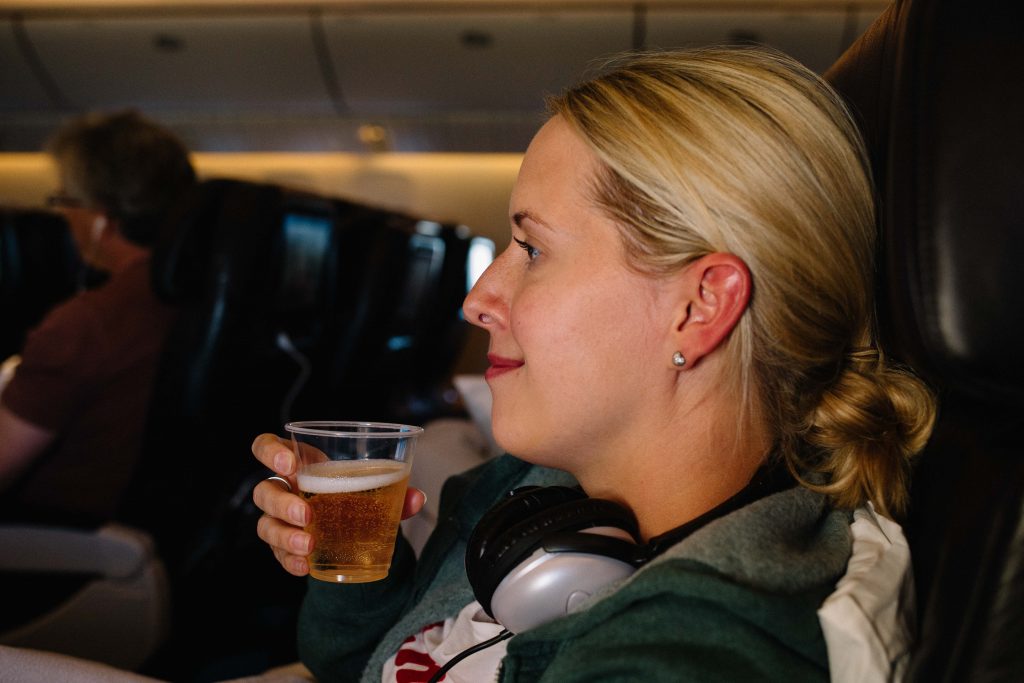 As my fellow passengers continued to board – takeoff still thirty minutes away – I lay cocooned in that seat in a stunned silence, marvelling at my 19.3 inch wide chair. Not only was I vaguely stunned to finally be here, but I was a little taken aback by just how comfortable these seats were. A tantalising thought crossed my mind: perhaps I'd even sleep on this flight.
"Would you like a glass of sparkling wine?", came Sarah's voice. Embarrassed, I quickly returned my seat to its upright position and smoothed down my hair; aware that even the bag loaders were still at work. Taking a glass from a smiling Sarah, she explained that she'd soon be round with a warm towel and some sweets for takeoff.
As Claire watched one of the airline's award-winning Safety Videos (this particular one featuring a very handsome Adrian Grenier), I gazed about the Premium Economy Cabin. With just 54 seats, it felt quiet and spacious, without being overly silenced or hushed (something that I've found Business Class cabins can suffer from). "A great place to call home" Sarah explained as she came back with our hot towels. "The cabin is meant to feel welcoming and cosy; as far away from the typical flying experience as possible".
Pressing the warm flannel to my face, I looked around at the gentle purple up lighting, the meltingly soft chairs and the smiling staff. I'd say that Air New Zealand had succeeded in its objective: this Premium Economy cabin was more welcoming than my own home.
Watch our full Air New Zealand vlog:

The Inflight Entertainment in Air New Zealand Premium Economy
With takeoff complete – twilight now dancing on the horizon – I reclined my chair, donned a pair of the airline's complimentary socks and turned my attention to the inflight entertainment.
As the saying goes: this is what we came for.
Firstly – and what most passengers might notice – is just how large the screens are inside the Air New Zealand Premium Economy cabin. Recently installed Panasonic Avionics touchscreens, these TVs boast HD capabilities and immerse passengers in a world of vibrant colour. Gone are the days of having to cower in front of your screen, the shadowy shapes in front of you almost indecipherable. These screens would rival even your iPad for clarity. (For a long time, I believed The Girl with the Dragon Tattoo was filmed almost entirely in the dark, thanks to a return flight from New York).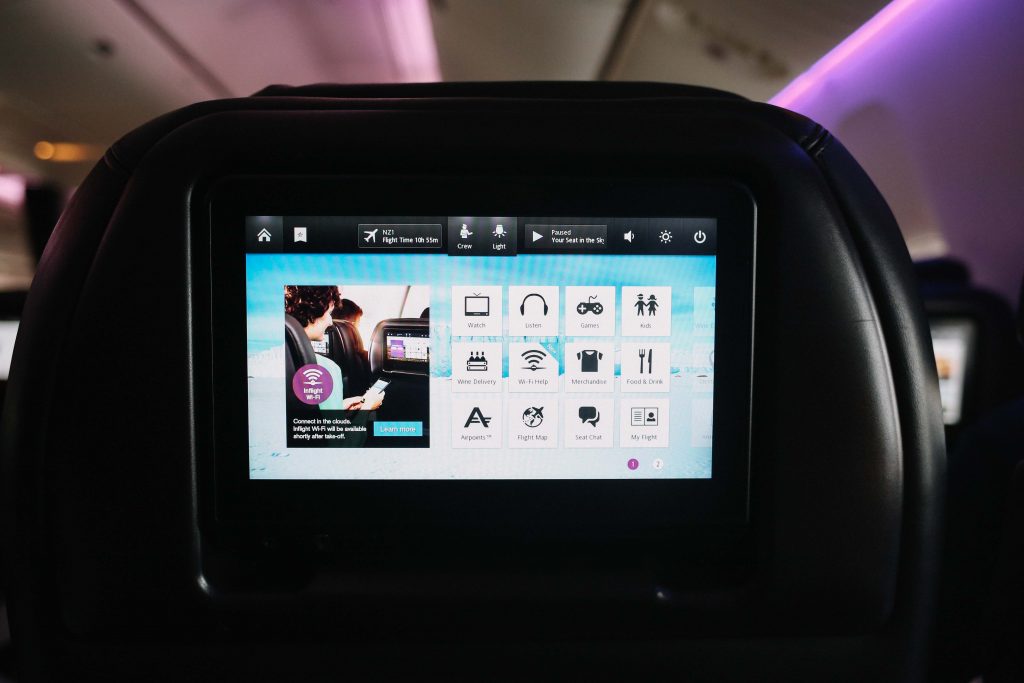 Aside from the 1,700 hours of films, television shows, TED talks, music and audio books on offer, Air New Zealand's Inflight Entertainment also offers a handful of other unique services. Firstly, the 'Screen Share' option allows you to share your screen with your neighbour, allowing you to enjoy a film together. It's a little like a small – and possibly more glamorous – cinema in the sky. Passengers can also choose the 'Seat Chat' option, which allows you to talk with family or friends, if sat elsewhere.
One particular service that caught my eye was the 'Wine Delivery' option. Thanks to Air New Zealand, it seems that passengers are able to browse and select wines for home delivery, all whilst 38,000 feet in the air. What foresight, what vision. Indeed, what could be more reviving after a long-haul flight than the knowledge that at home, a bottle of Chardonnay is waiting for you?
Thanks to onboard Wi-Fi (free for the first hour, or $40 NZD for the entire flight) and USB charging points, I was able to not only enjoy several Harry Potter films, but to get on with some work; snacks ever on-hand thanks to the 'snack bar' found in the galley. This Premium Economy cabin was better than my own office.
The food in Air New Zealand Premium Economy
Over the last few years, I've discovered a strange phenomenon when it comes to airplane food: it somehow leaves you hungrier than you were before. It seems that inside those plastic trays, the food – or what is disguised as food – is made up of predominantly air, or perhaps dust. I'm unsure which.
I was therefore a little apprehensive ahead of my Air New Zealand flight to LA: should I bring a large supply of snacks? A round of sandwiches? My stomach growled at the thought. However, I shouldn't have worried. Air New Zealand – that veteran of long-haul travel – understand the importance of good food (and, as it seems, good wine), when aboard those longer – hunger-inducing – flights. Indeed, it's what they pride themselves upon.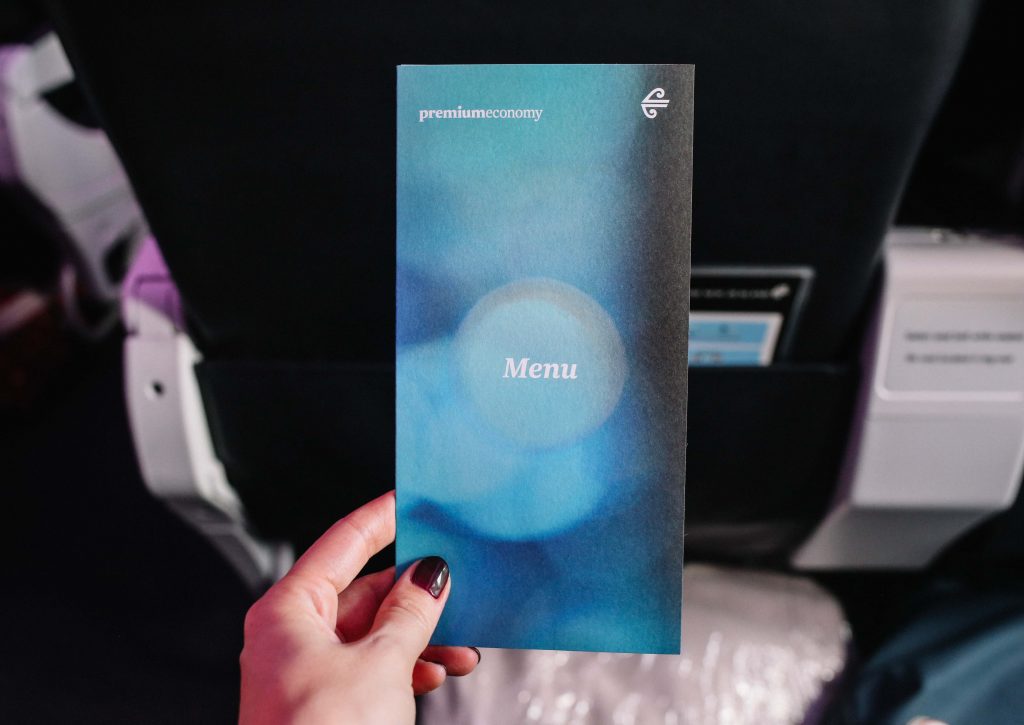 As we arrived in our Air New Zealand Premium Economy cabin, Sarah carefully handed us each a beautifully designed menu; a list of the wines, meals and snacks detailed inside. With the option to select your main course (presented beautifully on china plates, alongside silver cutlery), and a particular bread from the 'bakery', the dining experience inside Air New Zealand's Premium Economy cabin rivalled any Business Class meal I've enjoyed.
View a sample of the premium economy menu here. 
Over a main of roast cod with coconut Goan curry sauce, a glass of white wine and a beautifully rich clementine tart for dessert, I watched as the setting sun flickered on the horizon. Below us, Greenland's snow-capped peaks were cast a blushing pink. It was a dining experience that I truly won't forget (despite the seemingly endless refills of crisp, sweet wine). We were also reminded by Sarah that we'd later receive another meal (a choice of paninis) and, of course, the main event: the Crosstown Doughnuts. Added to this, passengers were also welcomed to the snack bar at any time, where New Zealand's very own crisps and cookies waited.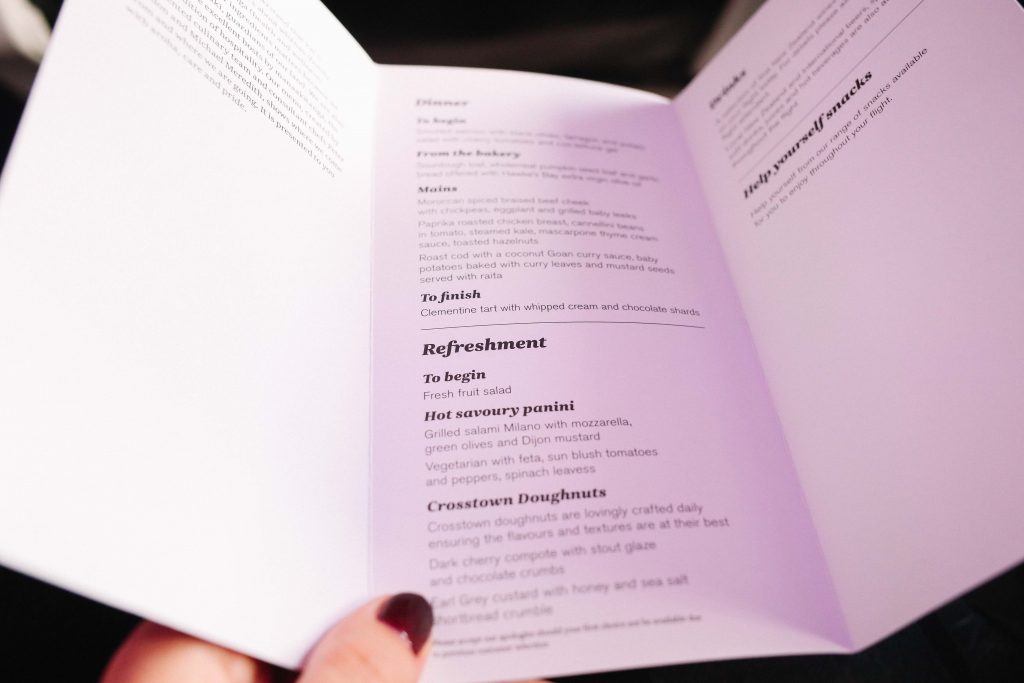 Far from being hungry, I spent what seems like the entire flight eating; eleven hours spent munching, chewing and gulping back beautiful Kiwi-inspired food and drink. Again, it was an experience that made our flight with Air New Zealand so genuinely enjoyable; and a level of service that I'm yet to experience from any other airline.
Review of the service in Air New Zealand Premium Economy
Flight attendants maketh the airline, or so I once read inside an inflight magazine. It's a statement that I don't dispute. Whatever the size of your seat, however many doughnuts you are served, and regardless of the number of Friends episodes you're able to watch, without helpful or welcoming staff, your eleven-hour flight might prove to be an uncomfortable one.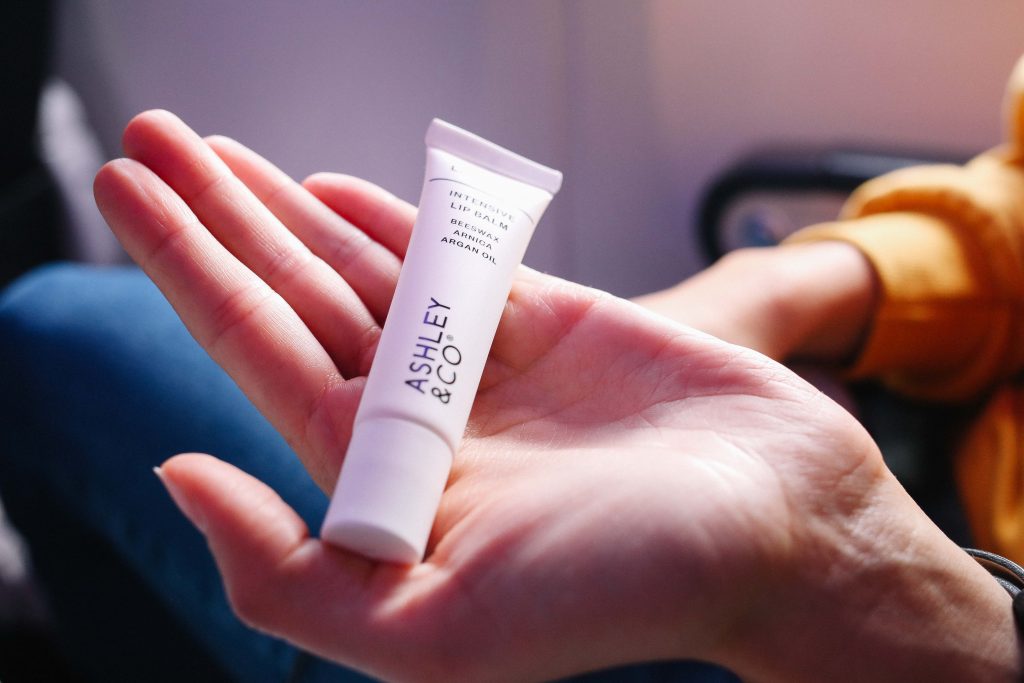 As a self-confessed flying phobic, this is particularly true. On flights where staff have been a little unfriendly or abrupt, I've felt my nerves increase. I worry that my own anxiety might irritate them; yet another nervous passenger to have to deal with. I therefore tend to watch flight attendants carefully – if they are relaxed and comfortable, I'll relax too. I'll linger in the galley, chatting with them about the latest perfumes or television shows. They make me feel welcome, looked after, safe.
"If you girls need anything, you just let me know", Sarah whispered before takeoff, smiling at us both. "And I'll pop back as much as I can". I immediately felt myself calm down – welcoming, lovely Sarah quieting my jangling nerves.
She kept her promise. Throughout the flight, we discussed her tips for LA (she flies there weekly), browsed photographs of her recent trip to Cappadocia, chatted about her new life in London and discussed her old life in Auckland. She even found us extra cookies when the snack basket lay empty. There was absolutely nothing more that Sarah could have done to make us feel more at ease or valued. She – and the service she provided – is perhaps what I'll always remember about our Air New Zealand flight to that glittering city of stars.
Verdict:  Review of Air New Zealand Premium Economy
The lights dimmed as we began our descent into LA: a hushed quiet falling over the cabin. Below us, the city waited – dazzling us with its size and sparkle. Around the cabin, flight attendants began to hand out sweets to help with landing: the rustle of wrappers filling the silence. "Are you excited?" Claire asked, pointing out the window to a collection of towering skyscrapers below.
Normally, the answer would be 'no'. After long-haul travel, I largely feel nothing but sheer relief that the flight is over; a claustrophobic desire to escape the stuffy cabin and recycled air. I rarely think of the destination ahead, instead focusing on the rising agitation I feel to get off quickly – to escape.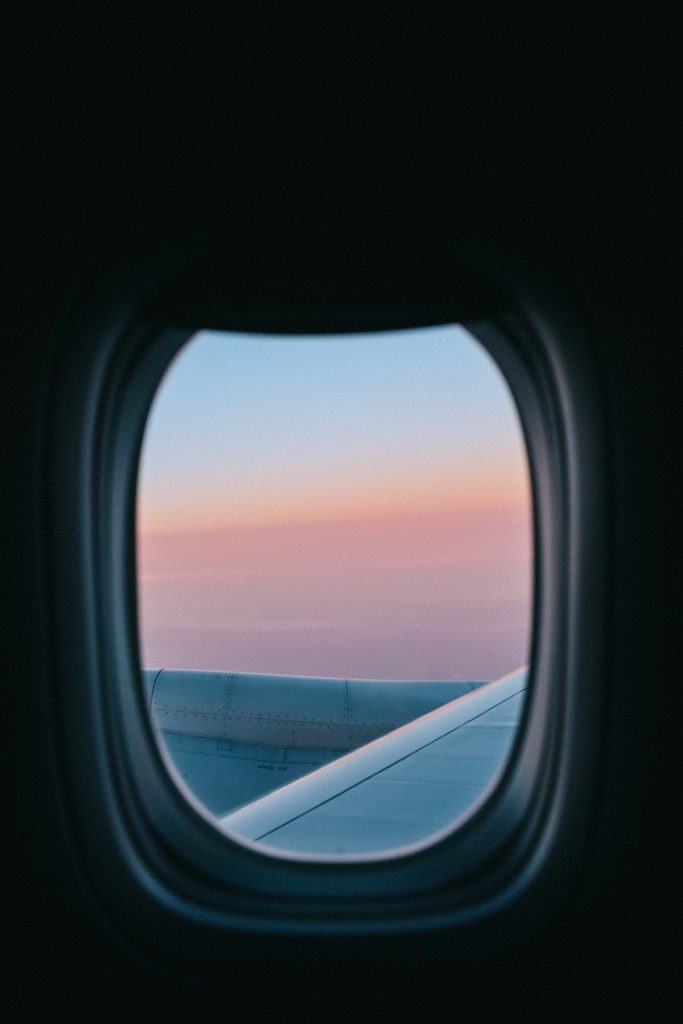 Except, on this occasion, there was no relief – no agitation. Instead, I felt relaxed, comforted and, dare I say it, disappointed, that my time onboard this Air New Zealand Premium Economy flight was over. It's a feeling I've not felt before and one that I doubted a nervous flyer like myself would experience.
It's perhaps easy to believe hype and propaganda, clever marketing and press events. But harder to believe, perhaps, that an airline can change the way you travel, or your attitude towards flying. Yet, Air New Zealand Premium Economy did just this. Eleven hours in the sky can be gruelling; a vacuum of time, energy and sleep. But my flight seemed to take half that time; a journey filled with cotton-candy clouds, a warm and friendly environment, and a sense of relaxation that I've not yet felt whilst traversing the skies.
My only question is when can I get back up there, ready to chase those sunsets all over again.
***
Discover a better way to fly to Los Angeles: Air New Zealand flies daily from London Heathrow to LA. Return flights start from £407 in Economy, £851 in Premium Economy and £2,843 in Business Premier. For the most up to date fares please visit https://www.airnewzealand.co.uk/cheap-flights-to-los-angeles
View our IGTV video of our review of Air New Zealand Premium Economy Experience here.
Pin it: