My eyes fixed to the TV screen, I watched as Boris Johnson announced that UK travel was back on. Throwing open my laptop – the Prime Minister's  comments fading into the background – I frantically booked a road trip to Cornwall.
After many months of lockdown, leaving the house just once a day for the same walk around the same park, I was pretty much salivating at the thought of escaping the concrete paradise of Milton Keynes.
Within an hour of the government's announcement, I'd successfully booked an apartment in St Ives and had already begun planning our week-long road trip around Cornwall.
Just a few weeks later, and with the car loaded with food, suitcases and picnic blankets, we set off for St Ives. Waving goodbye to the streets of Milton Keynes, we headed to the coast for a week of sunshine, exploration and plenty of antibacterial hand gel.
Below is a round-up of our week long road trip around Cornwall. With the help of our Instagram community and their wise nuggets of advice, our week on the coast was near perfect.
With the weather on our side, endless sandy beaches to explore and deliciously fresh seafood to tuck into, our holiday to Cornwall was just what we needed after the dreaded lockdown of 2020.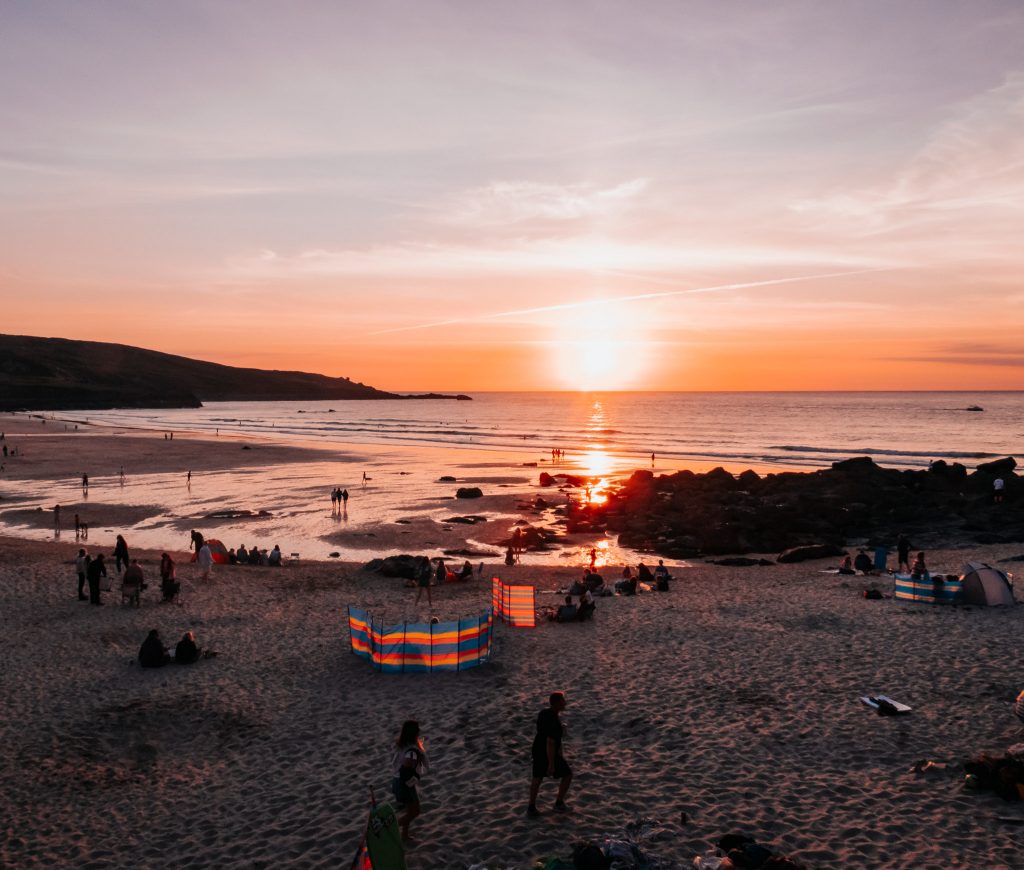 Inspiration for a Road Trip to Cornwall
Travelling around Cornwall
Before planning your road trip to Cornwall, it's worth nothing that public transport across the county can be thin on the ground. Although it is possible to visit some parts of Cornwall without a car, a road trip around the region would prove difficult by simply bus or train.
If you don't own a car, I'd recommend getting the train to Penzance station and then hiring a car for the rest of your Cornish road trip.
Europcar is available at Penzance station and offers affordable care hire.
Alternatively, Zip Car are a brilliant alternative to the traditional car hire. This handy app gives you access to over 3,000 cars around the country, which you can easily pick up from dedicated bays.
The Countrywide Rover Permit, Cornwall
As we own a car, we embarked on the six-hour journey from Milton Keynes to Cornwall. Before arriving, however, I booked a Countrywide Rover Permit for our week's stay in Cornwall. This very handy permit allows you to park in the majority of Council owned car parks across the county, for a one-off fee.
For a week's Rover Permit, we paid £47. 
The permit was far cheaper than having to pay individually for parking at each destination – and saved us from needing spare change (something that was thin on the ground during the pandemic).
A list of the long-stay car parks covered in Cornwall by the permit can be found here.
Parking in St Ives
It's a well known fact that parking in St Ives is, to put it mildly, not an easy task. With thousands of tourists piling into the seaside town daily, finding a parking space is a little like finding Willy Wonka's golden ticket.
However, having already bought our Rover Permit, and with accommodation booked in the town centre, we decided to risk what many strongly advise against.
The results were mixed.
During our first two days in St Ives, we struck gold with parking right outside our apartment in the Island long-stay car park. The following few days proved trickier, however and we struggled to find any parking in the Council car parks.
The fraught 45-minute drive between the car parks wasn't a particular highlight of our holiday and if you can avoid using your car once you arrive in St Ives, I'd highly recommend it.
Coronavirus Tip: the parking in St Ives was made even more stressful this year thanks to Covid restrictions. During the hours of 11:00- 17:00, the town centre was closed to make more space for social distancing. This meant that if you wanted to head out on a day trip, you needed to have left St Ives by 11:00 and couldn't (easily) return until after 17:00.
These regulations may still be in force next year, so check before travelling.
Parking Alternative: Carbis Bay
If you're keen to avoid the horrors of finding a parking space in St Ives, you may want to consider staying in Carbis Bay, instead. From here, you can catch the train to St Ives, which is just three minutes long.
Additionally, the St Ives train station is in the centre of the town, making exploring St Ives by foot relatively stress free.
Where to Stay in St Ives, Cornwall
Visiting Cornwall in the midst of a pandemic meant that I was keen to opt for the self-catering option.
I booked our small, but perfectly formed, apartment through Cornish Gems – and was really impressed by both the quality and design of the apartment. A 'luxury' brand, our Cornish Gems studio apartment wasn't cheap, costing just under £1,000 for the week, but after months stuck isolation, we decided that we deserved a treat.
Our apartment, Hardy's Studio, was located in the centre of town and was just a three minute walk to Porthmeor beach. The location made for ideal hassle-free beach strolls or for nipping into town for breakfast or dinner.
It did also mean, however, that there was a steady stream of people walking past our little studio throughout the day.
If you're looking for peace and quiet during your road trip to Cornwall, you might want to therefore consider staying further out of St Ives – closer to the less crowded Carbis Bay.
Other self-catering companies in the area we would highly recommend are Unique Homestays and Boutique Retreats.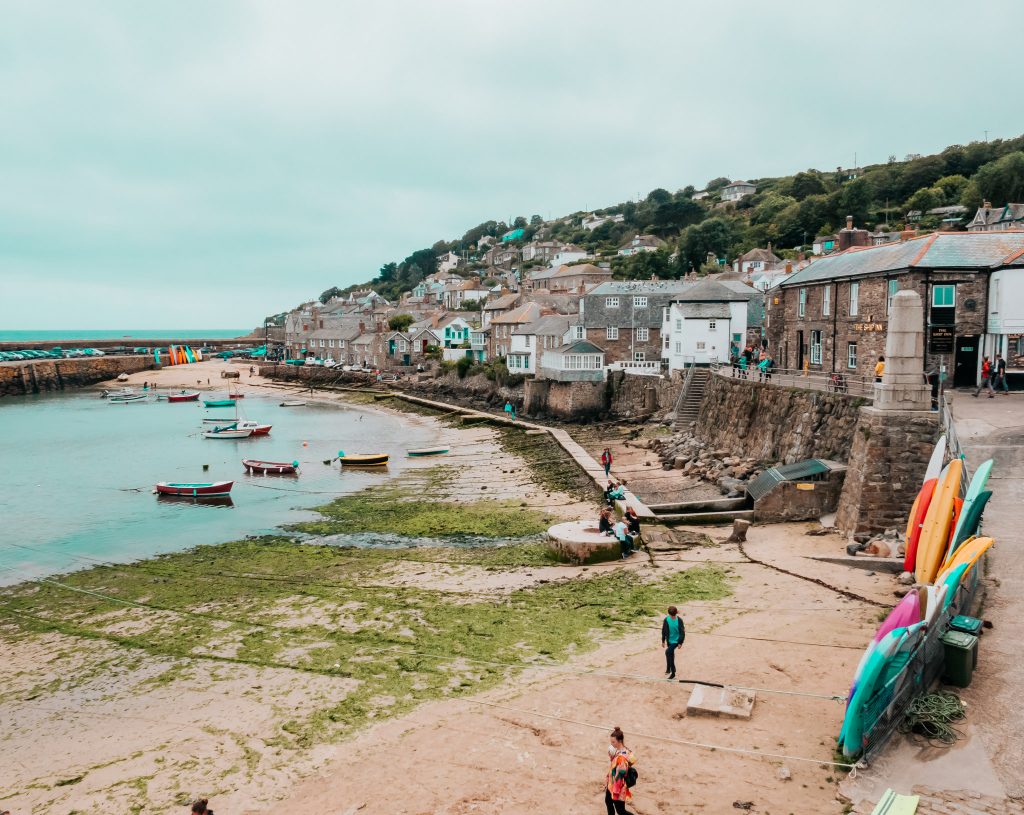 Things To Do in St Ives, Cornwall
The Cornish fishing town of St Ives is perhaps one of the most popular holiday destinations in the UK.
Boasting a picture-perfect harbour, a maze of cobbled streets brimming with shops and restaurants, four sandy beaches and the title of 'Art Capital of West Cornwall,' St Ives is a lovely place to visit.
Below is a round-up of the top sights in St Ives, including a few activities for those rainier days.
Beaches in St Ives
It's the sandy beaches of St Ives that draws in the year-round crowds. With over 300 beaches and private coves in the area, St Ives offers a place to escape for each and every visitor.
During our summer stay in St Ives, I saw plenty of images in the media of the 'packed' crowds on the beaches of St Ives – but my experience was very different. Although it was undoubtedly busy, I never felt at risk in terms of social distancing – and as the area has so many secluded spots, there was no issue in finding spacious and peaceful places to relax in.
St Ives has four beaches varying in size and attractions. We had the hard task of testing them all during our stay and below is a quick summary:
Porthmeor Beach
The most popular and largest beach in St Ives is Porthmeor beach. With the Tate on one side and the Atlantic Ocean on the other, this beach is incredibly popular with both surfers and swimmers.
We found this to be the best beach to set-up at, ready for a day of people watching and sunbathing. Located near the centre of town, its location made it easy to use as a base; nipping back to our apartment or into town to grab a bite to eat.
What mesmerised me most about Porthmeor Beach is the colour of the sea here. A brilliant turquoise blue, its shimmering blue waters could easily be mistaken for the Caribbean.
However, and despite its Caribbean hue, the Atlantic Ocean is definitely substantially nippier than the warm waters of the Caribbean; so be sure to bring a wetsuit if you're planning on surfing or swimming.
The beach did get busy very fast, with experienced beach-goers arriving with their wind breakers, deck chairs and BBQs. Yet despite this, we still managed to find peaceful spots on the beach on both of our 'beach days'.
Tip: watching the sunset on Porthmeor Beach is a must. We joined the (socially distanced) crowds here, many of whom had already lit crackling fires and were roasting marshmallows.
Porthminster Beach 
Porthminster beach is the second largest beach in St Ives. Located next to the train and bus station, this beach is perfect for those arriving by public transport.
Another sandy, palm-tree lined paradise, Porthminster Beach offers views out to Godrevy Lighthouse; a view that inspired Virginia Wolf's 'To the Lighthouse'. With calmer waters, this beach is ideal for 'safe swimming' and for families – with an 18-hole mini golf course and bar next door.
Harbour Beach
Unsurprisingly, Harbour Beach is located in the centre of town and offers another sandy, family-friendly alternative when the tide is out. Surrounded by the solid harbour walls and the hustle and bustle of town, this is the perfect spot for a morning coffee and breath of fresh air.
Porthgwidden Beach
Porthgwidden Beach is the smallest of the beaches in central St Ives and was located less than a minute's walk from our apartment. With golden sands and offering a very sheltered location, this beach was a lovely place to come for an evening game of bowls.
This beach was particularly popular with families and has parking (Island car park) and a restaurant on the site, making it an easy option for visitors.
Walks in St Ives
South West Coastal Path
After a lazy Sunday breakfast, we decided to blow away the cobwebs by picking up part of the South West Coastal Path. We joined at Porthmeor Beach, which took us out towards Clodgy Point and back round again in a loop.
This was a beautiful walk, filled with coastal views, colourful flora and rich wildlife. The path was a little steep at times, so I would recommend wearing some firm trainers or walking boots.
Alternatively, from St Ives, you could walk in the opposite direction to Carbis Bay. This is a gentler walk along an old railway line and is approximately 1.25 miles long.
You can research other walking/hiking routes here.
Art & Culture
Tate, St Ives
As the 'Art Capital of West Cornwall,' St Ives boasts many galleries, including The Tate, St Ives. Opened in 1993, the gallery is a gleaming white building sat opposite Porthmeor Beach. Offering contemporary art and regularly changing exhibitions, this is a lovely place to lose yourself in.
When we visited, the gallery had recently reopened after the Covid-19 lockdown. In order to visit the gallery, you must therefore now book online with a timed slot.
Note: masks are required inside the gallery.
Where to Eat in St Ives
One of the biggest bonuses of staying in St Ives is the sheer amount of restaurants and cafes you'll find on your doorstep. Keen to pre-book as many restaurants as possible before our stay (due to the Covid restrictions), I turned to our Instagram community for some suggestions.
It quickly became apparent that there were a number of firm favourites. Below is a round-up of the best restaurants in St Ives.
1. Porthmeor Beach Cafe
Porthmeor Beach Cafe was perhaps my favourite dining experience in St Ives. Boasting secluded heated pods for groups, Porthmeor Beach Cafe is a particularly popular spot during the evening, when people gather on the terrace to watch the mesmerising sunset over the beach.
Despite its name of a 'cafe', the restaurant offers up a delicious, fresh and varied menu. We visited for lunch during a 'beach day' and it was lovely to  simply amble lazily along the beach for a delicious meal. As the sun shone brightly above us, we gazed out to sea over fresh mussels and frites.
We did attempt to book a pod for sunset on our final night, but unfortunately it was fully booked. I would advise checking the restaurant's website regularly as cancellations did seem quite frequent.
Covid Precautions: Porthmeor Beach Cafe did an excellent and reassuring job in keeping diners safe. Our temperatures were taken on arrival and our table came complete with a smaller serving table where the waitress placed our food.
The restaurant also had a one-way system, with hand sanitiser encouraged on arrival.
2. The Mermaid
This unassuming little seafood restaurant, located in the old fishing quarter of Ives, was handily situated just around the corner from our apartment.
The Mermaid is one of the oldest, family-run restaurants in the town, which means that getting a table can prove tricky. In fact, during our time in St Ives (July), the restaurant was booked until September.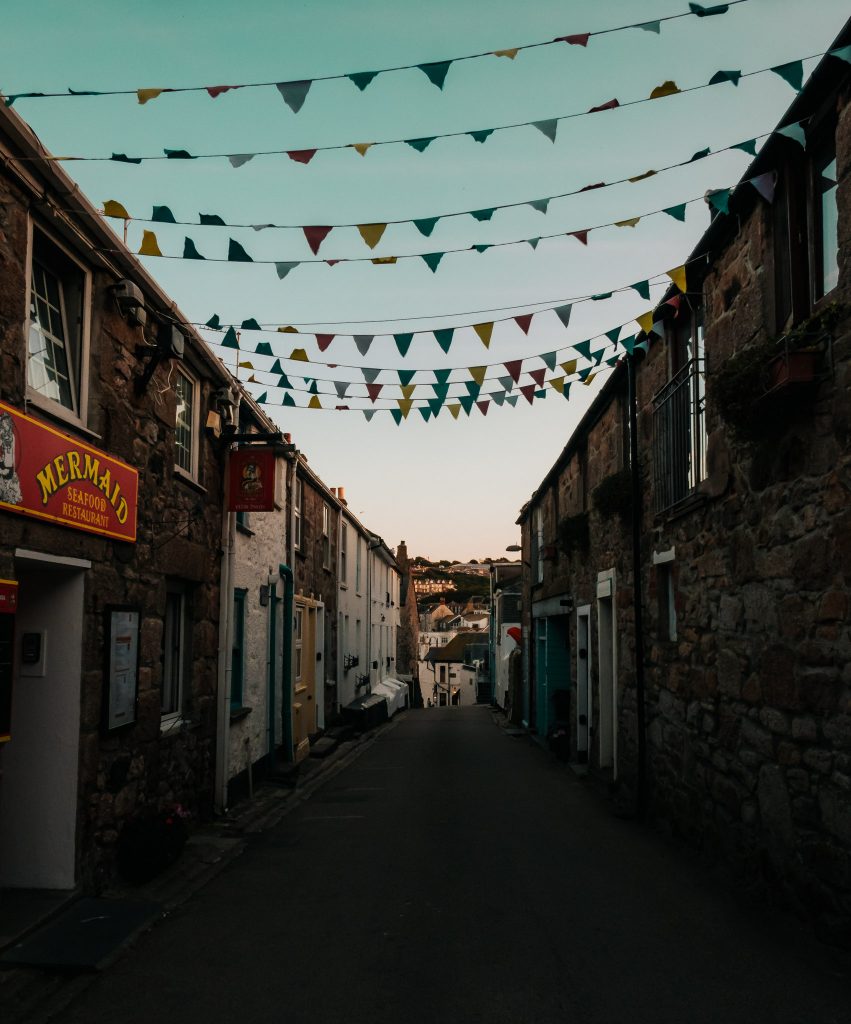 If you're unable to get a table, the restaurant does have an open hatch serving delicious paella and beer throughout the summer. We also sampled their takeaway service one evening and enjoyed it just as much as our meal inside the restaurant.
Covid Precautions: the precautions within The Mermaid were a little more relaxed than in other restaurants, but we still felt comfortable. Given its size, things did feel closer together, but tables were spaced apart, there was hand sanitiser on entry and the paper tablecloths were replaced after each guest.
3. Porthminster Kitchen
For those looking for a more formal meal in St Ives, head for an evening filled with beautiful harbour views at Porthminster Kitchen.
We visited the restaurant on our final night and thoroughly enjoyed both the food and the setting. The restaurant is located along the bustling harbour strip and is found tucked away upstairs, boasting panoramic views of the harbour.
For warm evenings, balcony seating for couples is available, but we opted to sit inside to feast on gourmet fish and chips, hake fillet and zingy lemon tart.
Covid Precautions: we felt particularly safe at Porthminster Kitchen. Our temperatures were taken on arrival, there was a one way system in and out of the restaurant, menus were only available on our phones and tables were set far apart.
4. The Hub
The Hub was the most popular restaurant suggestion from our Instagram friends. Located along the harbour, The Hub is an ideal location for both couples and families looking for mouth-watering burgers and other indulgent treats. We were also told that their breakfasts are equally as delicious.
Covid Precautions: The Hub had a little less Covid precautions in place than other restaurants (i.e. no temperature checks), but tables were still spread out to feel comfortable and safe.
5. Blas Burgerworks
Another burger-based restaurant that came highly recommended in St Ives was Blas Burgerworks. This spot only offers a take-away option, rather than an in-dining experience, but during a pandemic that suited us just fine.
6. Fish and Chips on the Beach
No road trip to St Ives would be complete without fish and chips on the beach – especially as the sun begins to set. In fact, our fish and chip experience, under the orange glow of sunset on Porthmeor Beach, was probably one of my favourite memories from our trip.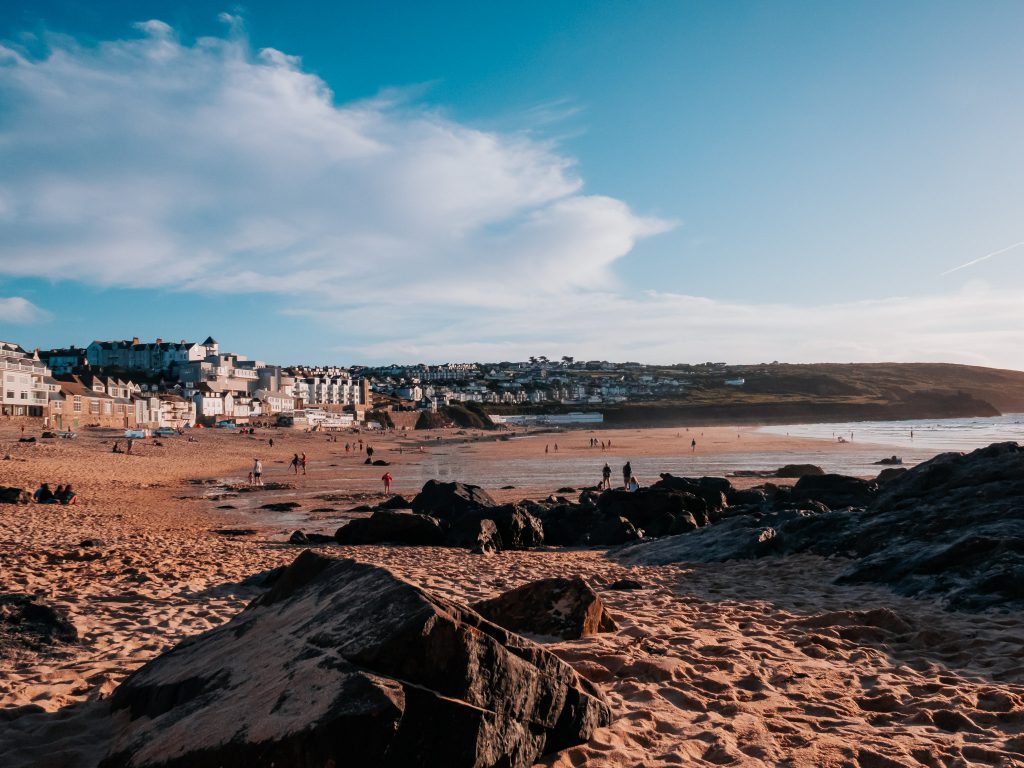 You'll be spoilt for choice when it comes to places to grab your fish and chips from in St Ives. We bought ours from The Albatross, St Ives, which claims to be the oldest fish and chip shop in town, frying since 1918.
They did not disappoint.
A Road Trip to Cornwall: Day Trips from St Ives
As this was my first road trip to Cornwall, I was keen to explore as much of the county as possible.
The suggested locations below are all within an hour's drive of St Ives and make for the perfect day trip from the bustling seaside town.
Kynance Cove
Kynance Cove is one of the busiest spots in Cornwall during the summer holiday – and for a very good reason.
National Trust protected, Kynance has been classed as one of the 'world's most spectacular beaches'. A rocky tidal beach surrounded by glorious blue sea, green cliffs and soft white sands, this beach (in my humble opinion), is one of the prettiest spots in the UK.
When we arrived around 11:30am, the small tidal beach was already bursting with families and windswept children. Given the Covid-19 situation, we chose to instead walk to the other side of the beach to the grassy cliffs above. Here, we set-up a picnic blanket and enjoyed breath-taking views of the beach below whilst we munched on Cornish pasties.
Tip: If you're keen to enjoy the beach and brave the sea (bring a wetsuit), make sure you arrive early to claim your spot.
Parking at Kynance Cove
We were a little concerned that with the crowds, parking in the National Trust carpark at Kynance Cove would be difficult. We were pleasantly surprised, however, to find a huge car park, with plenty of space for hundreds of cars.
Although you can pay by card here, phone signal was touch and go, so it's easier to have some change ready.
Mousehole
If there was one place I was desperate to visit during our road trip to Cornwall, it was the picturesque fishing village of Mousehole (pronounced 'mow-zuhl'). Once a bustling port, the village is now a sleepier more laid-back affair, with narrow cobbled streets, independent shops and bobbing fishing boats.
Located on the south coast of Cornwall, in between Penzance and Land's End, Mousehole was just a short 40-minute drive from St Ives. For those arriving by public transport, there is even a handy bus from Penzance to Mousehole. 
Although Mousehole was utterly charming under a blue sky and beaming July sunshine, it's said that the sleepy village truly comes alive at Christmas. During this time, twinkling lights are hung across the harbour and it proves so popular that helicopters fly over to catch a glimpse of this picture-perfect spectacle.
The highlight of our trip to Mousehole was lunch at the very cute Rock Pool Cafe. Located just outside of the village centre, Rock Pool Cafe can be accessed by a private car park (you must have change available).
The food was incredible and I would highly recommend the calorific hot chocolate and marshmallows for dessert.
Tip: book ahead as this is a busy cafe. We booked via email using the restaurant's website.
Lizard Point
We decided to visit Lizard Point after our morning at Kynance Cove. Located just a quick 20-minute drive from Kynance, the more active among you can take the rugged coastline walk between the two coves if you don't want to drive.
Unfortunately, due to my carb-induced coma from the Cornish pasties, we opted to take the quick drive.
Parking at Lizard Point
Lizard Point is also owned by the National Trust, with ample parking for visitors. Again, it's worth bringing some change along with you to pay for this.
Lizard Point, cared for by the National Trust, is the most southerly point of mainland Britain. A place of long-forgotten ship wrecks, colourful flora and turquoise seas, this is the place to come for blustery walks and seal watching.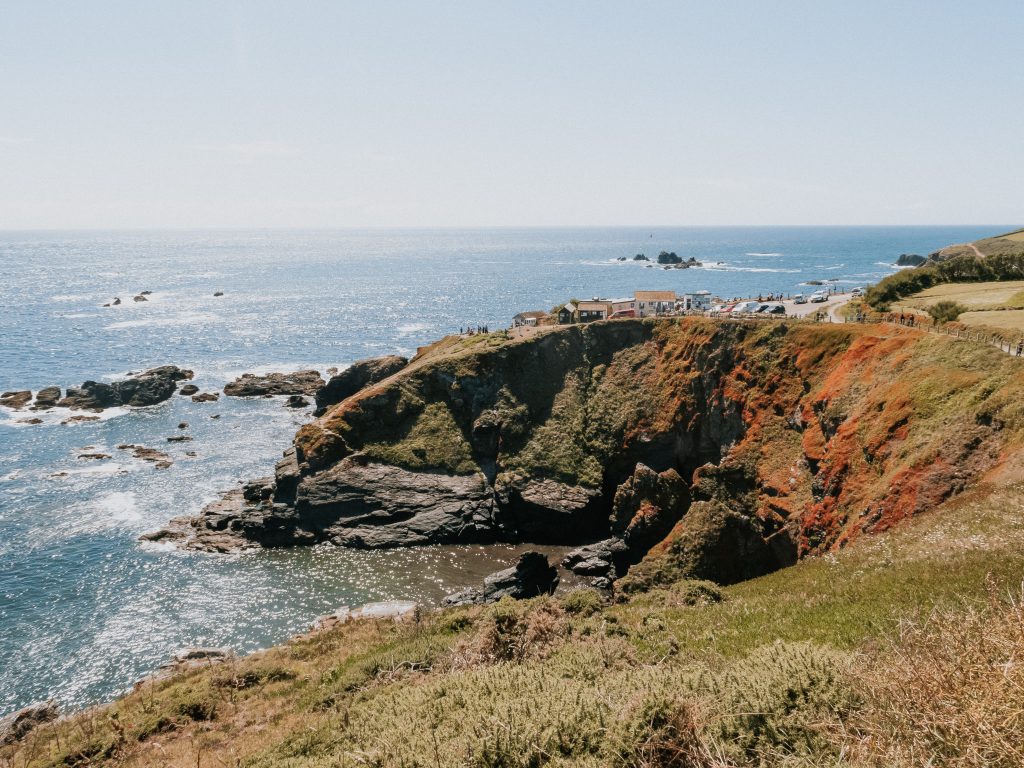 Porthcurno
We visited Porthcurno after our morning spent in sleepy Mousehole.
The beach was a short 25-minute journey from Mousehole and we found ample parking at the Council run long-stay car park located next to the beach. With our handy Rover Permit, this meant that we could park without any worry of costly parking charges.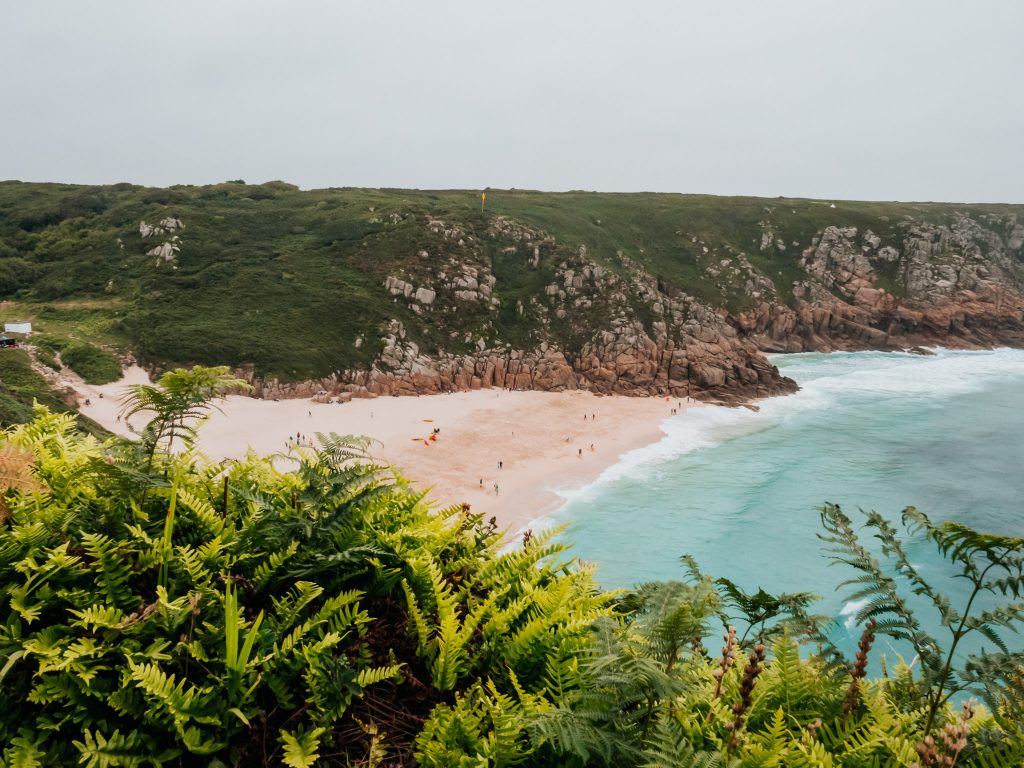 Porthcurno beach, located in the far west of Cornwall, has been described as 'paradise' by visitors – and it's not hard to see why. Despite the clouds rolling in, the scene that greeted us took our breath away. With pristine sands contrasting against the roaring Atlantic Ocean, and steep cliffs filled with colourful flowers, Porthcurno felt like an untouched escape.
After some time on the beach, watching brave souls jumping in and out of the water, we decided that the only way was up – along the coastal path. The climb up was a sweaty one, but well worth it for the incredible views it gave us of the beach and surrounding area.
Minack Theatre
Above Porthcurno beach sits the world-renowned Minack Theatre. An open-air theatre, perched delicately above the Atlantic Ocean, this is a truly spectacular place to visit for an evening of entertainment.
We visited Minack by walking up the steep steps from Porthcurno Beach. Please note: these steps are very steep and without a handrail. We did encounter a woman with vertigo who was really struggling to climb down from Minack, so you may want to consider this before embarking on the trek.
Minack Theatre is currently open to visitors, but tickets must be pre-booked here.
Carbis Bay
Travelling to Carbis Bay from St Ives is a simple journey. We hopped on the train from St Ives for the short but sweet, three minute journey. Having not stepped foot on a train since March, this was an exhilarating experience.
Tickets to and from St Ives and Carbis Bay cost as little as £1 each way.
What to Do in Carbis Bay
Located in the next cove along from St Ives, Carbis Bay is the more serene and relaxed neighbour. Home to Carbis Bay Beach, visitors flock here for the sandy stretch of beach that has a calmer feel than the beaches of St Ives.
We visited in the early afternoon and had a lovely wander along the beach before dinner further intown. Although there isn't a great deal to do in the town itself, Carbis Bay still makes for an enjoyable day trip.
We enjoyed delicious Spanish Tapas at Las Casita in Carbis Bay, which was recommended by a knowledgable local on Instagram. Unsure what to expect, we were pleasantly surprised by authentic, tasty dishes and excellent cocktails.
Covid-19 Precautions: Las Casita felt incredibly safe with well-spaced tables, staff wearing masks and antibacterial gel on entry. The restaurant was well ventilated and we felt thoroughly relaxed dining here.
Polperro
If there's one thing that Cornwall does well, it's picturesque fishing villages.
Polperro – an idyllic outpost clinging to the coastline of North Cornwall – is one such place. A historic warren, filled with white washed cottages, hidden alleyways and some of the best coastal walks in Cornwall, this is one Cornish village that I've been hoping to visit for a long time.
Once a smugglers' hideout, the village has preserved its swashbuckling atmosphere; remaining the sort of place you might expect an eye-patch wearing pirate or a gang of sardine-stealing moggies. Hidden inside a sheltered cove, the village is small but vibrant – with life largely revolving around a wind-battered granite harbour.
Parking in Polperro: As with most of Cornwall's villages (particularly those nestled within a cove), visitors are only permitted to park at the top of the valley – in a large, privately run carpark. Unfortunately, this means both a walk into the village (although, it's fairly short and not too steep – taking around 15 minutes) and expensive parking fees.
We parked for three hours and it set us back £5. Be warned, you'll also need to pay for access to the public toilets.
Things to Do in Polperro: A tiny bolthole of a place, Polperro is not overflowing with activities or historical sites. However, the very fact that it isn't geared entirely towards tourism is what makes this village such a beautiful place to visit. Filled with photogenic streets, hidden back alleys and coastal views, a trip to Polperro could easily fill an afternoon.
Take the Coastal Path to Looe: Although this beautiful coastal walk will take you around three hours (factoring in rests), it is well worth the journey. Offering not only outstanding views, the route passes an early Christian historic site and leads to the very place that Jesus was once said to visit with his uncle, Joseph of Arimathea.
To get back to Polperro, you can catch a fairly frequent bus from outside the Fire Station in Looe.
You can find the map for the full trail here.
Visit the Polperro Heritage Museum of Fishing & Smuggling: small, atmospheric and definitely niche, a visit to Polperro's only museum is well worth your time. Costing £3 to enter (children go free), the Museum also has a lovely outdoor cafe, serving scones and cream tea, complete with beautiful views of the harbour.
Where to Eat in Polperro: Although small, Polperro boasts an impressive number of independent and high quality coffee shops and eateries. For great coffee, head to Herringbone, or for a more substantial meal, be sure to stop by the mouth watering Burgers in a Brioche.
Inspiration for a Road Trip to Cornwall: A Summary
Our week long road trip to Cornwall was one that I'll remember as a shining light of happiness in an otherwise gloomy 2020. Unsure of what to expect in terms of Covid-restrictions and the many tourists visiting Cornwall during the summer months, our holiday to St Ives definitely exceeded my expectations.
With turquoise seas that rival the Caribbean, endless sandy beaches and picture-perfect fishing towns, it's easy to see why so many choose to come back to Cornwall year after year.
In fact, I'm already planning my return this winter – ready to see the twinkling Christmas lights of Mousehole.